I'm going to take a break from numbers this week. A break from Trey Burke, Quinn Cook, and Denzel Valentine impacting fantasy playoff teams infinitely more than Steph Curry, Demarcus Cousins, and Kawhi Leonard. A break from dealing with players on tanking teams sitting indefinitely every time someone steps on their toe, or from players on playoff teams resting without notice. Heck, a break from the NCAA tournament that only has one projected lottery pick left to watch.
This is probably going to most interest dynasty and keeper league players, but those already itching to rank and project players for next season will find this intriguing, too. Today, I'm going to look at who this summer's free agents are. That period from the draft (draft lottery only 47 days away!) through the first week of free agency is probably my favorite on the NBA calendar, since about a third of the league seems to change teams. So many new dynamics to consider for so many teams. The impact on fantasy is huge, too. I'm definitely no insider with information to help predict who's going where, but I do find it helpful to know whose value is likely to remain the same and whose has a wide range of outcomes. The latter are often good targets if you need to get risky to improve your keeper/dynasty team over the summer. Do you have a Terry Rozier type that would gain a ton of value if he moved on to a starting role? Is he free to do so? Also, remember to think of which teammates might be affected by these players should they change teams. For example, are the players blocking Mario Hezojna's path to more minutes likely to get out of his way? Then again, might LeBron, PG13, and CP3 all be coming to your player's team to squash his usage? Here are the most fantasy relevant free agents. Wow, this summer could be a big one.
Want the best tools and projections to help dominate your league? Check out the Stocktonator, the byproduct of Rudy and machine making love. Click HERE for a FREE 3-day trial.
Rudy has been hard at work in the lab. His latest creation? DAILY LINEUPS PAGE. So good. So smooth. So helpful. He decided to go with the Sonny Bono red tint, while I prefer the blue tint. What say you?
Unrestricted free agents (or those with the option to become one):
Restricted free agents (or those with a team option):
Here's hoping for a free agency week best illustrated by this intersection analogy: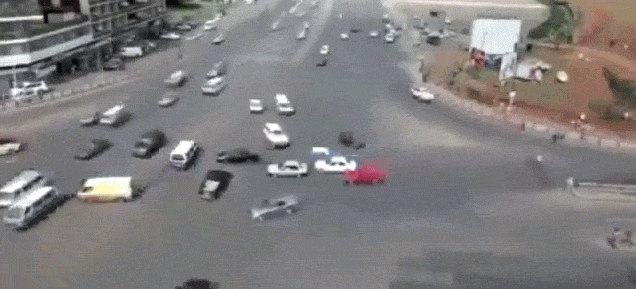 This week's classic fantasy line:
It's time to recognize perhaps the most improved elite fantasy player this season: One Mr. LeBron Raymore James Sr.
Remember, he's been mainly a 2nd round pick in fantasy leagues for the last few years. At the moment, his current season rankings on ESPN, Yahoo, and Basketball Monster are, respectively, 2nd, 3rd, and 4th (8-categories).
Here are his 2017-18 stats through game 75 and where they rank among his 15 seasons.
Games played: 100% (1st)
FG%: 54.8% (3rd)
FT%: 72.9 (11th)
Points: 27.6 (5th)
Rebounds: 8.6 (2nd)
Assists: 9.1 (1st)
Steals: 1.5 (13th)
Blocks: .9 (4th)
Turnovers: 4.3 (15th)
Minutes per game: 37.1 (13th, so he's doing this all in LESS time, though it's still the most in the league)