Well, it's almost playoff time if you're in a head-to-head league. And if roto's your game, you're still down to the final five weeks of the season. Dance with who brung ya, right? Nope! It's time to look around the room for better dancers. Rather, there are certainly folks that will be dancing more often the rest of the night–er, season. The metaphor kinda breaks down there.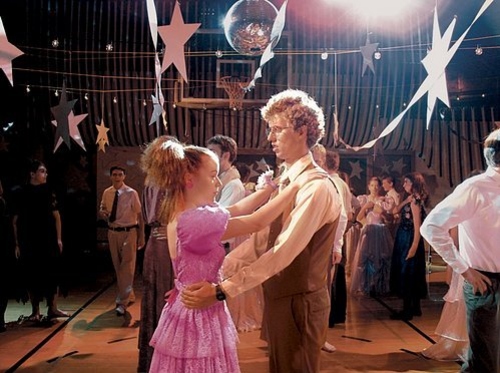 Today's lesson is a relatively obvious one, especially for experienced players, but it might make the difference in your league. So, make sure you've thought this through. If you play in a weekly lineup league, it's time to maximize the number of games you can get out of your team. If you have a weekly league with daily lineup changes, it gets a bit more complicated, but you still want to start the week with as many games on the schedule as you can. Also, let's say, hypothetically, that you have a 1st round bye wrapped up in, oh, maybe the Razzball Experts League, and you want to look ahead. Well, here's how the last few weeks shake out.
Want the best tools and projections to help dominate your league? Check out the Stocktonator, the byproduct of Rudy and machine making love. Click HERE for a FREE 3-day trial.
Rudy has been hard at work in the lab. His latest creation? DAILY LINEUPS PAGE. So good. So smooth. So helpful. He decided to go with the Sonny Bono red tint, while I prefer the blue tint. What say you?
3/12 – 4 games: 8 teams. 3 games: 22 teams.
3/19 – 4 games: 18 teams. 3 games: 12 teams.
3/26 – 4 games: 17 teams. 3 games: 12 teams. 2 games: Raptors.
4/2 – 4 games: 9 teams. 3 games: 18 teams. 2 games: Timberwolves, Thunder, Kings.
The most common dilemma that you'll be confronted with is 4 games vs 3 games. How good does a 4-game player need to be to match the value of a better, 3-game player? 75% as good. You can multiply their averages by 4 games and 3 games to compare, or you can just multiply the 4-game player's averages by (4/3), or 1.333, to see if they pass up the 3-gamer's stats. Here's are some examples from the week of 3/26.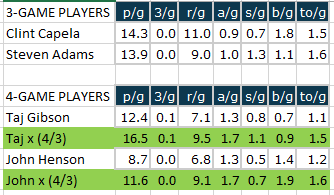 Here, you're probably sticking with the better players over 3 games, but there's more that should go into your decision, too. Mainly, which categories are going to matter to your team? Who are the opponents that week? If you can make daily moves, are the games on days that allow you to pick up other players to sneak in an extra game or two? Is your player Zach LaVine or another player who may be sitting out one game of all back-to-backs? Just wanted to show that the extra game boost really can bridge a sizable gap between guys that have been no-doubt starters and borderline ownable players.
Regarding the 2-game week players, you're almost surely better off dropping them. There are a few top players on those teams that would be very tough to drop, but if the 2-game week is your championship and you set your weekly lineup once, it's likely that you can find a 4-gamer that gets at least half the stats per game that your 2-gamer gets. Easy decision. Just to hammer home the math part. You're multiplying the lesser players's stats by (4/2) in that case. If you can make daily moves, though, you can probably hang onto your stars for one, or maybe even both starts and replace them when the time is right. By then, you'll have a better idea as to what stats you'll need to add.
For roto owners, here are the total games for the last 5 weeks (starting 3/12):
| | |
| --- | --- |
| LAC | 17 |
| PHI | 17 |
| CHI | 16 |
| CLE | 16 |
| DET | 16 |
| HOU | 16 |
| LAL | 16 |
| MEM | 16 |
| MIL | 16 |
| NOR | 16 |
| POR | 16 |
| SAS | 16 |
| TOR | 16 |
| ATL | 15 |
| BKN | 15 |
| BOS | 15 |
| CHA | 15 |
| DAL | 15 |
| DEN | 15 |
| GSW | 15 |
| IND | 15 |
| MIA | 15 |
| NYK | 15 |
| ORL | 15 |
| SAC | 15 |
| UTA | 15 |
| WAS | 15 |
| MIN | 14 |
| OKC | 14 |
| PHO | 14 |
Same math applies here. A 17-game player only has to be 14/17, or 82%, as good as a 14-game player. And you'd multiply the 17-game player's stats by (17/14) to compare their per game stats to the 14-game player's.
There are nuances to this. You can pay even more attention to make sure you're picking up players at exactly the right time to maximize the number of games. But it's a balancing act of riding the hot hand this time of year, too. The main idea in all this late season action is to pay attention. Keep up on injury news, tanking news, and don't leave any stats just sitting out there. Good luck to you all.
This week's classic fantasy line:
The mold from which point forwards like LeBron and Ben Simmons were formed, I give you Magic Johnson. Specifically, his 1986-87 (age 27) season, in which he won his first of 3 MVPs and was on his way to his 4th out of 5 career NBA championships in a career that was cut far too short.
52.2 FG%/84.8 FT%/23.9 ppg/6.3 rpg/12.2 apg/1.7 spg/0.5 bpg/3.8 tpg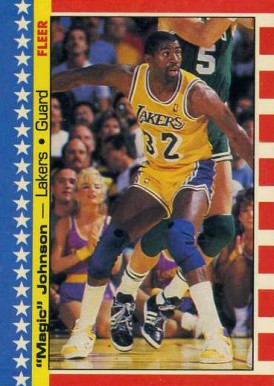 Shout out to old basketball cards.