You know, Raymond Felton broke his hand last year, and this is no joke, less than two weeks after Twinkies were officially discontinued.  I imagine him hearing the news after a Knicks loss, and punching the glass out at a NYC convenience store.  "How will I ever carboload before rolling onto the court!"  Then Twinkies, after being bought out and licensed, again appeared on store shelves in July 2013.  And ohhhh boy, was it an offseason to remember for Roly Poly Felton!  Even though he's always looked like a big boy, concerns about his weight surfaced yet again, and this year his stats were down before a myriad of injuries took their toll.  This past groin injury, where Felton reportedly heard a "pop", finally got him to listen to the advice of the trainers.  "When my little guy down there told me something was wrong, I finally listened."  Knicks head athletic trainer Roger Hinds had to think on the fly, eventually settling on a 12-grain/cashew cream vegan Twinkie-substitute.  Instead of the 15-17 off-the-shelf Twinkies comprising the majority of Felton's daily diet, he was down to 12-14 "healthy-makers" (as he called them) while rehabbing his groin injury.  "The first three or four were kinda funky, but then you get that urge for more-and-more just like the old ones."  After losing 34 pounds in 72 hours, Felton was ready to rejoin the team in practice.  "I felt great out there, mobile, my arms stopped running into my love handles when I was drivin' to the hoop."  Another 42 pounds came off in the next week, and he was ready to play last night.  And man, did those 76 lost pounds come in handy!  13/5/14/1/0 against the Heat in a surprise win.  I caught up with him after the game: "No J.R. Smiff in the game helped me keep the rock and everything runnin' through me.  He can untie e'rybody's shoelaces all I care!"  Back to reality, I did watch this game, and the bulk of those assists came on dishes to Carmelo Anthony burying jumpers, so the assist total is obviously a big outlier.  But Felton did look good.  Made good moves, looked agile, and more importantly, made the Knicks look better while playing 39 minutes.  We can have fun all we want, but I think I was wrong to be a little dismissive on him returning.  I like him right now over D.J. Augustin and Kendall Marshall for example.  More staying power, and while the most injury prone of the bunch, I think helps you more in the long-haul.  Must-own in 12-teamers, depends on need and depth in 10ers.  Here's what else I saw last night:
Eric Bledsoe – Major buzzkill.  Or as Tobias would say, "douche chill"!  Eh, according to Urban Dictionary that doesn't really work, but whatever!  Knee surgery, and is without a timetable.  He had a similar procedure done in 2011 and it took four months.  I don't want to say it's safe to drop him everyone yet, but it sounds pretty close without an official time table.
Gerald Green – The poster child for ThrAGNOF is gonna continue to get big minutes.  A must own in all leagues right now, even if he is a big ThrAGNOF.
Dwayne Wade – One of the most head-scratchingest of % games you'll ever see.  11-15 FG, 1-1 3PTM, but 0-6 from the stripe?!  Did Andre Drummond possess his body last night?!  I think even Drummond mighta made one!  Hey, at least Wade is playing…
Il Diva – Bargnani was decent on offense for 9-13 19 Pts, but didn't do much else.  It's interesting he's not shooting threes anymore.  Only 7 treys in his last 17 games as opposed to 21 in his first 18.  This was his highest scoring game since December 14th.  The allure of threes I think is keeping him owned in a few too many leagues.
Amar'e Stoudemire – Mr. Glass! 14/11 last night.  Has surprisingly looked not dead.  First dub-dub on the year and should be owned in deeper leagues, even if your league mates point and laugh at you.
Tim Hardaway Jr. – Had a sick putback dunk.  Ray Allen had game, then lost game.
Randy Foye – Absolutely on fire most of this game.  Check out this heat check 3.  7-11 (6-9 3PTM) 24/4/1.  Multi-3s in four straight, and as they frequently mentioned on TNT, Brian Shaw established everyone's roles and the Nugs are clicking now.  Buying it a little bit, but certainly a prime ThrAGNOF streamer.
Evan Fournier – Any excuse to bring this graphic back!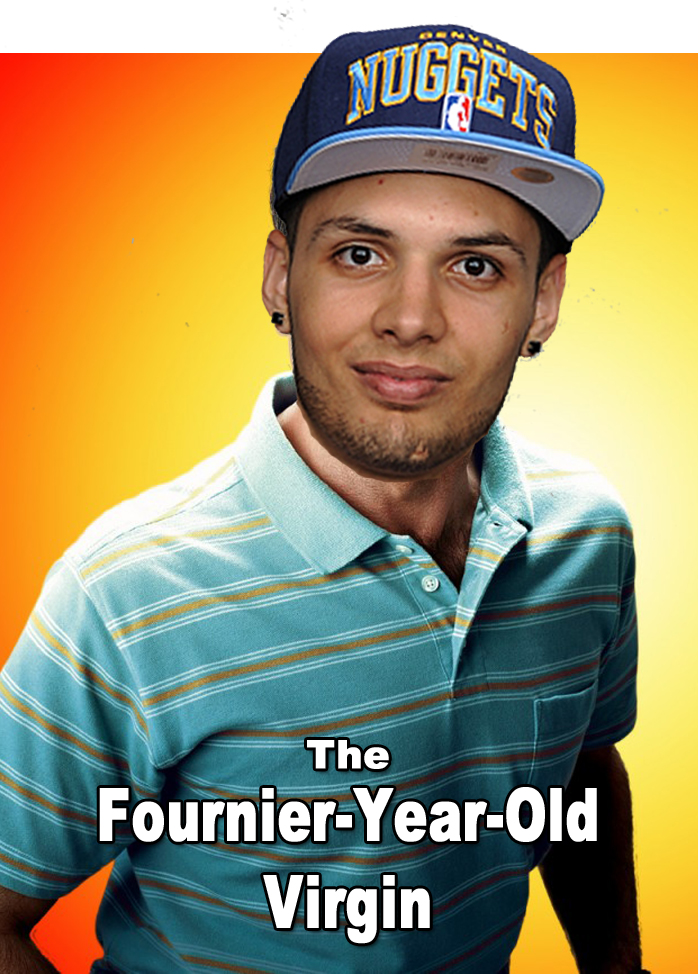 7-13 for 19/4/1/1/0 in 18 minutes.  I was right to say keep your eye on him, but wrong to doubt the Nuggets!  As with Foye, after Shaw solidified his rotations, he's had 5 straight usable games in deeper leagues.  Larry Drew, you could learn something!
Kenneth Faried – Sorry to keep hammering down the same point, but I don't think it's a coincidence the Manimal has had 5 straight good games after this Shaw-stability.  Worth owning in most leagues.
Reggie Jackson – Unfortunately, R Jax doesn't think as highly of Manimal as I do.  Man, abusive!  Didn't Faried see Kris Humphries get embarrassed last night?!  What's with these two-handed block attempts?!  If only having a big play highlight helped his decent-but-could-use-more fantasy line of 13/4/5/2/0.  If you own Jackson and your opponent has Faried, I bequeath onto you an automatic win!
Serge Ibaka – 8/10/0/0/3 shooting 3-11 in just over 24 minutes.  Got benched late as it was a blowout.  Not worried.
Jeremy Lamb – Shot 1-12.  The one he made was a pretty nice floater though!
Ty Lawson – This is how we do in Denver, Jeremy!  6-15 [ok, so not that much better] (2-4 3PTM 2-2 FT) 16/7/14/3/0.  I feel like I've picked Lawson a ton of times over other PGs in comments.  This was a good night…
J.R. Smith – If you didn't gather from that totally all-true open, got a DNP-CD.  Not surprising.  Welcome to the bench!  I love what Not Sportscenter NBA tweeted:

J.J. Redick – Returning tonight.  As I mentioned in the comments yesterday, I think he starts a little slow.  But worth an add in most 12-teamers if he's still out there.
Happy weekend to you all Razzball Nation!  No Buy/Sell this week, so if you have any Buy/Sell questions, shoot below.  I hope everyone had a solid week 11 and be sure to root on my Panthers on Sunday!