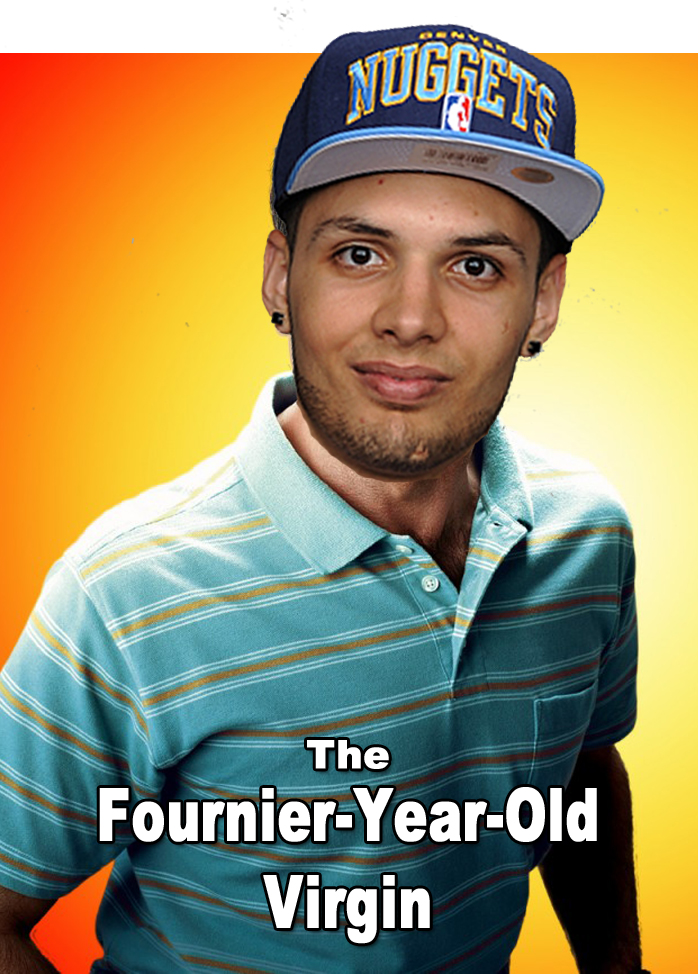 After a very tough start to his season going 2-14 in his first two games, Evan Fournier finally found his stroke last night going 5-10 (2-3 3PTM) for a 12/3/2 line in a season high 25 minutes.  If you're like me, you're a Fournier virgin in all leagues.  Sure he's way off the map (I don't know where France is!), but I have a feeling he could surprise later on in the season.  In the last 8 games of 2012-13, Fournier went 11.5 Pts (0.9 3PTM) 2.3 Rebs 2.8 Asts 1.4 Stls while shooting 50% from the field and 92.9% from the stripe in only 23 minutes a game.  Now that was on a playoff team, resting some stars – sure, but this Nuggets team is a mess right now.  I know they just beat the Hawks, but a lineup starting Randy Foye and Jordan Hamilton (of course Wilson Chandler and Danilo Gallinari are on the shelf), Fournier could get late season run as I highly doubt the Nuggets make the playoffs.  He's a great off-the-radar multi-cat guy to keep your eye on especially in deeper leagues as we start getting into the meat of the season.  Here's what else I saw last night in the NBA:
Reggie Jackson – Sustained a hip contusion on Wednesday night, which I missed in yesterday's wrap up.  Sometimes things fall through the cracks!  I still think he has value, but he's still no longer a must own in my eyes.  But hey, my eyes miss things sometimes!
Paul Millsap – Monster.  How did the Hawks lose last night?!  29/10/5/2/1 shooting 10-15 (2-3 3PTM 7-11 FT) and didn't have a single TO.  Looking at the 0-5 Jazz, Millsap has to be ecstatic he's in T.I.'s ATL.  Funny story, I used to work at Blockbuster over my first summer home from college, I checked out Michael Waltrip and his wife, but also ex-Panther Brentson Buckner, who asked if we had the movie ATL in stock and it was all rented out.  Oh Blockbuster…
Chris Paul – Another 12 assists!  Sure he had a terrible game otherwise, but that was the Heat's game plan.  Gonna average 2,000 assists a game this year.
Blake Griffin – 2nd day in a row I'm going to reiterate he was underrated by the hardcore fantasy community.  Reason?  He's one of those guys that's in commercials and makes Sportscenter so it's easy to say he's overrated by the mainstream.  11-15 27/14/2 last night.  I don't have too big a leg to stand on as I don't own him in any leagues, but my rankings did suggest he was a little underrated depending on the kind of league you're in.
Omri Casspi – Ugh, at least he gave you 5/3/1 with a steal and 3 last night.  The fact the Lakers beat the Rox at home should tell you all you need to know about the over-usage of Omer Asik.  Still think there's upside of minutes and the upside of a starter's role here.
Dwyane Wade – Wade was like, "Durant I can show you were to put that torch!" 13-22 29/4/7/3/1 and really took over this game.  "Gonna be an Olympic run to you know where!"
DeAndre Jordan – Another big game going 11/14/1/2/1.  Another big games in minutes at 42:01.  You're telling me Byron Mullens and Ryan Hollins aren't good for your health, Doc?
Cartier Martin – 0-7 for the super deep owners looking for something.  Hey at least he got you 3 steals!  But I don't need those in REL!
DeMarre Carroll – 30 minutes for a boring 10/5/3 with 2 steals.  Boring but useful!  Martin still finished with the starters though….
Kyle Korver – I need a rainbow line calculator.  I bet Korver has had maybe 3 in his career.  16/5/4/2/2 with the pair of treys you know you're gonna get.  If he keeps up the multi-cat stats, of course he's a must-own.  But sorry Rotoworld blurb guy, gotta call you out – "There's a bit of a misconception about Korver and how he's just a shooter, and that's simply not the case. In just 30.5 minutes per game last season, he had 0.9 steals, 4.0 boards and 0.5 blocks."  0.9 Stls and 0.5 Blks from a starter?!  Championship!  Both Rebs and Stls were highs since 2004.  0.5 Blks was a career-high.  And he used to play comparable minutes in Philly.  Korver is a good shooter, fine, but even if he duplicates those peripherals, I mean, c'mon, any starter is doing that.  I'm ranty today – I have no idea why I have such a bias on Korver.  Maybe I'm too used to H2H and streaming ThrAGNOF!
Nate Robinson – Another one of my biases.  I'm 6'7 so any little guy that annoys me I have a bias against.  Midgets are hiding something!  5-11 (4-6 3PTM) 15/3/3.  "There's a bit of a misconception about Robinson and how he's just a shooter, and that's simply not the case. In just 25.5 minutes per game last season, he had 1.0 steals, 2.2 boards and 4.4 dimes."  See how you can just stream these shooters to boost your 3s?!
Steve Blake – ""There's a bit of a misconception about Blake and how he's just a shooter, and that's simply not the case. In just 26 minutes per game last season, he had 0.8 steals, 2.9 boards and 3.8 dimes."  Haha, Ok I'm done.  Hit a huge three last night!  The Rockets deserve it for not starting Casspi!  Blake was 4-6 from deep and none bigger this year than last night's game winner.
Jodie Meeks – Was absolutely on fire, going 6-9 (5-7 3PTM) in another ThrAGNOF performance.  I won't do another blurb-fail, but he's a solid multi-3 threat on off days when you can stream.
Wesley Johnson – Led the Lakers in shots off the bench going 6-15.  How the Lakers have beaten the Rockets and Clippers already this year is one of life's greatest mysteries…
Chris Kaman – Got the start, mostly to D up Omer Asik, and went 6/10/1/2/2 in 20 minutes.  That's about what I thought he'd do on this team with a little more scoring.
Pau Gasol – The Gasol brothers need a work stress hotline!  Eh, well Pau's been OK… Just was rough last night shooing 1-10 2/12.
Xavier Henry – The hot early season pickup was a hot whilst bench warming last night.  Played only 14 minutes off the bench for 1-5 3/1/1 and a steal.  I still think he's pretty good, but this team is going to mix and match more than Taylor Swift boyfriends.
Dwight Howard – The Lakers did hack-a-Dwight and it worked!  5-16 from the stripe.  Wow, bye-bye Dwight owners in FT% leagues – have fun with that Jim Jones juice!
Patrick Beverley's death match against Jeremy Lin – PBev nearly 34 minutes, Lin just over 31.  PBev shot 1-10.  Lin 5-8.  PBev 3/4/4/1/1 Lin 16/1/3/3/2.  PBev still looked good out there though.  Both will be useful, and I think both can sustain 30+ minute workloads.
Next Games: I've got BKN @ WAS then LAL @ NOP tonight to round out the week.  Excited to see a full game of John Wall and Anthony Davis heading into the weekend.  Good luck wrapping up week 2!