Boston's Reggie Lewis really wasn't much of a factor last season. He averaged less than 7/2/2 as a rookie. But so far this season, he's taken on a premiere spot on the bench and has been da bomb for Boston so far this season. How bomb? Pretty darn bomb. Also, am I using "bomb" correctly? Doesn't matter. I'm moving on. Last night Lewis ended with 15/6/3, five steals and a block in 25 minutes as he helped save the aging and battered Celtics team from having to run up and down the court against the just-battered Heat. Boston's only six games into the season and we're talking about them being injury-riddled. Ainge has a sprained knee, Bird's Achilles is forcing him to move gingerly (and by gingerly, I do, in fact, mean "to move like Bill Walton"). Boston is now as good as the Clippers and Lewis has a lot to do with that. No, seriously. This busted Boston squad looks worse than their record and right now Lewis is a high point. Of all the secondary players that are still somewhat available in fantasy leagues, Reggie is the player that really shouldn't be unowned the most. And while that wasn't my bestly constructed sentence, don't allow it to cloud your judgment. Not everyone can own M.J. and, um, M.J. and normally the end of most fantasy benches are filled with guys that do one or two things well. Lewis could be poised to surge.  By the way, "Poised to Surge" really needs to be the name of Whitesnake's next album. Anyway … Reggie Lewis, ladies and gentlemen. Go get 'im.
Stuff below. Get excited.
Pearl Washington – 8/11/7 counts as the best fantasy line from the Heat last night, an 84-65 loss in which no one on the Heat looked like they'd ever enjoyed playing the game of basketball. Washington's scoring numbers were a little low and his rbd/ast numbers were way high. Skip him.
Johnny Newman – 21 points, as he hit his eighth and ninth three-pointers last night. He's an add right now as the Knicks seem to be running the old "Ewing-goes-down-low-while-the-rest-of-you-chuck-up-threes" offense. If Ewing ever goes on to become a coach, I sincerely hope he's not involved in this type of offensive scheme.
Akeem Olajuwon – 28/16, with five steals, but also seven turnovers. It's like the painter sneezed right before his final masterstroke.
Mike Woodson – Thursday? Four points. Friday? Ten points. Sunday? Twenty-six points. Last night? Another 26 points. Pepsi! Disco! Alpha! Charlie! Woodson! Hey, would you stick around and do a little more of this week and a little less of last week?
Rodney McCray – The Kings traded away more than 42 ppg when they sent Otis Thorpe to Houston and Reggie Theus to Atlanta. The Kings t'weren't no good with those guys, imagine how good they are with McCray shooting .347 so far this season in an attempt to make up those 42 points? Actually, I don't have the patience to wait for your imagination. The Kings are averaging 91.4 points on 39 percent shooting from the field – both are league worsts. Or leaguewursts if you're from Milwaukee.
Karl Malone – Career-high 16-of-17 from the free throw line as Malone scored 26 of his 36 points in the second half after missing most of the first half because of foul trouble. The Mailman had two fouls before 90 seconds had passed in the first quarter. And if this game is here, you can imagine the doozy waiting for you down at the Line of the Night.
Reggie Miller – Nine threes in his last five games. That's a league-best. Still, he's not the sophomore Reggie I'd most want on my fantasy team. Don't act like you've already forgotten the intro blurb of today's post.
Mike Holton – 37 min., 12/1/10, 2 stl. I take back everything bad I've ever said about him. Except for that thing about his grandmother. That was justified.
John Paxson – 24 min., 21/1/8, 4 3ptm. What's that? The Bulls were playing the defenseless Sixers last night? You don't say.
Horace Grant – Two weeks ago, I predicted (hoped) that someone besides Sam Vincent would step up to help Jordan. I predicted Will Perdue eventually, but General Grant has double-doubled in four of his first seven games as Vincent has withered into mediocre-at-best territory. He ended last night with 38 min., 15/15/2. It will be interesting to see if Scottie Pippen's season debut will affect Grant's minutes at the three. It better not considering I just snatched Grant out of the free agency pool.
Chris Mullin – The Warriors switching Wally and the Beave's next door neighbor from shooting guard to small forward seems to have paid off. He's getting to the line more and is averaging the league's sixth-highest number of points so far (27.8 ppg).
Mark Price – 12-for-12 from the line coming into last night's game; 15-for-16 coming out of it. You go right back to yesterday's game and try it again, Mark. You're gonna do it until you get it right.
Moses Malone – Scored 21 points, including Atlanta's final field goal with seven minutes to play (not a typo). It's not like he's worth more to your fantasy team if he scores a game-winner, but it's still an extra feather in your cap. Can't have too many cap feathers, can you?
Danny Schayes – Let no man claim Schayes is loungin'. PUN! He's averaging 19.1 pts/8.6 rbd in his first seven games, helped a bit by the Nuggets having played three overtime quarters in its first seven games, two last night.
Danny Manning – Let's stay with the Dannys, shall we? 20/8/2, with 3 blk and 4 tov. Fouled out in 34 minutes from the bench. This was his second game of the season. Facts!
Adrian Dantley – Left the game with 8:37 remaining in Q1 after cutting his lip and "knocking back" his two front teeth during a collision with Mark Aguirre. Eyewitnesses say Dantley wasn't quite Rick Derringer ugly, but was closer to it than anyone should be comfortable with.
L I N E   O F   T H E   N I G H T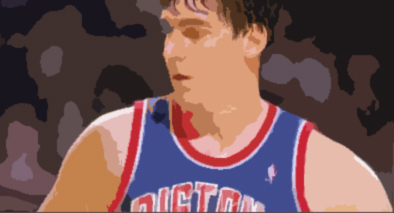 37 min., .615/.667/ 3 3ptm/ 23 pts/ 21 rbd/ 5 ast/ 0 stl/ 5 blk/ 3 tov
Bill Laimbeer – Swished a trio of threes. How normal is this? In his previous 650 regular season games he'd only made two three-pointers in one other game. So … not normal at all really. Also, the Pistons haven't lost a game yet. Mares eat oats and does eat oats and Billy Lambs beat nightly. Isiah beats nightly too. What else is new?