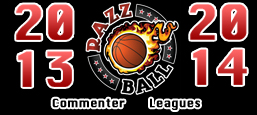 The 2013-14 RCL season is in the books, and congratulations to High as Greg Kite!  Great, now I have to shave that into my head… Ugh!  Which sucks because I'm tall too.  People are going to think it's some statement or something…  I really hate I made this the grand prize!  Of course Greg also wins a championship jump suit and Razzball T-shirt as we went over in the launch.  And second place Slippery Squirrels also gets a T-shirt as well.  Huzzah for prizes!  Updated in the Master Standings are the league champions in bold, but High as Greg Kite went in the #1 RCL team, and came out with the league title and overall RCL Championship as well.  You two lucky winners shoot me a comment or e-mail (jb at razzball.com) to claim thy prizes (well, I have yours Squirrels).  And I'll post the video of my haircut and public shaming sometime over the summer, but it will be done sooner rather than later.  Here's how the rest of the leagues shook out:
JB's Random Commenter League.  You did it Your Mom Says Hi!  You made it to the championship of your league!  Only to be Cronos-sed up by Crono's Team, who won the inaugural RCL.  Well done Mr. Cronos!  I am just happy that my head won't display something that could get me into fights and/or bridge clubs.  They're so innocent there!  Winning by a score of 5-3, Cronos snuck by with 5 fewer TOs and a .003% advantage in FG%.  They call that one a doozy!  Mr. Hill of Beans looked like a favorite, but hats off Cronos!
All Country Ball Club.  We all bow our heads to High as Greg Kite, our overall champion.  And beat a Kevin Durant team on top of it!  Able to get over the IT2 injury with the McCallum pickup, and a solid stream of Shaun Livingston as I kept pushing secured the win over runner-up Moscow Bears.  So by recommending Livingston, I am taking all the credit.  Hah!  Congrats again Mr. Kite and we all look forward to bringing you down a peg or two next year!
JB's Random Commenter League 2.  Last year's champion with another title!  Nice work Slippery Squirrels, but I gotta say, you sure snuck your way to the 2nd overall spot!  Dare I say, "squirreled you way to it"?  I totally had you in the semis, but injuries late in the week after I had made all my moves crushed me.  Lost 4-5 by 4 steals.  Wahhhhh!  I rescind your winnings.  Haha just kidding.  Slippery overtook our league leader Durant's World 5-4 in the championship as well, eking out nail biters of matchups.  Congrats to the Squirrels, and if you finish #1 or #2 again, I am going to be asking you for fantasy advice!
Razzball League 3 the Ringers.  From the mist of Appalachia come the juggernaut of The Appalachians to secure the title 5-4 in the Ringers league.  Well done mountain men!  Topping Drunk On Homebrew in a 5-4 grinder, the ghosts of Appalachia won by 2 blocks and a measly 17 points.  Power of the Manimal!  A great year from the Ringers and looking forward to seeing if Appalachia can get back-to-back RCL League Titles.
Razzball Hardwood Classic.  Another title bout that went straight down to the wire, Mayo Clinic came out with the victory over Murder Castle to win the Classic.  You're about the only basketball related Mayo to be good at anything, Clinic!  The matchup came down to FG%, which to the thousandths was actually a tie!  Both at .451%, but Clinic beat it out going into the deepest of deep fractionals for the title.  I don't think fractionals is a word, but I'm still so in awe of how close this one got that it's jacking up my English!  Great work to the Clinic and a great year in the Classic.
The Double Bonus Fan League. Thanks again to our friends from The Double Bonus for hosting their fan league in the RCLs, with the title going to that finger-waggin', shot-blockin' DIKEMBE SAY NO!  Pounding up on the Draft Dodgers for a 6-3 win, I do take offense that Diekembe didn't win blocks in the finals!  What is going on out here?! 9 from Serge Ibaka wasn't enough?!  Coming in as the 3 seed, Dikembe upset the first seed Dodgers for a fantastic title run.  Thanks again to TDB.com and be sure to check them out!
It's been a great RCL season, and I hope the best Razzball Hoops Nation has seen.  Mostly hoping we blasted 12-13 out of the water!  Be on the lookout for my shaved head-shaming and great content through the offseason.  We'll be looking forward to having you again next season!