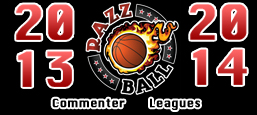 Razzball Hoops Nation!  It's that time of year where you bring your smack to the table, your chips into the pot, your yelling at my ranks to the battleground.  It's RCL time for Basketball and I'm excited for the best RCL season this side of Jeff Hornacek's short-shorts.
Listen, I know RCL last year didn't go very smoothly over here on hoops.  I took over as editor mid-season, had a lot of things not transition well, and I take responsibility for not shepherding through the final few months when I took over as well as I could have.  To make up for it, I went to Grey on my hands and knees and pleaded for the biggest prize pool we've ever given out with the sweetest Razz-pimp gear.  The top winner will get a 2013-2014 RCL Champion Jumpsuit (branded basketball of course) and their choice of a Razzball T-Shirt.  Second place won't go empty-handed either, and will get a T-shirt of their own as well.  But it doesn't stop there.  As an acknowledgement of shame and embarrassment from last year, I will shave (well – will have a professional barber somewhere – hopefully from Barbershop) the winning team's name in my head and post on the Razzball YouTube channel.  That way when you see the back of my head like in my avatar pic, you'll see in painstaking pale scalp skin the name of your winning team.  Wear your sunglasses!
We'll be having our RCL Leagues on Yahoo this year – for a few reasons.  One – it's where we have RCL Football and two – Yahoo offers fantastic player highlights that yours truly is part of the software team that creates.  We made them last year as well if you remember the experience, and my team at my real-life job is stoked to get back into the action.  So if you've never played fantasy hoops on Yahoo, you'll really like the experience.  We're making everything Yahoo default to save the headache and all the steps are laid out below to create your very own RCL Basketball League.
We're going to do head-to-head 9-cats this year (FG%, FT%, 3PTM, PTS, REB, AST, ST, BLK, TO), 12-team leagues (Yahoo defaults), and a little easier way to track the overall winner.  The top prize will go to the team that a) won the playoffs and their league title and b) had the best overall W-L-T record (in the regular season).  So to topple the RCL field, you've got to weather the playoffs yet have a dominant record in the regular season.  I know this takes out Rudy's usual League Competitive Index and will lead to some of the better regular season teams knocked out, but I think this will make a lot of teams suddenly in the running for the RCL title late in the year and for a much more entertaining final month.  We'll have weekly updates throughout the season (I promise) and looking forward to a great 2013-14.
If you have any questions/comments for RCL Hoops this year, shoot your comments below or if you really need me via e-mail, hit me up at [email protected]  Thanks for coming back for RCL Hoops!
TO CREATE A LEAGUE 
Set your Draft Time, but leave everything else default.  (NOTE – you must leave your original draft time the same or have unanimous agreement to change the date once your league is set to ensure everyone that has signed up for your league can make the draft.)
Make your league public (Commish Tools – Edit league Settings – the last option under "League Settings")
Add the league info to the Spreadsheet (which you see below).  You can't add into the spreadsheet directly in the post, you have to go through the above link.  To get your link to allow RCLers to join your league, go to Commish Tools – Invite Friends – (scroll to the bottom) – Or Send a Link.  Copy and Paste that link in Column G of the spreadsheet.
Update how many spots are filled when you can and enjoy your RCL League!
TO JOIN A LEAGUE
Click the link of the league you'd like to join and sign up.  That's it!
I've already got my JB's Random Commenter League ready to be joined and our resident Pete Nice will have one up shortly as well.  Good luck in RCL action this year and we're looking forward to a big 2013-14!