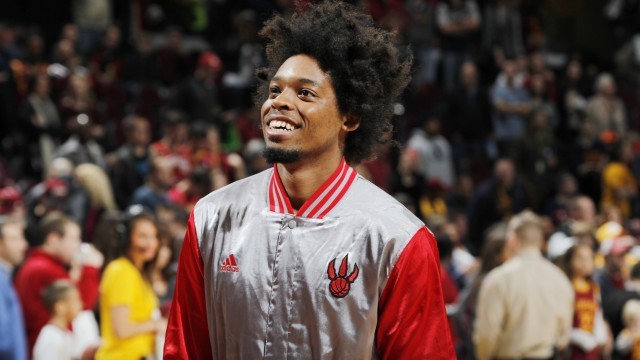 Lucas Nogueira!  Over the last 7 days, Lucas has averaged 8.7/8/1/2/3 – Clearly, the 3 blocks are a great reason to stream him while he's averaging 27 minutes per game. Plus, how can you not have that sweet fro on your team??  He's owned at 40% at the moment, so he may not be there at this point though.
Outside of Nogueira, we have some very old names on the list… Let's get to em!
Vince Carter – SG/SF – 9% – Whattttt??? VC is back on the list?? The 39 year old is more man than amazing, but he's still producing while Tony Allen is down.  Carter is averaging 32 mins, with 19 points, a couple treys, 3.7 boards, and 3 assists.  He's purely a stream play, but it really is incredible that he manages to stay relevant.
Jared Dudley – SG/SF/PF – 15% – That eligibility though!  It seems from the percentages that people don't like to pick up these old farts… He's put up fantastic THRAGNOF numbers this season, particularly the last week or so.  He's my top option on the list if you need treys.
Seth Curry – PG/SG – 25% – After JB's criticism [editor's note – I motivated him!], Curry has gotten his act together and he's now averaging 14 points, 2.3 treys, 5.3 boards, and 3 assists over the past 7 days.  Plus, the Mavs have major confidence in him, giving him 32 minutes a game over that period.
Maurice Harkless – He's going to stick on this list until he's over 50% owned!  Solid points, boards, and over a block a game for Mo, so give him a shot if he's on your wire.
Kelly Olynyk – C – 27% – Nice boards and threes from a big man, so I'd take a flyer on him in most leagues.  I think he will get some time at backup center and PF when Horford comes back, so he may have some long term value.
Trey Lyles – PF – 32% – If you read JB's notes yesterday, you'll know that Favors is struggling to get back on the court.  Lyles is insanely gifted, and he's a must own while Favors is out.
*Deep League Special*
Nemanja Bjelica – PF – 4% – He had one huge game, so I would probably wait and see what his role is, but Thibs clearly likes him, so his per minute value should be pretty good.
Now that we're further into the season, I'm sure that trades are starting to go down in your league.  If you want one of your trades evaluated and featured in next column, comment it below!
That's it for today!  Stay Razzy everyone, and enjoy our new player pages!