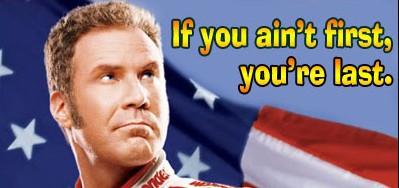 Wassup Razzballians!!
We've finally hit the stretch run in fantasy basketball!  This is the point where you need every player on your team to be productive.  Now, I promised the key to winning, in the title, so I suppose I should give some kind of helpful advice…
The key to all fantasy sports is to not be attached to your players.  You can build a juggernaut with this philosophy: Everyone is available for the right price.  When it comes to playoff time, it is important to cut injured and unproductive players.  I don't care who they are or how high you drafted them.  At this point, it's all about minutes and production.  Sure, you may get unlucky, and the player breaks out of his slump as soon as you drop him.  Thankfully, this isn't that likely.
If you're in a competitive league, cruising to a title is highly unlikely.  I've learned this through years of experience.  Even if your team appears to be stacked, it is very important to not take anything for granted.  If you can cut a player to guarantee yourself a win in the current round, then do it. It's time to put the pedal to the metal and make the ballsy move.
With that in mind, this week's edition of RazzWired will feature players who are poised for big minutes and solid roles down the stretch.
Gary Harris – SG – 42% – The man, the myth, the legend.  Harris is definitely a favorite of Slim and I, and he will be yours too, if you add him.  Coming in at 38 minutes per game over the last 14 days, he is as guaranteed as they get.  There's no reason to think that his minutes are going to come down too much in the future. He is a fantastic 3 and D guy, with upside.  Can you really ask for more?
Tony Allen – SG/SF – 45% – He absolutely dominated the Cavaliers on Tuesday, and he should get a lot of run down the stretch.  Grab him if you need steals, and enjoy the ride.
PJ Tucker – SG/SF – 39% – As rock solid as they get.  Great minutes all year, and there's no sign of slowing down.  It's tough to find multi-cat guys averaging over 30 mins a game, but Tucker is one of em!
Norris Cole – PG/SG – 31% – Yep, I'm repeating myself.  Cole really does need to be owned.  He's getting great minutes, even off the bench, and he is a clear go-to guy on the team.  Plus, with Gordon out for the season, they don't really have another option.  Orlando Johnson?? Yeah right!
Jerryd Bayless – PG/SG – 27% –  MCW is out for the year, and Bayless is the clear beneficiary.  I'd take Cole before him, but both are going to be worth owning.
Jerami Grant – SF/PF – 20% –  I've been talking about Grant since the start of the season.  Great defensive stats.  Mediocre percentages at best, but if you need cheap blocks and steals, he's a great option.  Plus 32 mins a game over the last 14 days.
Matt Freakin Barnes!!!! – SG/SF – 39% – Yes, he had a rest day with Z-Bo last game, but the game before that, he dominated.  Please pick him up… I'm pleading with you!  He has been a clear top 100 value this season, but nobody seems to notice…  It's getting rather depressing…
That wraps it up for the week.  Best of luck in the playoffs everyone!  Hopefully I helped some of you get there!  Just for the record, I apologize to my RCLs, as I have been neglecting them, aside from setting lineups… I overextended myself just a tad this season.  At any rate, this article was supposed to be shorter, since midterms are this week… But hey, it is what it is.  Have a great week Razz-nation!