Wazzup Razznation??  It's good to be back!  I obviously missed the last week because I was on vacation, visiting some friends in Cincinnati.  While I was up there, I got a chance to go to a Kentucky game at Rupp arena, then shoot around, and play some pick-up in the practice gym after the game (one of my friends is a manager for the team).  Definitely was a cool experience, although I'm not a huge Kentucky fan.  The athleticism and talent of the UK squad is unquestionable, but they won't make it very far in March without a lot more hustle and outside shooting.
Just for the record, this was the UK vs Arizona St. game on 12/12/2015: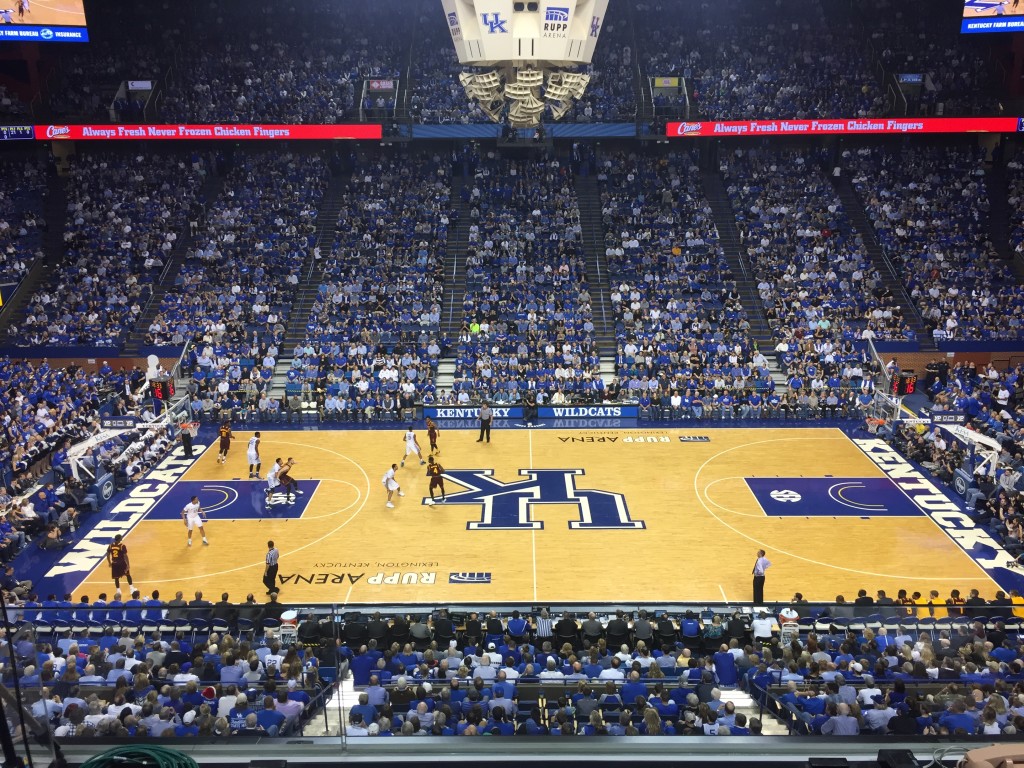 At any rate, let's dive into some NBA action!
Matt Barnes – SG/SF – 43% – Barnes has been killing it lately, with insane production across the board.  Plus, he's getting minutes in the 30s now, and I don't see this changing while he's this productive.  The Grizzlies just can't afford to bench him, with how their offense has struggled.  Make sure he isn't on your wire.
Patrick Beverly – PG/SG – 49% – Another must-own player.  Beverly has completely outplayed Lawson in every conceivable way.  With the minutes he's getting, Beverly definitely needs to see his ownership go up.  The numbers aren't high end, but the consistency is very nice for a lower end option.
Raymond Felton – PG/SG – 23% –  Who woulda thunk it?  Carlisle has successfully raised Felton from the dead, and turned him in a very productive player.  Parsons may take some minutes away from Felton at some point, but Ray should remain very relevant, especially if you need assists.  He has also been a surprise in the rebound column, with a triple double on his resume this past week.
Jameer Nelson – PG – 16% – Yep, another point guard… With Mudiay ailing, Jameer is a great low end streamer.  He's worth a look in all formats, while he's getting these minutes.  His playing time is assured, since Mudiay is out, and Denver has actually on an unlikely winning binge.
John Henson – PF/C – 8% – With the news that Monroe will likely miss a few games, Henson becomes an instant stream.  Blocks in quantity, should not be a problem.  So if you want those, then grab him til Monroe gets back!
Ok Gentleman, it is time to analyze the biggest blockbuster in the REL league this season.  The trade took place between yours truly ("HateUsCauseTheyAnus") and the "Hoopus Alleyoopus squad".
Here's what went down:
Frankly, this deal tore my heart out.  Westy is probably my favorite player in the NBA today, but the keeper price on Blake was just too low to pass up.  From my side, Lopez has a great keeper price, but his durability is definitely in question.  Drummond may be on the move at some point, but it's probably best to just punt FT% for this year, while I have LBJ on my team.  This trade keeps me competitive this year, and saves me $26 for next season's draft.  Plus, as much as I love Westy, it'll be good to not have to punt TOs automatically.  I do think Hoopus got a very solid deal though, as Westbrook is definitely one of the most dynamic players in the league.
Feel free to share your thoughts below!
As always, follow me @RazzWired for pickup info in between articles.  Be sure to comment here for questions, but feel free to hit me up for waiver or trade advice on that account as well!  (I apologize for not keeping up with that account this past week.  I honestly watched one game of basketball during the trip.)