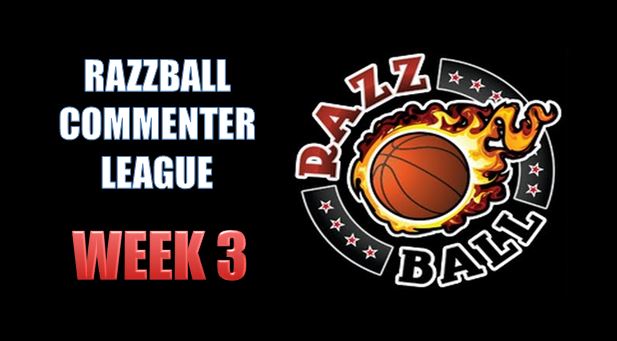 Week 3 of the fantasy basketball season is in the books and here is a breakdown of what happened in the 18 Razzball Commenter Leagues.
Every Tuesday, I will update the standings, summarize the action, look at some of the best moves, and name a Team-of-the-Week. So not only are you playing for your own league's title, you are playing for the title of overall Razzball Commenter Champion.
Here are the Week 3 highlights from all 18 leagues:
Experts League: Tarch Tadness followed up their perfect 9-0-0 week by going 3-6-0 and falling back to the middle of the pack. Meanwhile, Team Scott went 8-1-0 to keep a narrow lead on Brent Razzball, who went 7-1-1. Team Scott is built to last with Stephen Curry, Buddy Hield, Kemba Walker, and DeMar DeRozan leading the way. This is shaping up to be a competitive league.
Razzball 1: ELITE increased their lead last week by going 6-3-0, while last year's overall champion Pikachu started their climb to the top with a 7-2-0 week. ELITE has Giannis Antetokounmpo, Jimmy Butler, and Eric Bledsoe to thank for the great start.
Brent's Ballers: Stylin' Profilin' had another strong week going 7-2-0 to take a 5 game lead over second place. Stephen Curry, Kyle Lowry, and DeAndre Jordan's strong starts have a lot to do with it.
Brent's Ballers Too: Brent TheFantasyDick finally knocked Ayton's Place out of first with a 7-2-0 week. Ayton's Place is only a half-game back, however, and they are built to last with James Harden, John Wall, and DeAndre Jordan. My team is led by Damian Lillard, Caris LeVert (my number 1 sleeper), and Hassan Whiteside (who is getting his knee examined, ugg). First place may only be temporary.
Funny Pun League: The top six teams in the league are only separated by 2.5 games. Mamba's Team has moved into the lead even after a 4-4-1 week. Kemba Walker, Klay Thompson, and Buddy Hield lead the way. There is also a huge trade that went down between FPL-Celestial Being and Phenomenal Cock. Celestial is sending Eric Bledsoe, DeAndre Jordan, Taurean Prince, and Kevin Durant and getting back CJ McCollum, Damian Lillard, Andrew Wiggins, and Blake Griffin. Who do you think is the winner?
Razzball Banana Boat Crew: Dirka Mohamed Jihad jumps into first and I hope this sentence does get Homeland Security knocking down my door. Dirka had our second 9-0-0 week led by Kemba Walker, DeMar DeRozan, and Damian Lillard. I'm starting to notice a pattern with these names.
Dynasty Deep Dive: Brent USA! kept it rolling with a second consecutive 6-3-0 week and they hold a 2.5 game lead over Scottish Knicks. My squad is led by Victor Oladipo, Tobias Harris, and the amazing Joel Embiid.
Razzball Mayhem: The Mayhem continues with Feed Paint holding a 1.5 game lead over Another Brent Team. Feed Paint has Nikola Jokic and DeMar DeRozan to thank for their strong start as well as three awesome rookies: Trae Young, Wendell Carter Jr. and Luka Doncic.
Razzball H2H: Ultra Instinct continues a crazy hot start by going 8-1-0 last week. They hold a 3 game lead over Swaggy P's Ho Trains as they both pull away from the pack. But Ultra Instinct runs into The B-Rents this week, so watch out! Ultra is led by Zach LaVine (#AllStar), Kemba Walker, and the red hot Buddy Hield.
RAZZblueBALLS2: VIPO and SOOnami stay first and second this week, with VIPO increasing their lead to 2.5 games. Osama's RazzblueBall are showing great league leadership by letting everyone else be ahead of them in the standings. VIPO is another team riding Kemba Walker's best season ever.
RCL Expert League: fishingwithmarkcuban had a second consecutive 8-1-0 week to take a 5 game lead over My Team and RJ's Razzballs. Stephen Curry is the anchor of fishingwithmarkcuban's team and he could lead them to the promise land the way he's playing.
Razzball 12: Oplan TokHang Time! went 7-2-0 to jump into first place passed porno4mumu. Guess who Oplan has to thank for the run to first, yup, Stephen Curry.
RCL SON: The two top teams battled last week with Clarice LeVert beating Son 5-4-0 to move into a tie for first. Clarice is led by, surprise, surprise, Stephen Curry.
Viz against the Commenters: Freak's Geeks remain in first but only by a half-game after Hal's Team went 7-2-0. Freak's Geeks are riding The Greek Freak and Kyle Lowry to the top, while Hal's Team had a great week from Kawhi Leonard (get well soon) and his Damian Lillard. Viz is also being a true leader and letting the other teams have a better record to start the year.
Italy vs Razzball 2.0: Ciri&gges team increased their lead to 4 games with a 7-2-0 week. Even with Anthony Davis missing games they still look strong with Kyle Lowry and Rudy Gobert.
RCL Run The Numbers: EvrybodyLuvsDraymond and John's Awesome Team are tied for first with only a half-game lead over Little Aristotle. This league is really close with only 9 games separating first from last. It will be interesting to see if anyone can pull ahead of the pack.
Lahbraaahn Jayyymes: LeGoat moved into first by a half-game over Jerry Stackhouse with Karl-Anthony Towns and Kemba Walker leading the way. This league is another tightly packed one with only 9.5 games separating first and last place.
Razzball Nakamoto League: The final league is the tightest race yet. Only 8 games separate the leaders from the bottom with Evil Empire and Union Olimpija leading the way. Evil is led by Zach LaVine (#AllStar) and Union by Stephen Curry (shocker).
TEAM OF THE WEEK
Name:
Dirka Mohamed Jihad (Razzball Banana Boat Crew)
Key Players:
Damian Lillard:      .462/.968/10/112/20/24/6/1/10 – Wow
Kemba Walker:      .452/.909/10/58/14/18/1/0/6
Serge Ibaka:            .635/.846/3/94/31/5/6/6/4
DeMar DeRozan:   .575/1.000/1/110/20/21/6/1/9 – Wow
Paul Millsap:          .591/.750/5/66/25/7/5/4/6
Andrew Wiggins:  .411/.600/9/58/11/2/7/2/4 – He's trying
BEST RECORD – TOP 20
| | | |
| --- | --- | --- |
| Ultra Instinct | Razzball H2H | 22-5-0 |
| Fishingwithmarkcuban | RCL Expert League | 22-5-0 |
| [email protected] team | Italy vs Razzball 2.0 | 20-6-1 |
| VIPO | RAZZblueBALLS2 | 20-6-1 |
| Feed Paint | Razzball Mayhem | 20-7-0 |
| Freak's Geeks | Viz against the Commenters | 20-7-0 |
| Hal's Team | Viz against the Commenters | 19-7-1 |
| Swaggy P's Ho Trains | Razzball H2H | 19-8-0 |
| Another Brent Team | Razzball Mayhem | 18-8-1 |
| Team Blitzball | Viz against the Commenters | 18-8-1 |
| ELITE | Razzball 1 | 18-8-1 |
| LeGoat | Lahbraaahn Jayyymes | 18-8-1 |
| Oplan TokHang Time! | Razzball 12 | 18-9-0 |
| SOOnami | RAZZblueBALLS2 | 18-9-0 |
| Jerry Stackhouse | Lahbraaahn Jayyymes | 17-8-2 |
|              Porno4mumu | Razzball 12 | 17-10-0 |
| LeGoat | Lahbraaahn Jayyymes | 12-5-1 |
| Evil Empire | Razzball Nakamoto League | 17-10-0 |
| Union Olimpija | Razzball Nakamoto League | 17-10-0 |
| RJ's Razzballs | RCL Expert League | 17-10-0 |