Happy 2016, Razzball Nation!  I hope all of you had a fun and safe New Year's Eve party.  Because for me, well, let's just say I woke up with no clothes on laying in a field with a partially eaten deer carcass…  What can I say, I thought it was Jason Kidd at first!  Dumb rotations…
The party started out all normal – Slim had some Australian 'shine, Matty brought the poutines, Dan A DJ-ed with his awesome hip hop mixes, the Petes just wanted to talk about their decent (Wizards) and atrocious (Sixers) Eastern conf. teams, danb was too busy following his DFS slate to bring anything, charlie showed up drunk since he's on winter break, and Adam, well, I stayed away from him since all he wanted to talk about is how lucky my Panthers 14-0 run was and I knew a couple sips of Aussie shine in I might not be able to hold off my gun show.  Stupid Bucs fans!
Once we all got settled, we couldn't figure out a good movie to watch, so I put on A Scanner Darkly since during my Holiday travels I went to the Arctor house!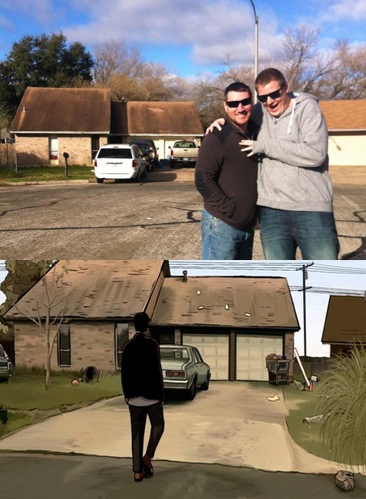 Then at some point once Woody Harrelson said "don't blame the drugs!", it was the second half of the Pistons bludgeoning the Wolves and Kentavious Caldwell-Pope starting going nuts.  He's my Substance D, that's for sure!  My KCP addiction just took another monster hit, as he started slow but went bonkers late, ending with a 22/4/3/3/0 line on 7-17 shooting, with 2 treys and nary a TO.  Everything started to get all Rotoscope-y, I turned into a Jeff Bridges Altered States cave person, and went hunting through the prairie.  KCP has been ridiculous this past month, with a strong finish to 2015 after a couple of duds.  I think we easily see a top-100 finish that could creep to top-75 if he stays healthy with all these minutes.  All I know is when my KCP addiction is strong, I don't feel any muscle in my body!  I stay up for 3 days at a time!  So 37:33 MPG should be no issue for him.  Here's what else went down on our final night of 2015 in fantasy basketball:
Andrew Wiggins – As I mentioned in a comment yesterday, maybe one of my New Year's resolutions should be waiving the white flag, and waiving Wiggins away as he leaves the seaport on the Titanic.  It just isn't going to show up…  But hey, I mean, you never know, the Titanic was successful for something like half of its trip!  21/3/1/3/0 with a trey and 4-4 FT, and who knows, maybe this is the Titanic in reverse…  We're off the ocean floor, the iceberg is dead ahead, maybe we miss it and the rest can be all Leo-tastic.
Zach LaVine – A big help to KCP's numbers, as his on-the-ball defense has been atrocious.  1-8 from the field, 2-4 FT, and 5 fouls in 25 blah minutes.
Brandon Jennings – Got 21 minutes – albeit with some garbage time in there – going 7/6/3/0/0 with 3 TO.  Hit 1-6 from deep, missed his only FT, and while he looks spry he looks rusty.  I'll call it "sprusty".
Khris Middleton – So I think on the Pod I mentioned The Duchess and Klay Thompson as 30-pt Challenge options, and of course I picked Reggie Jackson.  Ugh.  Anyway, The Duchess went bonkers again for 33/5/4/2/1 with 4 treys on 12-18 shooting, giving him back-to-back 30 pointers.  Gave you two regal babies for a royally awesome end to 2015.
Michael Carter-Williams – You can take a player from the Sixers, but you can't take the Sixers out of the player!  11/7/8/3/3 for a 1.5 rainbow and just plain sexy in the counting stats, but 3-6 FT and 4 TO.  Hey, at least I attacked the king-Buck-Kidd out there in my KCP trip which helped MCW get his starting minutes back…  Maybe the last time I tripped on KCP I took a bite out of his hip and that's the problem he's had…
Paul George – Slim has reminded me he's fallen off a cliff more times than Bill Murray in Groundhog Day, but finally George secured the perfect night with Andie MacDowell and went 31/6/5/2/0 on 8-13 FG (5-9 3PTM 10-11 FT).
Monta Ellis – While PG13 could use less TO, Monta REALLY needs to cut out the rubbing-butter-on-his-hands-pregame routine.  8 giveaways, and while he's looking better attributing more mobility in his knee stemming from a cyst in the offseason, there's still some gelling that needs to happen in Indy.
Klay Thompson – 38 points, and GSW CAN win without Stephen Curry!  Wasn't Trevor Ariza supposed to be good at wing defense?!
Draymond Green – I'm in lovvvvvvvvvvvvvve.  10/11/16/2/2 with a trey.  Can 2014 AND 2015 both be the year of #OccupyDraymondGreen?!
Dwight Howard – Continues to be a lot better than I thought.  He and Rondo have both been washed-up reclamations.  Washed up revenants!  See, all my movie references can help vocab too!  21/13/5/2/3 hitting 8-9 FG and a shocking 5-6 FT.  Career-best FG%, nearly best TO per game, playing 2.5 more mins a game than last year, STL are over 1.0 for the first time in 3 yrs and the blocks have bounced back.  Crazy.
Terrence Jones – Well, the streak got snapped last Saturday, but I want to reiterate what I mentioned on the Pod last week:  since Nov 27, the Rockets are now 11-1 when Tjones plays 20+ minutes.  It was 11-0 until last Saturday.  And since Nov 27, the Rockets are 0-6 if Tjones plays under 20 minutes.  The Rockets lost last night, in a close game at that.  Jones played 14:34.
J.J. Redick – Loved being able to take more shots last night just as much as Amanda Bynes.  I hear her New Year's Eve parties are dopppppppe!  26 Pts with 4 treys, giving him 25+ Pts in 3 of the past 4 as he's becoming a primary scorer with Blake Griffin out.  Still pretty ThrAGNOFfy, but worth holding for now.
Norris Cole – Played a whopping 34 and a half minutes, going 15/5/4/1/0 with a trey in the loss against the Clip.  He actually started the second half, in a role he's pretty used to since his time with the Heat – stand around and let the better players create.  I keed, he looked pretty good, but it'll be tough to rely on him for much except in the deepest of leagues.
Jrue Holiday – His minutes limits (too many plurals!) are lifted, but only 11/2/6/1/0 with 5 TO last night in only 28 mins off the bench.  Just looks odd next to Cole's run…  It may be risky, but I think there's a small buy low window for Jrue right now.
T.J. Warren – Got the start and was sickkkkkkkkkkkk!  29/9/3/4/0 on 11-17 shooting, with 3 treys and 4-4 FT.  Not bad for a guy many (including me!) were worried would be a mid-range only shooter with little D stats.  Although I'm not sure how the Suns lineup worked, I'm guessing he was guarding KD and P.J. Tucker was on Serge Ibaka?  Also Jon Leuer was out and it sounds minor, so the 41 minutes seem pretty damn fluky.
Brandon Knight – Has been handed the keys, and really hasn't been that good.  I'm pretty disappointed…  15/2/6/2/0, on 6-20 shooting and 5 TO.  Then again…
Russell Westbrook – …went absolutely ham, going 36/1/12/5/1 with only 1 TO.  12-19 from the field and 11-11 FT, with Knight having 5 fouls.  Knight just needs to face the Lakers again soon!
Trey Burke – Back-to-back 20 Pt games helping to fill the Alec Burks void, going 27/1/3/1/0 on 12-19 shooting with no TO.  I've spent too many years (well, 2.5 of em) trying to figure out if we can trust Burke.  That amount of waffling means I have a goose egg of Burke shares.  Now I'm hungry for breakfast!
Jeff Withey – 4 blocks, but he's further down the BLOCKnof food chain than virtually any other streaming big.  I'll be Withoutey.
Rodney Hood – Very hit or miss, but when he's on, his stat lines can look sexy.  18/7/6/1/1 with no TO, hitting 4 treys.  He was 1-13 from the field last time out, and 2 for his last 18 from deep the previous 3 games.  That said, they need offense, he can chip in dimes and steals, and he's gonna play.  At 47% owned, it seems a bit light.
C.J. McCollum – Man, he's just plain a lot better than I thought.  2015 can be the year I shouldn't have doubted CJ, OK?!  32/7/6 with 6 treys, but no steals and what's with an 0-2 FT?!  I take that back he's terrible!
Meyers Leonard – Whoa, look he CAN actually hit some treys!  6-8 FG with a huge 5-6 3PTM.  Culminating in an epic, wait for it, 17/3/2/0/0 line with 2 TO.  I mean, that's like Lance Thomas!  He's been playing better, but has 10 BLK and 4 STL, wait for it, on the season!  Plus multi-TO in the last 3 games, and as a deep shooter, this trend of decent FG% lately isn't gonna stick.  I'm leaving him out there in 12ers unless he's on a good stream night.
Happy flip of the calendar, Razzball Nation!  Thanks again for everything making 2015 our biggest year yet, and we look forward to an awesome 2016.  We're back to our normal schedule as well as we're through the Holidays, so I'll see you on Monday with the 7 Ahead.  Big thanks to Matty for previewing last week.  See ya then, and have a good weekend Razzballers!