Welcome to your midweek guidance for Week 16!  In this post, I identify widely-available players who can help you win your head-to-head matchup.  With the trade deadline just around the corner, it's almost time to see if any of those popular long-term stashes pan out.  We've already seen one relegated to the ash heap, with the annual Myles Turner trade rumors mostly fizzling out last week.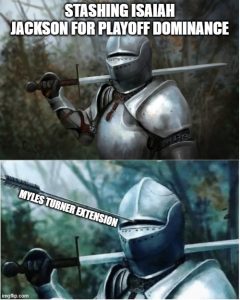 I use the word mostly because there's a small chance that I might have to eat my words (meme?).  Technically, Turner could still be moved after signing an extension.  And though Indiana's management is adamant that they're committed to Turner, we know that NBA franchises are not always paragons of honesty.  In all likelihood, however, Turner will remain a Pacer well beyond next week.
Fortunately, there are other plausible trade scenarios that will alter the fantasy landscape.  Keep reading if you're looking to lean into a couple short-term stashes that could turn into big fantasy contributors after the deadline.
The Celtics, Nets, Thunder, Spurs, and Jazz have just one remaining game before Monday, while the Knicks, Pelicans, Pacers, Nuggets, and Hornets play three more games.  Each day gives us opportunities for streaming, as Saturday's slate is the largest with nine games on.
These are the players I'm watching and adding to close out the week.
Four Category Contributors
Three Category Contributors
Two Category Contributor
Hit me up in the comments with any questions or feedback!