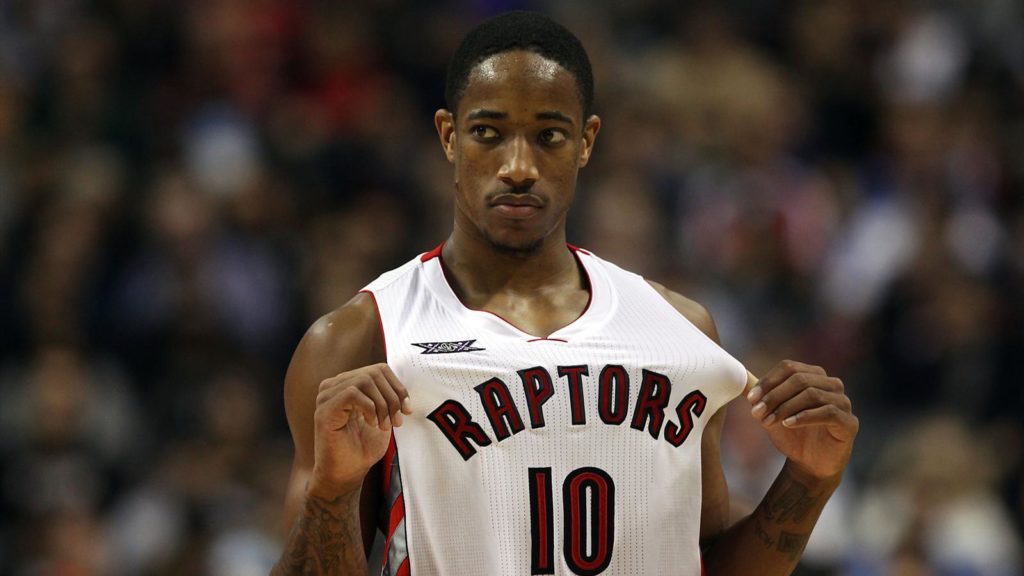 As I begin to write this recap, the Portland – Poppycock game has yet to begin, but frankly, NBA basketball was quite bad tonight/tomorrow… The March Madness games were fantastic, but most of the NBA teams have either locked up their spots, or cashed it in for the season.  Given that, I'll point out that DeMar DeRozan had 40 tonight, but the game wasn't particularly great, and the Raptors won 101-84. That being said, let's dive into the mediocre slate:
Delon Wright – Outside of DeRozan, Delon came off the bench to produce a solid 13/7/3/2/0 line in 24 minutes.  He's looked great since Kyle Lowry went down, but who knows what his playing time will look like next season.
Hassan Whiteside – 16/14/2/0/2 .WHAT!?!?!?!?! Another 2 assist game??? Hassan is finally turning into a point-center!  Look out Boogie, Whiteside now has 5 assists in his last 3 games!  The apocalypse is near!
K.J. McDaniels – 16/8/1/2/1 in some major garbage time… Who knows, maybe this will lead to better things though.
Brook Lopez – 18/6/0/0/1 with 4 TOs.  Bleh.  Lopez irks me.  The Nets irk me.  They managed to put up 126 points, without any above average fantasy lines.
Marquese Chriss – The only redeeming fantasy line in this game.  23/11/0/2/1 with 3 treys.  He's going to have his ups and downs, but the talent is undeniable.
LaMarcus Aldridge – Finally had a solid game in a win over the Griz.  23/7/1/0/3 for LA, and given his performance this season, that's a big line!  Hopefully he can keep it up down the stretch, but who knows if Pop will even let him play enough to get in rhythm.
Mike Conley – 22/2/6/0/0. He went 1-8 from 3, but still managed a mediocre line overall.
DeAndre Jordan – The big man rocked out for a typical 14/18/1/0/2 and arguably the best line of the game.
Chris Paul – 15/6/6/3/0. The steals were nice, but it was a pretty mediocre day for CP3.
Seth Curry – After questions about his availability, the lesser known Curry put up 23/3/4/0/0.  No defensive stats, but the 9-14 shooting, and 3 treys were sweet!
Harrison Barnes – 21/2/0/2/0 At least he had 2 steals, but man, the lack of peripherals is frustrating with Barnes…
That's all for now folks.  Damian Lillard is blowing up again, as the Poppycockers get blown out… Dame has been unconscious lately.
Leave your questions below, and remember… Stay Razzy!