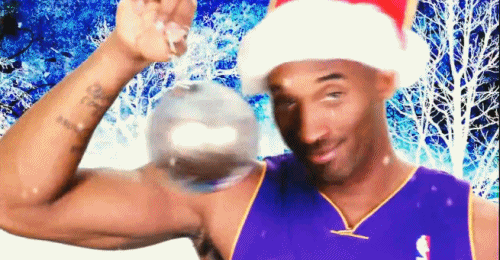 First off, Merry Christmas! Hopefully you enjoyed the smorgasbord of NBA basketball on Sunday, the first Christmas basketball with the Lakers playing but not this guy. And they're better of for it. But with Christmas now a full calendar year away, let's ring forth towards the new year!
And along with the new year comes a new look to The 7 Ahead! You know, New Year New You. All that nonsense. Well, I'm the same, still ballin' out of control like Deion, but this series gets a facelift for 2017. And, of course, a little #millennial touch. Welcome to the new 7 Ahead! Merry Christmas and Happy New Year!
The 7 Ahead
5-game week: N/A

4-game weeks: ATL, CHA, CHI, DAL, DET, HOU, IND, LAC, MEM, MIA, MIL, MIN, PHO, POR, TOR




2-game week: GSW
Overall Thoughts: After a 5-game week earlier this month for the Warriors, all non-Kevin Durant or Steph Curry owners catch a breath by seeing them on the calendar only twice. Meanwhile, the rest of the NBA gets back into their normal rhythm following the Christmas Day spectacle of back-to-back-to-back-to-back-to-back nationally televised games on Sunday. Goodness, the glory. Half the league steps into a four-game week, leaving plenty of opportunity for your primary players to bring significant production this week. It will be interesting to see how much the older veterans in the league begin taking their DNP-Rest Coaches Decision days off as the season progresses. We've seen it start on the more grizzled teams, but be aware that more is likely coming. The week kicks off with a beautiful matchup of big-men unicorns in Joel Embiid and DeMarcus Cousins. Boogie's the better player right now, but what Embiid is doing is nothing short of spectacular. One reason I'm praying for a Boogie-to-Boston trade is that we'll see this matchup more often in the years to come. Wishful thinking, I know…but it's the new year. What better time for it! Those two towers give way to the more appealing matchups later in the week, though. Primarily on Wednesday with the Game of the Week: Toronto Raptors @ Golden State Warriors.
Top Weekly Waiver Options (<40% owned in Y!/games this week):
Marco Belinelli (21%/4) – Averaging almost 15 ppg over the past week, Belinelli is crafting a spot in the rotation as a deep threat off the bench. He's consistently going for double digit points with multiple 3PM. The Hornets offense revolves around the double high screens for Kemba Walker so that he can slash, shoot or kick. It can really open up the wings,and Belinelli's taking advantage. Watch out for an ankle injury that occurred in the middle of this past week, but if he's healthy enough to go he's a great add if you're looking for those few cats he provides.
J.J. Barea (35%/4) – The obvious caveat with Barea is his health, as he's coming off an achilles injury that sidelined for a few weeks. The big boost he brings is that he's essentially a top 15 PG when he gets 30 minute for the Mavs. Hell, in only 13 minutes in his first game back he went for 11/3/4/1. 13 minutes! He gets to the line and never misses, can easily drop 15 a night on this team, and with other scorers getting healthy, including Dirk Nowitzki, his assist numbers could reach 6 per game. He's a huge health risk, but worthy of the IL slot if you have one if/when he goes back down.
Seth Curry (22%/4) – Someone benefitting from both the injuries to the Mavs backcourt and the return of a playmaker like Barea is the younger Curry. He's a scorer. That's it. And that's all he'll probably be, but that's ok if he continues to improve upon his craft. He's a top 60 player the past week from hitting 2.5 3pg…and at an efficient clip. Curry's a dangerous add because his value is likely tied to his FG% because he doesn't get enough volume to rack up stats through bad nights. But on the good nights, and when he's getting just shy of 30 mpg, you can easily see a 16/3/4 line with a trio of treys. There's value here as a streamer.
C.J. Miles (32%/4) – A wildly streaky scorer, Miles is worth the look in deeper leagues because of his potential volume. With the Indy backcourt largely injured, the scoring weight is falling heavily upon Jeff Teague and Paul George. Now, yes, that's where it should be, but the window for Miles shots is opening wider since his mpg over his last 6 games is north of 25. Like Curry above him, he's hitting treys at a solid clip and bringing value to a few cats along the way.
Marreese Speights (21%/4) – Speights is poised to receive the biggest uptick in minutes due to the Blake Griffin injury. Somehow he hasn't yet, but the wily veteran doesn't need bushels of playing time to bring some quick production. In his past week he's averaging 12 mpg with 1.8 3PG on 58.6% shooting. Hard to top that when looking for a heat check. Oh, and that all came on 18 mpg. If that number bumps up to even 25 mpg we're looking at a potential 14/6/2 line while Griffin's out.
James Johnson (17%/4) – With most of the names in here we're deep diving to find a streamer because you have an empty slot in your lineup, but with Johnson we just may have a keeper to your roster. Over his past 14 days here's the line this journeyman defensive stopper is slashing: 12.7/6.1/3.9 on 56.1 % shooting. He's even hitting 3's (one per game)! The injuries to the Heat created a consistent spot for him in their rotation, and with potential trade chatter heating up for some of their bigger named veterans, like Goran Dragic, the path to Johnson maintaining 25+ mpg on this team is wide. I'm a big fan of this add for the next few weeks, at least. He's the potential gem of the week (you know…I should put an emoji in for that. So I did! Be on the lookout for the gem of the week each week moving forward. It's a new year. New year, new you. You're welcome.)!
Malcolm Brogdon (5%/4) – Don't look now but you may be looking at the dark horse for Rookie of the Year. Coming out of UVA Brogdon was one of the most NBA-ready prospects in last year's draft, and Jason Kidd's trusting him like a wily veteran lately. Thrust into 25+ mpg he's operating like a combo guard that can bring some stability to the backcourt while Giannis Antetokounmpo and Jabari Parker do their scoring things. And it's showing. 11.3/3.0/6.3/2.0 is the line his putting up while shooting, wait for it…70% from the field. Haha! The FG% won't remain there, obviously, and the scoring likely won't balloon much higher than a dozen per contest, but the other stats are completely repeatable. Snag him now while his ownership is so low, because come February Brogdon could easily lock in 30 mpg for the Bucks. He won't win ROY, it's already Joel Embiid's award, but he'll end up First Team.
Ty Lawson (12%/3) – I highlighted him at the start of the season for his five-game week, but haven't dared touch him since then. The fall from his top-tier fantasy days as a high assist PG has been so precipitous I just frankly can't trust him. However, somehow Coach Dave Jaeger of the Kings is warming up to the idea of Lawson running the backcourt more and more. He's not starting, but the past week averaged 27+ mpg on the floor. When your coach says, 'Generally, backups will play 16 to 18 minutes. I think he's way better than that,' it's quite the boast of confidence. The Kings are better when Lawson plays with Boogie (9.0 pts better per 100 possessions) with them playing together, leading to his 12.8 ppg over the past three games. It's only 3 games this week, but worthy of the deep-league add if you're in need of a PG or assists.
And now a look at the daily rhythms of the NBA for this week!
Monday: 11 games and little opportunity to stream. It should be interesting to see if any of the teams running on 3 games in four days, like the Cavs, choose to rest their players after their Christmas Day games. If LeBron James was ever going to sit one, it would be on the road against gritty Pistons team. The Suns/Rockets game should feature about 872 3PA, with Devin Booker and James Harden  firing up 47 between the two of them. Haha, points for days. The nightcap of the aforementioned Embiid v. Cousins will be a great ending to a wonderful start of the week. 

Tuesday: 4 games on the docket mean this is your primary streaming day of the week. Watching Russell Westbrook go bananas against the struggling Heat should be a blasty blast, but you should start to target those Mavs streaming options for their game against the back-to-back defensively-inept Rockets. Barea and Curry may be in line for an uptick in points if the Mavs want chance of keeping up with Houston.
Wednesday: 10 games on Hump Day as the league continues the trend of a heavier middle to the week. The Raptors/Warriors is the best game of the week, but the Clips/Pelicans matchup will get my attention. Say what you want about how good DeAndre Jordan is at defense, but he can't hold a candle to Anthony Davis. Otherwise the day's filled with a bunch of meh, which is exactly what the Eastern Conference is. It's hard to find a lot of gems on the calendar when only two teams are legit threats to contend for anything of significance (sorry Boston). Seriously, go ahead and lock in the Eastern Conference Finals now, and it won't involve the struggling Hawks, non-super team Knicks or scrappy Hornets. Raps/Cavs V.2 is on the way, folks, especially fi the Raptors can swing a trade for a treating big man.
Thursday: Give me the challenge of Westbrook against the top defensive team in the league, Memphis Grizzlies, as the best game of the night. I just mentioned how good Toronto is in the East, but their on a back-to-back amidst a long west coast trip here, so if you're looking for a long shot upset the Suns may be in line to make you some money. While their backcourt is convoluted it seems to be clearing up a little bit, you know, like the 14 year old finally coming into his own after a long winter of middle school Proactiv attempts. A tired Toronto backcourt may give way to Eric Bledsoe nearing a triple-double and Devin Booker lighting up the home crowd for 30+. And if Boston can get their act together, their visit to Cleveland could be an incredible battle.
Friday: Back to 10 games to start the weekend, and watching all the young'ns in Milwaukee and Minnesota face off is must-see-TV. Yes, the mentioned above Malcolm Brogdon will look to make an imprint on the game, but he'll give way to all the second and third year stars that litter these squads. Too bad we won't see much of them come playoff time. This year. Who do you start your team with, though? Coming into the year it was obvious, but which way do you lean now: Karl Anthony-Towns or Giannis Antetokounmpo? Also of intrigue is the 3 v 4 matchup int he West when the Clips visit the Rockets. My money's on the Houston at home.
Saturday: Six games on the calendar, including a potential shootout in Houston when the Knicks visit town. They're a bit of a conundrum to me. With Carmelo Anthony, Derrick Rose, and Kristaps Porzingis it seems the Knicks hold be winning at a higher clip. They're certainly scoring more this year with Rose at the point. But they haven't quite gelled yet, and I'm curious to see if Carmelo is alright entering the twilight years of his career, or if he churns the anxiety about his non-winning/non-Championship legacy into a trade to a contender (Blake Griffin for Carmelo Anthony, anyone?). Anywho, those two teams can score in droves, and it's the matchup I'm watching closest on New Years Eve. Haha, if I'm watching basketball at all…A few other matchups should be fun to end the old year and compete for your viewing pleasure with college football in the Thunder/Clippers and the Bucks/Bulls.
Sunday: Aaaaaaand HAPPY NEW YEAR! Let's start it off right. May 2017 be a harbinger of a new season filled with joy, blessing and realized dreams. Somewhere along the way the NBA forgot to schedule anything of significance to help those dreams come true, though. At least for day one. 10 teams tip off in the evening, capped by a fun Raptors/Lakers tilt. The rest are a little lackluster, but with the limited slate you can plug in some decent streams, including James Johnson!
Now, DROP THOSE COMMENTS! And don't be afraid to send along any questions on trades, pickups or life! Good luck in Week 10 and HAPPY NEW YEAR!