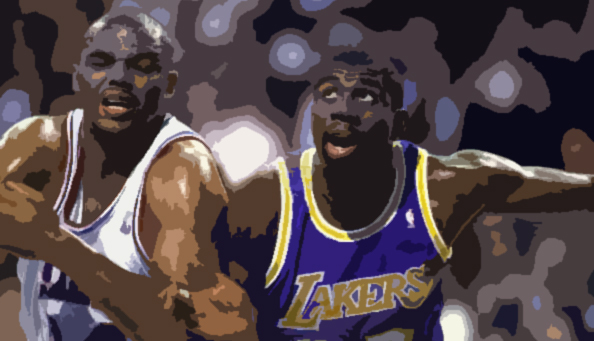 A few of you have sent me requests via U.S. mail for a post about draft pairings through the first two rounds. I planned on writing 1,500 words on the value of calling Alvin Robertson "Oscar" just to peeve him off, but it occurred to me that 1,470 of those words would probably be unprintable. Either that or you would love it and want me to write more stuff like that. It's a lose-lose. Anyway, pairings are important. Imagine if Def Leppard just brought cream, but the girl pouring the sugar on him forgot to bring the peaches? Major bummer, man. Major bummer. And now you see why pairings are important. You're welcome. Today we're going to use the 1988 fantasy basketball rankings top 50 list from a couple weeks ago (Fourth wall: *wink, wink*) to pair each of the first round picks with whom they would fit well with from the second round. So remove the shoulder pads from your blazers, ladies 'cause you're gonna want to get comfortable. Here are some pairings for the first two rounds of 1988 fantasy basketball drafts:
Michael Jordan – You can't go wrong pairing the M.J. with anyone in the second round, but his weakest (least strong?) stats lend themselves to teaming him with a center. Moses Malone wouldn't be bad, but Larry Nance would be perfect. Jordan's high steals and assists would easily offset Nance's low output in these categories and there's a good chance he'd fall to the back end of the second round if your league is nervous about his below-average performance in Cleveland after last year's trade. If you'd prefer to set him up with a backcourt mate, Danny Ainge is reasonable. Ainge is one of the few guards that has a skill Jordan doesn't: threes. Pair that with their high percentages (a combined .513/.860) and you can afford to ease of the percentages a bit in the next few rounds.  Fair warning: Jordan's real life disdain for Ainge may be so embittered that it bleeds into the fantasy realm. But, still, it's better than drafting Isiah Thomas.
Akeem Olajuwon – I always pronounce his name like it has an "H." Is that racist? As the first traditional big man on the list (Size, not ego, M.J.), Olajuwon needs someone quick to pair up with. Isiah would be a good fit here, as his percentages and high turnovers have caused him to fall farther in mock drafts than the third best point guard in the league should. If not Zeke, maybe Mark Jackson, Fat Lever, and maybe Derek Harper if your league is deep and pick no.30 means you're still in Round 2.
John Stockton – Stockton is many things, but he is not a big man. At least not Moses Malone or Larry Nance big. Pair him with one of those two. I'd prefer Malone over Nance simply because it's the only way your team is ending up with both a Malone and a Stockton!
Magic Johnson – Magic is a passer. Give him someone to pass to. I like Moses, Karl, Alex English in that order.
Larry Bird – He's a very balanced player without being gaudy (at least out of earshot). Guys like this need to be matched with other balanced players. Dale Ellis would be perfect and still likely available by the time the snake pick comes back around, as he's boring and kinda forgettable. You can always ride the whitey train to championship town and add Chris Mullin to your Bird and enjoy your league-leading threes and percentages.
Charles Barkley – Close your eyes. Wait. First, set the mood. Dim the lights, throw on the new UB40 record and pour yourself some red, red wine. Okay, now close your eyes. Are they closed? Are you wondering why you dimmed the lights if you were just gonna close your eyes? Doesn't matter. Clear your mind of that and imagine the Round Mound of Rebound paired with Kevin McHale. BAM! Their ADP suggests the two could easily fall to the same owner. Barkley needs someone as balanced as he is. McHale is just as hard-nosed and fluid as Barkley, if not quite the shot blocking scorer. Mark Jackson or Ellis would work here too.
Clyde Drexler – No Adrian Dantley or English.  You'd just be drafting lesser versions of Glide. His only real statistical weakness is his three point shooting, so you have the freedom to choose among the solid shooters (Ellis – your SGs are taken care of!, or maybe Mark Price or Harper) that might still be available in the second-round and whatever stats in which you feel like dominating early. But this is Clyde Drexler we're talking about, it's hard to go wrong when you've already started off so right!
Patrick Ewing – Stay away from Otis Thorpe or Tarpley. You're looking for assists and threes (if your league incorporates advanced stats) to pair with Ewing, so go ahead and look at Isiah or Terry Porter. If not them, it's possible one of the next two guys on this list falls low enough to grab early in the second round. If that happens, do it and then give me full credit.
Mark Aguirre – Go for a big man 'cause Aguirre is going to be shooting for the stars this season and you'll want someone under your fantasy basket to pick up his misses. He shot .475 last season and, while I think his scoring numbers are going to be bad like Michael Jackson's record, his percentages are going to be bad like everyone's understanding of the word before Michael Jackson released that record. Someone like McHale, Malone or Malone would work here. You want a reliable FG% and low-to-average turnovers without sinking you anywhere else.
Dominique Wilkins – I'd go for a big man here, too. Preferably a reliable one like the Malones, Roy Tarpley, or Otis Thorpe if your league is a bit deeper. 'Nique owners are going to be worried about his secondary stats (if they're worried at all), so taking a big with a heavy skillset in one of those categories will make for a less nerve-wracking winter. Ewing would also be perfect but unless both players are undervalued and last until the turn in the draft, you won't have the option of both of them. Karl Malone is easily going to shoot over .500 from the floor this season and steal a fair amount to boot.