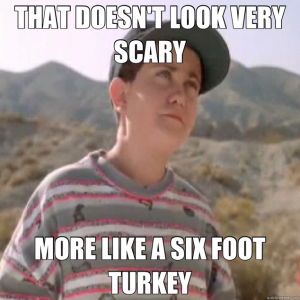 Happy Thanksgiving Razzball Nation!  This is my last daily recap for the week, so wishing everyone a happy Turkey Day where we can take a day off hoops, watch football, then shame eat pounds of leftovers while watching Goran Dragic standing idly by as he gets no usage for the Suns this weekend…
But what better way to sendoff into the Holiday weekend with the Six-Foot-Turkey himself, Dr. Ersan Ilyasova.  While he's averaging under 21 minutes a game in the past five games (That doesn't look very scary!), the consistency is kinda preposterous right now.  Is exactly in 20-21 minutes in five straight as Kidd apparently knows Ersan's optimal usage, and has scored 13+ points in all of them.  Multi-3PTM in three of those five, grabbing a few boards, and actually a semi-usable player right now off 13/9/0/1/0 and two treys last night.  It's bottom-end 12er worthy, but in limited-move RCLs, I grabbed him Monday to use for a four-game week and like him for matchups play.  A low-end ThrAGNOF with some boards!  What the wire is for, and even though he's owned in 44% of Yahoo leagues, it's a little inflated by dead/auto-draft teams given his silly pre-draft ranks by a lot of experts.  I'm keeping that Turkey fresh and might even hold on through next week as well, and then gobbling down the rest of my leftovers before week 7 and the Bucks' two-game week.  Threes ain't got no face!  And I'd be just plain sick of all the Turkey leftovers at that point… Here's what else went down last night in fantasy hoops action:
Mike Scott – I love Mr. Emoji!  Got hot off the bench for 17/7/1/0/1 and two treys in 22 minutes.  If he can land a starting swingman role somewhere down the line in his career, I think he's going to be really surprising.  For now, 16+ team ThrAGNOF streaming, and inconsistent at that.  Don't be spending too much of your Dunder Mifflin paper here.
Paul Millsap – He's just so dreamy… 17/11/1/2/1 with a trey and after a slow-ish start, really putting the pedal to the metal.
Shelvin Mack – It's low-end in a Mike Scott ThrAGNOF way, but 5+ dimes in three of the past four with 13/3/5/2/0 last night, chipping in a couple treys.  Poor man's Steve Blake with a little more O.
Al Horford – Wow, it just ain't gettin' better… But did get into early foul trouble, a big reason why he only played 23 minutes and ended with a very underwhelming 7/7/2/0/1 line.  Before you chase him off your fantasy roster with torches and pitchforks, he's got some good underlining stuff going on.  Great FG%, low volume but great FT%, low TO, hit a couple threes through the past 5 – might start adding that here and there, and the rebounding just HAS to go up.  On pace for about 10 boards last night if he played his usual 30 minutes and I see his value going up and up as the season progresses.
Kris Humphries – Yikes!  Took a great opportunity and slid off a hill like off a greased up Kim's ass.  7/10/0/0/0 shooting 2-7 FG and 3-6 FT with 3 TO in 22 starting minutes.  Maybe there's a reason he should be playing against second units!  Kim's on her like, 400th unit.
Drew Gooden – 20 minutes off the bench for 12/3/1/1/0 shooting 5-8 and not a single TO.  Gooden started for Nene who was suspended for the opener, and I could see Washington going back to the vet after that horrific Humphries performance.
Bradley Beal – What the?!  After three games back, was on pace for a career-best assists rate by far, only to squander it last night with no dimes and 7 TO.  It's like that annoying-ass dude in pickup games who always calls for the ball on fast breaks, but is on the other team.  The Hawks were like, "I'm open!"
Stephen Curry – Somebody bring him some aloe, he burnt up!  12-19 FG (8-11 3PTM 8-9 FT) 40/6/7/3/1 in nearly the year's best rainbow.  If there was anyone worried about his 38.9 3PT% heading into last night for some strange reason, all good now!
Klay Thompson – Yeah he's doing better, but 24/4/3/0/1 with three treys is still hot-ThrAGNOFfy.  He might be the hottest ThrAGNOF at the bar, but it doesn't make him ineffable!  "You're saying I'm not F-able!?"  But with the assists trend of 2.0, 2.2, 2.2 APG through his first 3 seasons, then 3.4 heading into last night in 14-15, plus a humungo jump in FT volume from 1.8 made last year to 4.8 this year, yeah he's breaking out fully in fantasy finally.  So many F's this blurb!  Keep it up, and you can graduate from ThrAGNOF U with better than Fs!
Andrew Bogut – Anytime anyone sees and injury for Bogs, people sink their canoe.  But twas just a minor Shiner, and Bogut went full Bock for 8/10/5/1/2 last night shooting 4-5 FG.  He might be one of the most underrated fantasy assets when healthy, and who knows, maybe this is the year he plays 70+.
Andre Iguodala – From the most underrated to you-can't-even-call-him-overrated-anymore Iggy.  5/3/0/0/0 last night and got into some foul trouble.  "It's NOT fun getting into trouble!"  Had a couple decent games scoring 10+ a few back, but last two have been atrocious, and the normally facilitating Iggy has only 3 dimes in his last 4 games.  Youch.  Even 14ers can move on.
Draymond Green – Also nearly rainbowed, what else is new?!  11/6/3/1/2.  So occupied.
Mario Chalmers – Of course he goes ice cold right after facing me last week in my most important REL!  14/2/4/4/1 is still a mighty solid line, but 4-17 FG (Norris Cole returned and wasn't any better, shooting 1-8).  Dwyane Wade will prairie dog his head out at some point, so still sell the Italian plummer.
James Ennis – Slim's favorite Miami-ite, nearly rainbowed for 8/8/4/1/2 in 22 shining minutes without a TO.  Shot only 2-8, but you can forgive that!  Needs a Luol Deng to go down on top of Wade to get the run, but keeping my eyes peeled.
Anthony Davis – So much illness going through the NBA!  And not talking about his monster stats in the "you so ill" way.  Was sick last night for a season-worst 14/9/2/1/2 near rainbow anyway.  I'm going to be spamming Brow owners with low-ball offers harder than a phone center salesman on a speedball.
Austin Rivers – 27 minutes off the bench while Darius Miller started and played 14 minutes, and played the definition of nothingball.  Only 0-3 FG on Miller's stat sheet with an 0/0/0/0/0 line.  Rivers didn't do much more, going 8/3/2.  Why I wasn't too bullish on Rivers as an add.
Omer Asik – Pass the turkey!  3/7/0/1/0 ain't gonna get it done, but good to see him playing 26 minutes in his return from a bum back.
Tyreke Evans – The 22/7/5 is sexy, but no blocks, no steals, and 5 TO.  He's much better than Lance Stephenson (that sounds more negative that positive!), but FG% continues to lag, and as you'd expect looking at his career perimeter numbers, the 3s have dried up with none made the past 3 and only 3 in the past 6.  Great sell-high moment after the biggie last night.
Omri Casspi – Started for Rudy Gay (Achilles) and dotted his Ts and crossed his Is.  22/4/1/1/0 shooting 9-14 (1-2 3PTM 3-4 FT) with no TO.  Led the Kings in minutes too at 36!  Gay is hoping to be back by Friday, but what a find if you used Casspi in some DraftKings!  A great stream again tonight (more below).
Ramon Sessions – Also got a fill-in start for Darren Collison, who ended up sitting with a bad quad.  Ramon was solid for 15/3/6/2/0 and a trey, with that nice volume 6-8 FT.  More below again!
O.J. Mayo – Started at the 2 as Kidd continues to tinker, tailor, solider, spy.  17/2/3/1/0 with three treys in 28 starting minutes, and I have to buy again in 12ers even though I think he's awful.  Does look better than last year though.  Only 47% owned in Yahoo, so still out there in some fridges.  Erstwhile, The Dutchess K-Middleton can be returned post haste to the riviera.
Brandon Knight – Was questionable with a bummy quad, but went out and still p0wned.  20/3/8/2/0 with three treys in a very efficient 7-12 FG 3-4 FT game.  Only 2 TO.  All he didn't do was give you the errant block!
Giannis Antetokounmpo – You know your shot is not dropping when you get a wide open 20-footer, and Josh Smith stands his ground 5 feet off you!  On a Bucks possession, ball gets kicked out to Giannis, and Smith just stood there three steps away and Giannis hesitated AND STILL DROVE!  No confidence, and didn't make a layup anyway.  Even Josh Smith is like, "nah, I don't see him taking an ill-advised jumper here!"  The Greek Stink for 1-13 FG 2/4/2/2/0 with 3 TO.  Yikes.
Jabari Parker – Slim likes to give me a hard time with my Parker love, but it's already turning around with a 14/9/2/1/1 line shooting 7-10 FG in only 27 minutes last night.
John Henson – Barely playing anyway, but hurt his Muppet Foot last night.  For deep league owners, this might be the sign you can move on.
D.J. Augustin – Got the start for Brandon Jennings (thumb), and was serviceable enough for 11/2/7/1/0 but with 5 TO.  Couldn't handle that Knight D!
Josh Smith – Remember the "Can you find where Josh Smith killed you" game?!  Le't play, America!  11/10/8 in a near trip-dub.  We likey!  A steal and three blocks.  Near rainbow!  [applause, applause, applause]  4-10 FG.  Eh, fine, and 1-2 3PTM means he didn't shoot too many labradoodles!  But, saved those labradoodles for the stripe with an epic 2-10 FT.  [boooooo!]  His FT form is just… I mean it's all wrists and a line drive, and they're not even close!  Move him back to the top of the key to take treys when it's FT time, because he has to arc it a little bit from back there!
Andre Drummond – Shot a better FT% than Smoove!  1-2.  But was the story of this DET/MIL game was he could not be stopped, going 11-15 FG 23/10/1/1/2.  FG% shooting back up!  How he was sub-40% defies any sort of logic we could have for fantasy…
Derrick Rose – There was absolutely no reason he should've played in this game, as Rose left after 10 minutes with more hamstring issues.  But Thibodeau is sweeping it under the rug saying he sat Rose as a precaution.  That makes even less sense than Drummo's FG%.  So you risk playing the face of your team on a back-to-back, only to bench him in a close loss in the second half as a precaution?!  Tibby is protecting Rose with this one.  DNPs galore are still in the immediate future.
Jimmy Butler – Very little Rose, so many Buckets!  And free Buckets!  18-20 FT for 32/9/1/1/0 shooting 7-13 FG.  Hack a Jimmy!  Pretty sure that's an archaic 50's euphemism for masturbation.
Nikola Mirotic – Woooo, nice streamer call JB!  4/7/2/2/1 in a near rainbow with no TO.  Didn't make a trey or shoot well (1-5), but pretty saucy in a stream.
Kirk Hinrich – Returned from a purple nurple for 10/1/8/1/0.  You don't like the 4 TO, but hit a couple of treys and is about to have some solid value again as Rose is surely in the DNP-zone.  Which I guess is worse than the friendzone, but in the friendzone you're still thinking there's a chance!
Kenneth Faried – I'd like to give Brian Shaw a purple nurple!  Another horrific minutes played for the Manimal, as he got kenneled for 23:31 of PT.  12/9/0/1/0, which in 36 minutes would be 35/25/3/4/5.  I may have embellished, but geez!  However to the real side of things, the Nuggets, who looked like maybe the worst team in the NBA early on at 0-6, have won 5 straight and 6 of 7 to get back to .500.  Not looking like the Manimal is going to be fully unleashed any time soon.
Danilo Gallinari – Three straight games in double-digits with 15/5/3 last night, shooting 5-9 FG and 5-5 FT.  Logged his most minutes on the year in both of the past two games by far at 29 and 31, and through the first 11 never topped 22.  Randy Foye being out a while helps Galo stay relevant even in shallow.  Worth a look in 12ers if still out there, he's still at 50% owned.
Guess the Kobe Stat Line – One final Kobe guessing game before Thanksgiving!  Only for tonight though, so bring your A game.  I think the Grizz play him tough after he went for 28/7/6 on them in "only" a 5-point win on Nov. 11.  I'll go 25/8/4 on 30 shots.  Don't forget your shots taken in your guesses for the tie-breaker!  We'll crown the winner next Monday!
Streamers/Cheap DraftKings Picks:
Ramon Session (3% owned) – This is assuming there's no Darren Collison, and let's face it, you're not streaming too hard tonight with 13 games anyway.  So Sessions offers a little bit of home run potential against fill-in Isaiah Canaan in Houston should Ramon draw the start.
Omri Casspi (1% owned) – Back-to-back Kings!  Rudy Gay should be out again as he's targeting Friday, and Casspi might have some of that added juice going against his former Rox.  Should be a pretty offensively charged game as well, so feel free to use your Kings fill-ins!
Again, happy Thanksgiving to everyone out there, and we'll be back next Monday!  Shoot your comments here throughout the week and weekend, and when I'm not pouring gravy straight down my throat, I'll be here to answer!