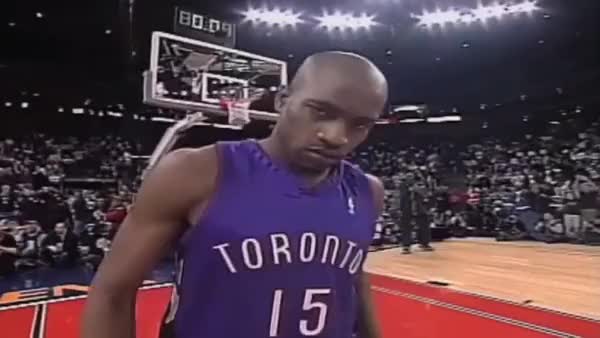 If you recognize this picture, then you'll certainly understand the title.  If you don't, then how dare you call yourself a basketball fan… Also, you should check out Vince Carter in the 2000 slam dunk contest.
We have reached my final recap of the season.  It has been a long journey.  We have laughed and cried, we have shouted and groaned, but most of all, we have experienced the deep love of fantasy basketball that transcends us all.  For the good times we've had, I thank you.  For those who have offered comments, compliments, and constructive criticism, I appreciate you.  And for the haters, I say fuck you.  Wait, am I allowed to say that??? Well shit…
We start our night in Detroit, where the Pistons barely manage to edge the Nets 90-89… Let's dive in!
In our second game of the evening, the Timberwolves ran rough-shod over the poor Lakers to the tune of 119-104.
The struggling Cavaliers suffered a tough loss at the hands of the Bulls – 93-99.  They are really going to have to turn it around, if they have any hope of competing for a championship.  By the looks of it, the Celtics are the front-runners in the East.
Since it is my last recap of the season, I tried very hard to stay awake, but as I write this, the Clippers-Suns game has just finished, and the Rockets and Trailblazers are still in the 3rd quarter.  It really isn't my fault that the NBA discriminates against the East Coast…
Ladies and gents!  I made it to the final game!  I thought of quitting, but I soldiered on for you, dear reader.  It is now after 1 a.m., so if my writing quality goes downhill, I hope you can understand.  As I burn the midnight oil, I shall now tell you the tale of Blazers and Rockets.
It's been a pleasure writing for you all this season, and I'll be back this off-season with some random content for all of you Razzy people!  As always, leave your comments/questions below, and make sure to include league size and format with your questions.
Thanks for an awesome season!
Adam out.
*Drops mic*