Fresh off surviving the 2014-15 Razzies with his nomination for worst coach, Brad Stevens only kinda-sorta did something right last night…  Yo Brad, how about you have Marcus Smart take some other shots than 3s (1-5 FG with 1-4 3PTM last night)?!
But despite the Celtics' horrific mismanaging of Smart, Stevens did run Isaiah Thomas a whopping one-more-minute than Smart, and IT2/3 went nuts for 34/3/6 on 10-17 FG (4-8 3PTM 10-11 FT).  In a 10-point win, you don't run IT2/3 over 30 minutes with a +35?!  Only got to 29:47 last night, but you'll take it when he's at at least 23 Pts, 2 treys and 4 3PTM the past three games.  Those are the floors!  Other than the %s (he is shooting a ton more though), IT2/3 has really improved since changing into green, and I think that slow start in Phoenix might make him a value next year.  IT2/3, the Hoppin' Leprechaun!  That might have to be his full official Razzball nickname…  Here's what else went down last night in fantasy basketball action: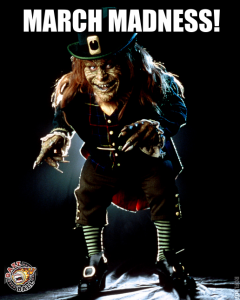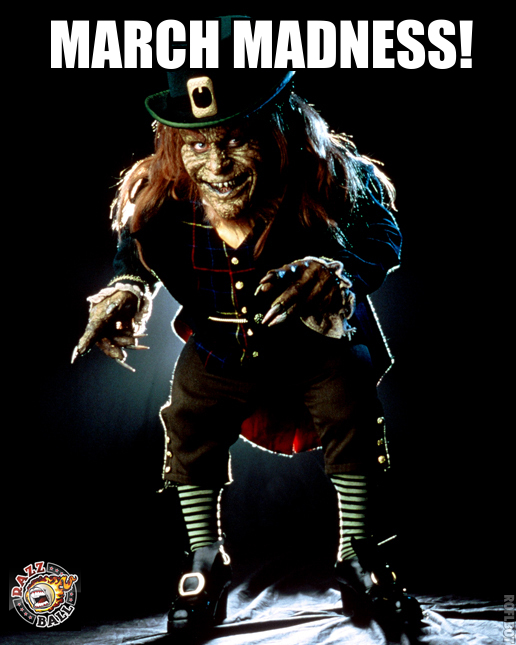 March Madness Winner! – …Speaking of hopping Leprechauns, congratulations to the proud owner of the West Texas hothot bracket!  Bested our Razzball field over ME!  Just topped me by 5 Pts, as I came in 2nd, ughhhhhh.  I really wanted a second REL team!  Hit me up at jb at razzball dot com (sometimes putting in the address jacks it up!) and I'll get your info for an REL team next year!
Chris Copeland, Pero Antic & Thabo Sefolosha – All involved in that nightclub stabbing that I'm sure everyone has read about.  Copeland was in DNP-land with Paul George back anyway, and Antic and Thabo missed last night.  Nothing much to worry about for fantasy with these guys specifically (more on the Hawks below), and we covered most of that noise on the Pod yesterday.
Morris Brothers – Same for Markieff Morris and Marcus Morris and their alleged assault situation, but nothing has been charged and both still played last night.  Marcus was particularly good going 12/10/4/2/0 with no TO.  The Mavs after the game were like, "We had trouble guarding either of them, they were like Phantoms!"
Gerald Green – I dunno, might be more of a ball hog than Nate Robinson…  But they were falling last night!  30 Pts in 30 minutes.  Green with the ESPN 30 for 30.  He's now scored 69 Pts the last 3 games, to which our middle school readers just laughed.
Reggie Jackson – Dropped another massive dimebag handing out 15 assists while scoring 21.  The TO have been a problem (7 last night), but man he's at 8+ dimes in 12 straight with 9+ in 11 of those.  That's Chris Paul-esque!  Not comparing the two, but that dimebag consistency is enough to make Snopp Lion turn into Snopp Coughin'!
Elfrid Payton – 17/9/9 in a near trip-dub, but that's not even close to what's got me pitching a tent for next year.  He hit both of his 3-pointers and went 3-3 from the stripe.  If he can contribute in both of those cats, look out.
Derrick Rose – Returned last night!  Your season is saved!  Oh wait, H2H leagues are over…  9/2/2/1/0, showing the rust with 3-9 FG and 4 TO.  Although the worst thing is the Bulls lost to the Magic!
Ramon Sessions – Played well in a start for John Wall (DNP-rest), going 19/4/7 on 5-7 FG (2-2 3PTM 7-9 FT).  Why you gotta listen to the Pod!  Although any spot-start against the Sixers is sorta a no-brainer…
Nerlens Noel – Rolled his ankle last night and only got through 24 minutes.  There have been disputing reports about if he was in a walking boot, but it certainly scared my heebie jeebies that Brett Brown already said he's unlikely for Saturday.  Sounds like Captain N might be off of the ship and starting to take his pension this year…
Bismack Biyombo – Didn't do anything interesting as usual, except did swat another 3.  BlockNOF!
Tyler Hansbrough – I don't think there could be a worse "F you!" than to tell Jonas Valanciunas "hey, you're only going for 17 mins tonight, but we're giving Hansbrough 37!"  Laugh all you want, but 12/12/0/0/2 last night for Psycho T off 18/8/0/2/1 his last game on Saturday.  Noel owners in Roto leagues have got to be like, "damn, am I really dropping Noel for Hansbrough?!"  Amir Johnson missed these past two and still can't pull his full weight on his kankle, so yeah, time to make that swap!
Mike Scott – He's so good.  20/8/2, no TO and 2 treys.  Looking at some good PT.
Mike Muscala – The Nets getting beat by the pair of Mikes, with Chicken Muscala going 9/1/2/2/1.  Also worth a look in that Bismack/Psycho T range.
Langston Galloway – Hit some choppy waters – which you'd expect from a D-League call up expected to be your most consistent player – but has been solid the past 15 with a 19/5/3/1/0 line last night with a trey.  I doubt he starts next year, but he's certainly won a rotational role.
Kyrie Irving – Are you EFFING KIDDING ME?!  27 Pts last night, and 3 more Pts and I officially put away Slim in our 14-15 30-Pt Challenge Board...  At least Slim missed yet again!
Michael Carter-Williams – Used his Razzie for worst ratio killer as bulletin board material!  30/2/8/1/0 with only 2 TO on 13-22 FG (1-3 3PTM 3-3 FT).  Sheesh, MCW has some crazy games vs. LeBron teams!  Who could forget that near quaddub in his NBA debut!  And I wanna quote that article after his debut, "I'm not expecting MCW to be an elite player".  Woooooo, award winning advice!
Giannis Antetokounmpo – Ya know, you lose by 5 to the Cavs and you wonder if starting Giannis would've been the difference, rather than the 32 starting minutes of Jared Dudley who went -8.  Hmmmm.  Giannis got a shocking DNP-CD as Jason Kidd pulled a Larry Drew.  How'd that work out for Drew, Kidd?!
Tony Parker – Not a surprise that he's can still play well while out there, but it is a surprise he's just out there!  27/1/4 on 13-18 shooting in a nice bounce back after scoring only 21 Pts the last 4 games.
Kenneth Faried – Does last night's line save the Manimal from being Slim's worst call of 14-15?!  29/11/0/2/2 on 10-14 FG and 9-9 FT.  Game of his life!  Helps when you can tear apart the atrocious Lakers front line though…
Danilo Gallinari – Cool it, Gallo!  I want you as a sleeper next year!  27/7/4/0/2 with 7 treys.  Calm that shizz down!
Ryan Kelly – Solid multi-cat game for 17/1/2/1/2 with no TO on a stellar 6-8 FG (2-3 3PTM 3-4 FT).  Shot out all his misses a game ago with only 3-17 from the field against the Clips!  Offers true multi-cat ability, albeit with nothing spectacular, for the stretch run.
Jabari Brown – Started at the 2 with Jeremy Lin a late scratch (knee), and was very blah for 11/4/0/0/0 on 3-12 shooting.  The reunited Mizzou backcourt needs to rekindle their non-NCAA Tournament days!
Sacramento Kings – First game of 14-15 with both DeMarcus Cousins and Rudy Gay out, yet they still got to 91 Pts against the Jazz!  Still lost by 12, but ya know…  Sucks for Gay owners as he put up 33 a night ago, but played through a headache and now might be held out the rest of the year.  That's my conjecture of course…  And I don't think we see Boogie again either, as he's flying to see a specialist for his foot.  With 6 calendar days left in the year and 4 more Kings games, I don't see why they'd push it for either player.
Rodney Hood – Providing some good O!  Back-to-back 20-burgers and 17+ the last 3, going 20/8/4/0/1 last night with 3 treys.  They need him to shoot, so certainly won't be surprised if he keeps it up the rest of the way.
Justin Hamilton – Ugh, wasn't very good, as really only Andrew Wiggins had a decent line for the Wolves.  Well, I take that back…
Zach LaVine – Keeps on truckin'!  18/5/6/2/0 on 6-12 FG and 6-7 FT, really only hurting you with the 4 TO, which you expect.  Been a dynamite add down the stretch, and when asked who he'd rather own on a fantasy team vs. LeBron, LaVine said he'd choose himself…
Streamers/Cheap Daily League Picks:
C.J. McCollum (7% owned) – Wasn't huge in his 25 minutes last night, but continued to find production going 13/3/1/2/0 with a trey.  Going at the Warriors tonight on a back-to-back, I think Stotts will again find minutes for him, even if it's not the 27-point blowout like last night's win was.
Aaron Brooks (37% owned) – I have a feeling he may have been dropped hastily with D-Rose back, but still managed to put up some numbers last night (13/3/2/2/0 with 2 treys), and even Coach "I'm going to run you until you have your legs amputated" Tibs won't be pushing Rose hard on a back-to-back, if Rose plays at all.
Thanks for stopping by Razzball Nation, and we'll be back again tomorrow as we start wrapping up the year for our Roto players!