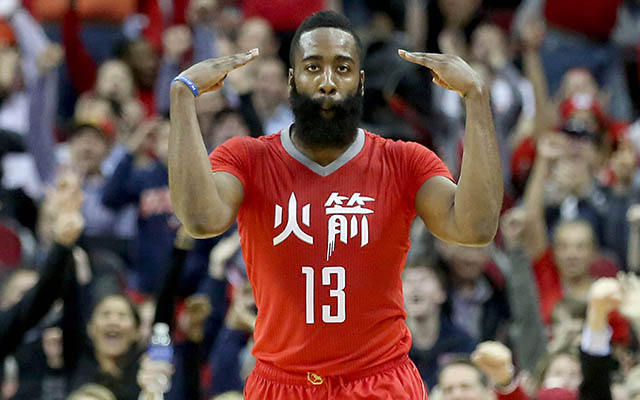 The Rockets put up 41 in the first quarter, with a lot of help from the beard.  Harden finished the game with a 26/12/14/3/0 triple double, while only turning the ball over 4 times… That really isn't that bad for the Rockets!  A fair amount of blowouts last night, but the games were still quite enjoyable!  Particularly, the matchup of KAT and EMBIIIIIID.
Knicks at Wizards (7:00 pm EST) – Final Score: 112 – 119 Wizards Win
The Wizards dominated throughout this game, but Jennings managed to get hot in the 4th and make it look like a competitive game.  It wasn't though.
Bucks at Heat (7:30 pm EST) – Final Score: 73 – 96 Heat Win
Another blowout.  The big news in this game was Greg Monroe receiving a DNP-CD.  Good riddance.
Trailblazers at Rockets (8:00 pm EST) – Final Score: 109 – 126 Rockets Win
The Rockets jumped out on the poor Blazers, and Portland just didn't ever get rolling.  Harden dominated.
Sixers at Timberwolves (8:00 pm EST) – Final Score: 86 – 110 Timberwolves Win
I absolutely loved watching Embiid and Kat go at it this game.  Just as the center position seemed doomed, we have our center saviors! The other thing I got from this game, is that the T-Wolves are really good… I mean, REALLY good.  This game was quite sad though, as the Sixers had a 15:15 assist to TO ratio as a team…
Bulls at Jazz (10:30 pm EST) – Halftime Score: 41-43 Jazz Lead
I swear I'll watch the full late game at some point, but this game is another dull one.  Butler hit a nice buzzer beater to end the half, but outside of that, pretty ho hum.
That's it for this week folks!  I won't be doing next Thursday's daily notes, or RazzWired, as I'll be out of town.  However, I will be in the Bird vs Bird, and we'll get back to the regular schedule after the holiday.  Have a great Thanksgiving everyone!