Pretty big Monday for Pistons and ex-Pistons, eh? In case you missed it, news broke yesterday that current-Piston big man Blake Griffin and former-Piston big man Andre Drummond have both been taken out of the rotation for their respective NBA teams, marched out to the frozen beach, and forced onto the icebergs that are slowly but surely winning the war against Lake Eire. 
Figuratively speaking, of course.
Both the Cavs and the Pistons are exploring the trade market for their big men, and neither will play until a deal is struck and new homes are found. Stuck in a Great Lakes limbo, Blake and Andre will have no choice but to wait it out until they're liberated from their winter wastelands. The trade deadline is about a month away but hopefully, arrangements will be made well before the buzzer. Drummond has slipped a touch from last year, but he's still a valuable and productive player. It would be a pity to watch him wither on the vine.
Evidently, there's some traction with a Drummond-to-Toronto move, which makes sense to me. Regardless of where DreDrums ends up, the upshot in Cleveland is that Jarrett Allen finally has an unencumbered path to a starting gig. If Monday night's contest against the Warriors is any indication, either Cedi Osman or Taurean Prince — who's got a bit of recent ankle trouble — will head back to the starting lineup. Osman, Prince, and JaVale McGee should all see a bit more shine now that Drummond has a postage stamp stuck to his head. 
What will happen in Detroit is another matter. 
Let's start with what we know. Blake Griffin, unlike Andre Drummond, is not putting up good numbers this year. In 2018-19, the 29-year-old Griffin arrived in the Motor City and turned in an All-Star season while the Pistons missed the playoffs. Turns out, that was as good as things would during the Blake Griffin era in Detroit. Squeamish readers or Pistons fans may want to cover their eyes for this next part.
Blake Griffin's 2018-19 
75 GP, 35 MPG 24.5 points, 7.5 rebounds, 5.4 assists, 0.7 steals, 0.4 blocks
Blake Griffin's 2019-20
18 GP, 28.4 MPG 15.5 points, 4.7 rebounds, 3.3 assists, 0.4 steals, 0.4 blocks
Blake Griffin's 2020-21
20 GP 31.3 MPG 12.3 points, 5.2 rebounds, 3.9 assists, 0.7 steals, 0.1 blocks
My guy is due ~$36.5M this year and ~$38.9M next year. That's some serious dough for a soon-to-be 32-year-old, especially considering the dip in production. As I understand it, the Pistons are going to see what kind of return Blake can fetch, though a potential buyout looms should a deal with a contender be unworkable. Either way, it sounds like both Griffin's camp and the Detroit brass are ready to move on. 
Griffin's averages this season put him outside of the top 200 in the 9-cat game and there's little reason for optimism that a change of scenery is going to help. With the youth movement once again in full swing in Detroit, rookie Saddiq Bey enters the picture.
Blake sat out Sunday's game against the Pelicans, leaving the door open for the Villanova product. Bey played 38 minutes against New Orleans and stayed hot enough to be named the Eastern Conference Player of the Week. Blistering shooting — 71% from the field and 69% (nice) from three — powered Bey's 17.8/5.5/2.0/0.8 award-winning line. He also averaged a bonkers 4 3PM during that stretch. 
Because Griffin is no stranger to DNPs, Bey's already had a crack at the starting lineup this season. In eight starts, Saddiq has averaged 27 MPG, 11.3 points, 4 boards, 1.5 assists, and 1.1 steals on 39.2/37.5/82.4 shooting while toting a usage rate of 17.6% The shooting splits actually improve when Bey comes off the pine (43.6/45.6/79.2) and there's an uptick in usage (18.9%) as well. Regardless of how he starts the game, he's been money (42% on better than 4.2 attempts) from deep. 
The scoring seems legit-ish to me, and the triples most certainly are real. Only 25% of his 3s are from below the break, so it's not like he's just cashing in on the cheapies. There's definitely some scoring polish here, but I'd love it if there were more green dots inside the arc. Bey — a 6'7" forward — only has 13 layups+dunks on the season.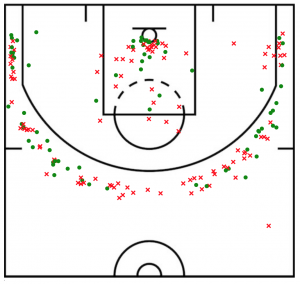 Last year, those who stashed then-Piston Christian Wood despite his erratic PT were rewarded handsomely in the small window between Detroit moving on from Drummond and the league halting with Rudy Gobert's positive test. Don't expect Bey to be that same kind of player. The output on boards, dimes, and blocks range from meh to non-existent, and I'm a touch worried about the scoring too, as he's so reliant on the jumper and rarely gets to the rack or shoots free throws. I'm not trying to take any shine off his ECPOW award — that banner will hang forever — but wouldn't you expect 20+ PPG if you heard that the shooting percentages were in the high 60s/low 70s from the floor and from three? Fewer than 2 FTA certainly doesn't help the cause.
The glistening percentages are bound to fall, though they shouldn't completely crater. He's too good of a shooter for the bottom to fall all the way out. If you're looking for triples and steals, I think rolling the dice here is probably worth it. If the Pelicans game is any kind of harbinger, he's about to get heavy minutes. Maybe he can volume his way into a decent floor in the other cats. 
The rising tide that is Blake's departure also lifts the vessel of one Josh Jackson, who has been turning out some solid lines all February long. His 18.1/5.6/2.7 is useful and the 2.1 3PM, 1.0 steals, and 0.9 blocks definitely play. Primarily operating as a reserve, Jackson was already eating 28 MPG during this stretch, so I don't think he's in line for a huge bump in playing time. A modest one seems reasonable enough though.
Regardless of his role, the fact that Jackson's usage rate sits north of 26% is encouraging. Coach Dwane Casey often surrounds Jackson with the bench mob, and while he's out there it's very clearly his show. Despite already turning in three underwhelming seasons, Jackson is still only 23 years old, and it's in Detroit's best interest to cultivate the young talent on the roster. Jackson may never live up to the expectations of the fourth overall pick, but he's shown that he's certainly capable of captaining a second unit. Unlike Bey, Jackson can break defenders down off the bounce and get all the way to the rim, which provides him with a bit more floor. JJ is an ascending across-the-board contributor, even though his FG% will always be a bit wobbly (currently 43%)
The best news? Jackson is available in about half of Y! Leagues. Bey is certainly the hotter add, but if Jackson is available I would prioritize him as the pickup. 
Of course, because having anything nice is verboten, all of this speculation about the Pistons will have to be paused temporarily, as Tuesday night's game against the Spurs has been postponed. The issue seems to be with San Antonio though, so perhaps Wednesday's match-up against the Mavs will take place and bring some clarity.
I really wanted to spend the next 800 words highlighting Jae'Sean Tate here too, but another half-foot of snow has fallen since I started this sentence, so I've got to get back to shoveling if I'd like to be able to open my front door any time before June. The abridged version: despite being 6'4″, Jae'Sean has been playing all over the court — including small ball 5 — since his days at Ohio State. Eric Gordon, Victor Oladipo, and PJ Tucker are all banged up and are potential trade candidates for the sputtering Rockets. Christian Wood is still MIA. In the meantime, Tate has been playing 30+ MPG this month and posting 0.8 3PM, 0.7 STL, and 0.5 BLK to go along with his 12.1 points, 5.7 boards, and 2 helpers per game on 59/31/90 shooting. It's possible that I'm going snowblind, but with enough squinting, I can see potential.