Last year, I mentioned that I was a big baseball card collector as a kid, having been the perfect age when that really became a big thing. I was fortunate to have a group of friends who loved to trade cards and a dad that would take me to baseball card shows to build my collection. I had chosen Ken Griffey Jr. early on as my favorite player, so fortunately, I was on the lookout mainly for his cards. If I can ever decide to part with them, at least I have hundreds of cards featuring a Hall of Famer. The same cannot be said, however, for my brief foray into the world of basketball card collecting. I decided to complete a small set of the 1993 NBA Draft first-rounders. And from this group, like when I picked Griffey as my favorite player when he was a rookie, I chose an exciting young player to focus on. The decision to collect Isaiah "J.R." Rider cards for a few months did not return the same joy and imaginary wealth, unfortunately. But it certainly was easy to trade for his cards!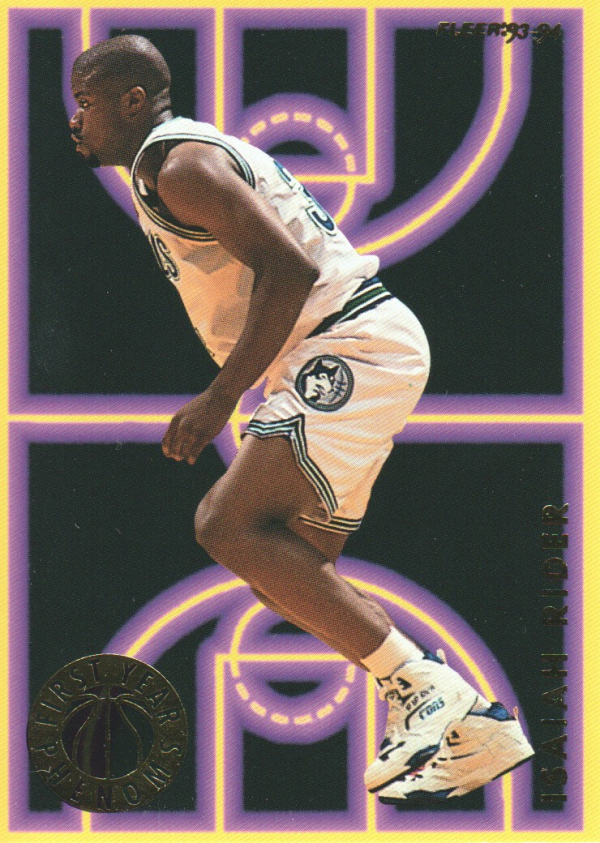 Speaking of trading, as I write this, the trade deadline, one of my favorite days of the year, is only 15 days away. Now, after a trade goes down that day, do you want to be one of the people rushing to your app, hoping you're the first to see if the guy that's getting a huge bump in minutes and usage is still available? Or, do you want to be the one that they all curse when they find out you picked him up a week earlier? Obviously, we can't stash all the players that could be in line for a big increase in fantasy value, but today I'm going to try to identify a handful of players to either stash now or to keep an eye on, depending on your league size, as the trade rumors continue to come out. And with that list, I'll provide their per-36 minute stats. No, most won't get that many minutes even if they are the beneficiaries of a deadline deal, but it'll at least give you an idea of what they could do with an increase in minutes… plus, it's fun.
Players with a decent chance to be dealt who could lead to an increase for other players: 
Taurean Prince/Jeremy Lin/Kent Bazemore/Dewayne Dedmon –> DeAndre Bembry/Kevin Huerter/Omari Spellman/Alex Len
Robin Lopez/Jabari Parker –> Bobby Portis
Tristan Thompson/Rodney Hood/Alec Burks –> Larry Nance Jr./Collin Sexton
Dennis Smith Jr./Wesley Matthews –> DSJ on another team/Jalen Brunson
Kentavious Caldwell-Pope –> Josh Hart
Marc Gasol/Mike Conley –> Jevon Carter
Enes Kanter/Noah Vonleh –> Mitchell Robinson/Luke Kornet
Wayne Ellington –> Himself on another team
Nikola Vucevic/Terrence Ross –> Mo Bamba/Jonathan Isaac
Per-36 Stats (in order of per-36 value per Basketball Monster)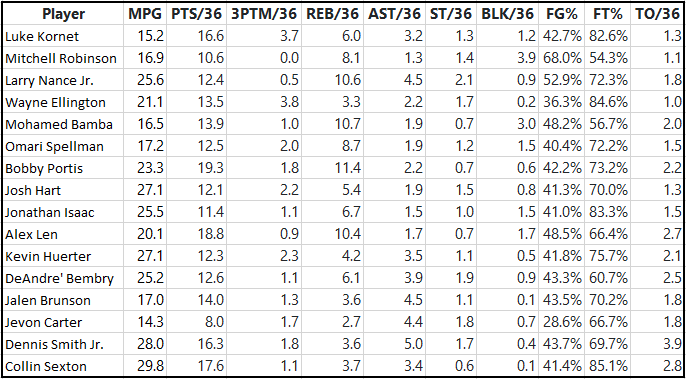 A couple other relevant thoughts:
If you're in a really deep league, look at the young players on a contender that might get dealt into a better fantasy situation on a bad team. That's tougher to predict, and I wouldn't recommend stashing those guys in most leagues, unless it's someone like Terry Rozier. Remember that it's not all positive for players at the deadline. Some of these guys getting dealt will lose some value, so it's worth considering selling before a potential dip in production. As far as some other youngsters on non-contending teams, yes, their time may be coming, but it could be a bit early for that. Give it a month or two, and then hope they get that extended run at the right time to help your team.
This week's classic fantasy line:
Thanks to Basketball Monster's historical player rater, I was able to look up how Scottie Pippen did, fantasy-wise, in the (almost) two seasons sans Michael Jordan between the three-peats. Well, he went from his usual 2nd/3rd round value to a top 4 player both seasons (both 8 and 9-category). STEALS!