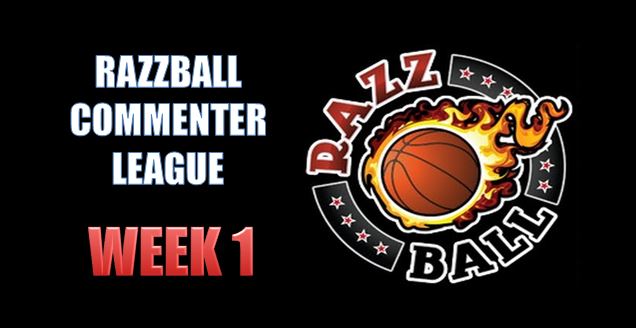 The 2018-19 NBA season kicked off this past Tuesday, but more importantly, this year's Razzball Commenter Leagues have begun! Last year, we had 12 commenter leagues. This season we have 18! Thank you to everyone who is participating. It is going to be an awesome year.
Every Tuesday I will update the standings, summarize the action, look at some of the best moves, and name a Team-of-the-Week. So, not only are you playing for your own league's title, you are playing for the title of overall Razzball Commenter Champion. Last year's champion, Pikachu, finished with an overall record of 117-61-2 and he is back again this year to defend. Let's see if anyone can take down the champ.
So many teams means a lot of creative team names. Some of my favorites are:
EvrybodyLuvsDraymond
Shooting for Sudan (White Men Can't Jump reference)
Pimpin Ain't Beasley
Greg Oden's Raven
Ayton's Place
King and Duck (another White Men Can't Jump reference)
Luka'sMomGotItGoinOn
Nites in DwightSatin
Salvador Mendoza jr.
Here are the Week 1 highlights from all 18 leagues:
Experts League: The league filled with all of your humble Razzball writers. Brent Razzball and Brett – bnel21 got off to an early lead with 7-2-0 records. However, Brent lost Will Barton for 5-6 weeks and Brett lost Brandon Ingram for 4 games due to stupidity. It's going to be a fun year!
Razzball 1: This league is home to our fearless leader Son and last year's champion Pikachu. Week 1 belonged to Crono's Team and ELITE, however, who both had 7-2-0 records.
Brent's Ballers: The first of the two leagues I am running (I am participating in eight total RCLs…yes, I have a problem). We are all chasing Stylin' Profilin' (8-1-0) after Week 1.
Brent's Ballers Too: Another tie at the top between Greg Oden's Raven and Ayton's Place (7-2-0). Nikola Mirotic carried Greg Oden's Raven and Ayton's Place got a big boost from DeAndre Jordan and James Harden.
Funny Pun League: Razzball Writer Kostas runs this league, but commenter team FPL-Celestial Being dominated week 1 with a record of 8-0-1. Carried by DeAndre Jordan and Kevin Durant and he added Rodney McGruder and Garrett Temple during the week to try and ride their hot streaks.
Razzball Banana Boat Crew: This is writer Kevin's league and another commenter crushed everyone in week 1. Shut it Down lived up to their team name with a record of 8-1-0. The Joker went straight beast mode this week and he also had Kyle Lowry to thank for the hot start.
Dynasty Deep Dive: Razzball's dynasty guru Craig's league, but it was Fear the Brow who jumped to the top of the heap. The Brow's unbelievable start is the main reason for that, but it was rookie Trae Young who surprised everyone, except for Craig, with his sensational play.
Razzball Mayhem: Tony runs this league, but it was I that ran things week 1. Another Brent Team put up a record of 8-1-0 thanks to my own top sleeper pick Caris LeVert and savvy free agent pick-up of Rajon Rondo.
Razzball H2H: Power is the writer who put this league together, but Ultra Instinct is the team who put it all together in the first week going 8-1-0. Another team benefiting from drafting Jokic and Kemba and being smart enough to get my boy LaVine.
RAZZblueBALLS2: Osama has brought back the blueBalls back for another season and three teams jumped to the top week 1. Aira's Team, Tokes, and SOOnami all went 7-2-0. Aira's Team has Dame and Embiid, Tokes has Curry, and SOOnami has The Brow. All should be tough to beat.
RCL Expert League: Mel went humble with his league name, but he could be on to something as this was the most evenly matched league week 1. Four teams went 6-3-0 with nobody setting themselves apart. Great drafting by all.
Razzball 12: The second of Son's three leagues and three teams jumped up to the top with 7-2-0 records. www got a boost from rookie Ayton, Team Rocket from The Joker, and Oplan TokHang Time! from the golden boy Curry.
RCL SON: Finally a writer jumped to the top of their own league. Son's team and team Clarice LeVert finished the week with 6-3-0 records. Son has The Greek Freak and top waiver suggestion Josh Hart, while Clarice LeVert has Curry and the resurgent Whiteside.
Viz against the Commenters: Three guesses which writer started this league? Another league with three teams off to good starts: Freak's Geeks, John's Terrific Team, and kumamoto expungers all went 7-2-0. Freak's Geeks led by the Greek Freak, John's Terrific Team led by the Joker, and kumamoto expungers led by the Brow.
Italy vs Razzball 2.0: Osh brought back this league from last season and King and Duck took the solo lead week 1. With Dame, LeVert, Draymond, and Kemba, King and Duck should stay close to the top all season.
RCL Run The Numbers: Tad named this league after his awesome series of articles that are some of my favorite on Razzball. John's Awesome Team lived up to its name and took the lead week 1 with a record of 6-3-0. Led by The King, Simmons, and Tobias Harris, this team is poised to make a run at the title.
Lahbraaahn Jayyymes: This one is Drew's league, but Yu Survive Theiss! is the early leader at 6-2-1. Another team with The Brow, but it was young stud Jarrett Allen who helped put him to the top.
Razzball Nakamoto League: Tony's other league had two teams separate themselves. French Wall and Evil Empire both went 7-2-0. French Wall has Durant, Wall, and Gobert to guide them this season and Evil Empire is being led by KAT, Mitchell, and another one of my top sleepers, Cedi Osman.
TEAM OF THE WEEK
Name:
FPL-Celestial Being (Funny Pun League)
Key Players:
Kevin Durant:          3 pts/9.3 rbs/6.7 asts/1.0 st/1.0 blks
DeAndre Jordan:    5 pts/11 rbs/3 blks
Jrue Holiday:            5 pts/4.5 rbs/9 asts/2.5 stls
Jaren Jackson Jr.:  17 pts/6 rbs/1.5 asts/2 stls/1.5 blks
Eric Bledsoe:             5 3pts/14.5 pts/5 rbs/5 asts/1 stl/1.5 blks
Taurean Prince:       7 3pts/21 pts/5.3 rbs/3.3 asts/1.7 stls
BEST RECORD – TOP 20 (there were more than 20 at 7-2, sorry if you didn't fit)
| | | |
| --- | --- | --- |
| FPL-Celestial Being | Funny Pun League | 8-0-1 |
| Stylin' Profilin' | Brent's Ballers | 8-1-0 |
| Shut it Down | Razzball Banana Boat Crew | 8-1-0 |
| Another Brent Team | Razzball Mayhem | 8-1-0 |
| Ultra Instinct | Razzball H2H | 8-1-0 |
| Greg Oden's Raven | Brent's Ballers Too | 7-2-0 |
| Ayton's Place | Brent's Ballers Too | 7-2-0 |
| The Juniors | Brent's Ballers | 7-2-0 |
| Fear the Brow | Dynasty Deep Dive | 7-2-0 |
| Brent Razzball | Razzball Experts | 7-2-0 |
| Brett-bnel21 | Razzball Experts | 7-2-0 |
| www | Razzball 12 | 7-2-0 |
| Team Rocket | Razzball 12 | 7-2-0 |
| French Wall | Razzball Nakamoto League | 7-2-0 |
| Aira's Team | RAZZblueBALLS2 | 7-2-0 |
| Tokes | RAZZblueBALLS2 | 7-2-0 |
| SOOnami | RAZZblueBALLS2 | 7-2-0 |
| Crono's Team | Razzball1 | 7-2-0 |
| ELITE | Razzball1 | 7-2-0 |
| Freak's Geeks | Viz against the Commenters | 7-2-0 |