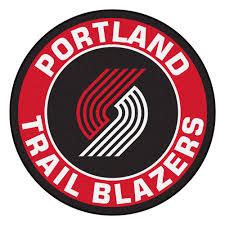 2019 Portland Trailblazers Preview
2018-19 Record: 53-29
Key Acquisitions
Mario Hezonja
Anthony Tolliver
Pau Gasol
Key Losses
Meyers Leonard
Evan Turner
Team Outlook
Terry Stott's Dame Dolla-led team flourished in the second half going 29-12, finishing with the 3rd seed in the Western Conference. They dispatched the Thunder and the second-seeded Nuggets before succumbing to the Warriors in the Western Conference finals. This was accomplished with their best big man, Jusuf Nurkic, cheerleading from the bench due to a broken leg.
This year's edition has an entirely new look and will be hard pressed to repeat that success. Both starting forwards, Mo Harkless and Al-Farouq Aminu are no longer on the roster, ditto for sharpshooter Seth Curry and playoff star Meyers Leonard. But don't count out the squad from lumberjack territory too quickly, as Coach Stotts seems to successfully find ways to mesh enough spare parts around his high-scoring, backcourt duo.
Leonard and Harkless were traded to Miami for Hassan Whiteside, a talented but enigmatic big man, who must produce until Nurkic is healthy. The forward positions will be manned by a slew of newcomers including Kent Bazemore, acquired from the Hawks for Evan Turner, and free agents Anthony Tolliver and Mario Hezonja. Coach Stotts is hoping the starting slots are manned by an improving Zach Collins and Rodney Hood, who was re-signed after a promising playoff performance. These two may score more than Harkless and Aminu but won't defend as well.
As usual, though, the fate of the Blazers lie in the hands of the spectacular and underrated Lilliard and his trusty sidekick, Christian James McCollum. Together, they provide 47 PPG, 10 APG, 9 RPG, with over 400 3's and over 600 FT's, while managing to do all of this with good percentages. It will take some time to get the chemistry together, and I am seriously concerned about the lack of depth here. This year, a slow start may be more difficult to overcome in a Western Conference that has very few weak contingents.
Whiteside must take advantage of a fresh start and be productive while Nurkic heals and after.  Expect the Blazers to be in there throwing punches with the rest of the conference heavyweights.   We just have to see if  they can land enough to keep their playoff string alive.
Point Guard
Damian Lilliard has suffered from playing in the Western conference and Portland, as he doesn't get the publicity of  the other point guards (Westbrook, Paul, Harden, or Curry), but he is their equal in terms of production. Last year, his stats revealed 25.8 PPG, 6.9 APG, 4.6 RPG, a steal, 237 3's and over 500 FT's. Additionally, he shoots over 90% from the line. The question is who gets the backup minutes? Currently, the baby-faced Anfernee Simons is slated to get them. He watched and learned during his redshirt year, and the Blazers are quietly excited about his ability to score. So much so that they allowed Curry to leave and traded Turner. He had a huge scoring outburst in last year's season finale, and had very positive outings during the Summer League, but….. let's just hope Dame stays healthy.
Shooting Guard
CJ McCollum had another outstanding year and you can expect the same level of production: 20-22 PPG, with good assists, rebounds, 3's, and solid percentages. CJ will probably outplay his ADP, so you might be able to get a solid, durable 20-point scorer later than you think. Kent Bazemore has a reputation as a defensive stopper, but it's not deserved. Last year, he scored 11.6 PPG with 96 3's, a steal, and 4 RPG, but the 40% shooting from the floor is an anchor. With Curry gone, and Rodney Hood currently slated to play SF, Baze will have to play. The wing area is where the Blazers will be looking for help come trade deadline time.
Small Forward
Rodney Hood found his mojo during the playoffs and was rewarded by being re-signed. This is a good situation for him, as his playmaking and scoring are desperately needed. He only averaged 10 PPG during the playoffs but it seemed like more. The Blazers need a third scorer, so Hood will get his opportunities. The Blazers grabbed Mario Hezonja as a free agent. He had a few flashes as a Knick last season but has not shown the promise that allowed him to be a lottery pick by the Magic. The Blazers had only one draft pick (#25), but were surprised when Nassir Little, who many had pegged as a lottery pick, was still there. Little is loaded with athleticism, but was held back by an experienced front court at North Carolina. He will need some seasoning.
Power Forward
Zach Collins was trusted more as the season went along, and now seems poised to step in to start at the four position since Aminu is gone. Starting Collins and Whiteside will make the Blazers big, but not very mobile, so they may struggle against smaller, quicker lineups. Collins showed some moxie during the playoffs but is still foul prone. Collins's numbers were pedestrian last year, 6.6 PPG, 4.2 RPG, but he only played 17 minutes a contest. Improvement is expected, which has made him a popular breakout candidate. His biggest contribution is in blocks, as he got almost 1 a game in those 17 minutes. If the playing time increases to 25-28 minutes, 12-14 PPG, 7 RPG, and 2 blocks isn't out of the question. Collins did suffer a mild sprain working out, but is expected to be fully ready by the start of camp. Anthony Tolliver will back up Collins, hustle, and jack up three pointers. He may have some value as a 3 specialist in deep leagues. Skal Labissiere is on the roster as well, a first round pick in 2016, but has never received enough time to develop. The Blazers hope this is the year he blossoms.
Center
Hassan Whiteside's numbers for 2018-19 were 12 PPG, 11. RPG, 1.9 blocks, and 57% FG shooting. Not too shabby when you consider he was basically platooned and only played 23 min a game. The Blazers expect to put him in Lilliard/CJ pick-and-rolls and get him back to the player that earned the $27M a year contract. Target Whiteside, as Jusuf Nurkic is not due back until the All-Star break and only Pau Gasol is backing him up. Last year, Whiteside had to fight to stay on the floor. This year, he may have to fight to get off, so more minutes mean more numbers. Gasol will play backup minutes, health permitting. The Blazers hope he can just hold the fort until Nurkic gets healthy. If you can afford to wait, he might be a valuable cheap/late pick, especially if your league does keepers.