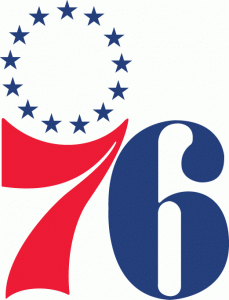 I love videogames and have played them ever since I was a little kid. Most games have some sort of level up feature. Win enough battles and collect points or currency to buy new gear or powers. The more items you accumulate, the stronger your character gets until you're able to beat the Big Bad Boss. The thing is, this Process take time. The 76ers, after years of executing the Hinkie Manifesto, are now in beat the Big Bad Boss territory.
2017 record: 52-30
Key acquistions:
Landry Shamet
Zhaire Smith
Shake Milton
Wilson Chandler
Key losses:
Ersan Ilyasova
Richaun Holmes
Marco Belinelli
Timothe Luwawu-Cabarrot
Justin Anderson
Mike Muscala
Outlook
The time is now. After winning a combined 75 games from 2013-2016, the 76ers won 52 games last season and advanced to the Eastern Conference Semis. And they are essentially incorporating the #1 overall pick into the mix! Vegas has the win total at 54 games. With the talent, experience, and LeBron taking his talents to LA, this 76ers team is poised to make a deep playoff run. There's also cohesion at the top, as this will be Brett Brown's sixth year coaching the squad. Last season, the 76ers were 12th in offensive rating and 4th in defensive rating. They also played at the 4th-fastest pace. The fantasy goodies should rain down like manna from the heavens above.
Point Guard
Ben Simmons, Markelle Fultz, TJ McConnell, Jerryd Bayless, and Landry Shamet. Simmons is amazing. Imagine if he could shoot! He's going to mess around more often than not and contribute 1.6 steals and 1 block per game. Excuse me. I have to…uh….go to the bathroom for a sec. Ok, back. Why am I smoking a cigarette? Not all is good, though. You're getting no threeecolas, the free throw shooting is garbage, and the turnovers are high. Punt three categories from the get go? That's tough for me to do. Fultz is the overall #1 pick from the 2017 NBA Draft, if you forgot. Dude was a freaking monster in college, as he made it rain from 3 and had his vicious spin move in the paint. Don't forget about the D stats as well. Unfortunately, he got the yips when he made it to the show ala Chuck Knoblauch and sat out the entire year. With the magic of Drew Hanlen, though, the shot form and swagger look to be back. I'd take a chance on Fultz with one of my last picks, as he's the best option for assists down there. Just realize that he probably won't contribute many threeecolas and the percentages could be a drainer. The minutes should be there, though, as he will spend time at both the 1 and 2. As of October 13th, Brown said that Fultz will start games, but come off the bench in the second half (Rotoworld.com). McConnell has really nice hair. While he did have some really nice games last season, even messing around against the Knicks in February (10/10/11), the depth chart is loaded now and the minutes will be scarce. Bayless is currently injured and could be in jeopardy of not making the rotation. Shamet is the 21-year-old rookie from Wichita State. He's played well in the preseason, exhibiting the ability to score and shoot from downtown. Minutes will be few and far between though.
Shooting Guard
JJ Redick, Zhaire Smith, and Shake Milton. Fultz may play some shooting guard, but it sounds like the 76ers want to primarily use him at the point with the ball in his hands. That would make Redick the starter. Won't provide the D, which makes the ladies frown, Redick is elite in threeecolas and will grab a few boards and dish out a trifecta of dimes. Smith is the athletic rookie whom the team traded for in the draft. Unfortunately, he had a thoracoscopy in September and is also recovering from foot surgery. He's out until at least the start of the new year. Milton is another draft pick (54th overall) who is recovering from a back stress fracture. That doesn't sound optimal for playing basketball. Probably won't make the rotation and could be in the G-League.
Small Forward
Robert Covington, Wilson Chandler, and Fukan Korkmaz. Covington is a metric whore for fantasy and black hole in real life. He takes some awful shots, but I give him props for hucking and chucking. With that said, he does provide plenty of threeecolas, grabs boards, provides excellent D stats, and has a low turnover rate. The shooting efficiency is poor, though. Chandler is a nice all around player, as he will contribute across the board with good percentages. He used to be a top 100 player for fantasy a few years ago, but increased age and injuries have curtailed his production down to the top 150 range. He's currently nursing a hamstring injury so that could limit his playing time. Korkmaz was a draft-and-stash selection in the 2016 NBA Draft. He's 6′ 7″ and hails from Turkey. In the Summer League, he displayed his shooting/scoring prowess by dropping a 40-burger on the Boston Celtics. The defense is an issue, though, which could keep him buried on the depth chart.
Power Forward
Dario Saric and Mike Muscala. Mario with the D makes both the ladies and men happy. He shoots well from outside, dishes out some dimes, and has some physicality to bang down low and grab rebounds. Don't expect much in the way of D stats, which makes me wanna call him Mario, but he's going to play a ton of minutes and put up plenty of shots. Muscala is a versatile big that can stretch the floor.
Center
Joel Embiid, Amir Johnson, and Jonah Bolden. Who gonna sex Embiid? If you're not familiar with that phrase, Google Mutombo who gonna s. Anyways, it's time for Embiid to get unleashed. 25.4 mpg in 31 games his first year playing and 30.3 mpg in 63 games last season. Please stay healthy. Pretty please. If so, everyone gonna wanna sex Embiid. The Amir is the backup and is a boards and D guy. If he gets significant run, then something has gone terribly wrong. Bolden was the 36th overall pick in last season's draft. He was stashed in Israel last season, but now he's stateside and just inked a four-year, $7 million deal. He's raw but an intriguing talent due to his physical gifts. Won't make a fantasy impact this season, but someone to watch develop over the coming years.