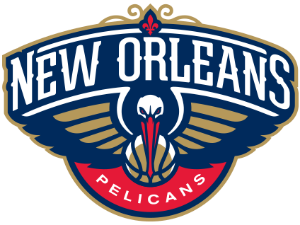 I've always been fascinated by pelicans. They have to be the most versatile, yet DGAF bird predators out there. Not only do they have a long beak, but a large pouch to go with it. That allows them to eat a variety of foods: fish, birds, and invertebrates. It also allows them to hunt food shotgun-style, as they can scoop up water and eat whatever happens to be in there. As for DGAFing, pelicans have no teeth, so there is no chewing. Instead, they let their prey settle in their pouch until they shimmy down their throats….alive! The same can be said for the basketball version of the Pelicans, as they can attack an opponent in a variety of ways and will push the pace and ball down the other team's throat DGAF-style.
2017 record: 48-34
Key acquisitions:
Key losses:
DeMarcus Cousins
DeAndre Liggins
Emeka Okafor
Outlook
Vegas has the win total at 45.5. This is a squad that won 48 games last season and lost in the Western Conference Semis. With that said, there is change at the point guard position. Rajon Rondo is out and Elfrid Payton is in. Rondo is a high IQ player that does a terrific job setting up his teammates. How will Payton mesh with this squad? On the flip side, the Pelicans were able to snatch up Julius Randle, who is an absolute bull down low and in transition. This gives the team a formidable triumverate at the 4 and 5 positions. From a fantasy perspective, the environment doesn't get any better, as the Pelicans played at the fastest pace in the league last season and should be up at the top once again. The only knock on drafting Pelicans players is that they only play 9 games during the fantasy playoffs, while some teams play 11 or 12 games.
Point Guard
Elfrid Payton and Frank Jackson. Payton cut his hair! That's an automatic boost in the shooting percentages and assists. It will be interesting to see how Payton meshes with this team because Anthony Davis and Jrue Holiday are ahead of him on the usage totem pole. He does have a career assist number of over 6, will get his 211 on, and rebounds well for a guard. He doesn't shoot from downtown and is a poor free throw shooter, though. I have him down in the 150s, but if you need dimes, he's a viable selection due to the environment. Jackson was acquired in last year's draft via a trade with the Charlotte Hornets. He missed all of last season due to undergoing two foot surgeries. A one-and-done player from Duke, Jackson is 6′ 3″ 205 pounds who can flat out score. His J is much better than Elf's, especially from downtown, but the injury history (missed most of Summer League with an ankle sprain) and lack of experience should keep him in a backup role. With that said, that could be a very nice role.
Shooting Guard
Jrue Holiday, Ian Clark, and Trevon Bluiett. Holiday is a stat sheet stuffer. You are literally getting everything (even 0.7 blocks) from a guard that will handle the ball plenty and….broken record….plays in one of the fastest environments in the NBA. He's my #23 overall player for fantasy. Clark is a 26-year-old who came over from Golden State before the start of last season. He's meh to me, as he's not a great shooter from downtown and doesn't contribute much in the periphery categories. I like Jackson ahead of him for backup PG minutes, but Clark should get some run to give Holiday a breather from time to time. Bluiett did not get drafted in the 2018 NBA Draft but signed a two-way contract with the Pelicans over the summer. A three-year player at Xavier, Bluiett has nice size at 6′ 6″ and is an impressive scorer, especially from downtown. Probably won't crack the rotation but someone to keep an eye on if injuries occur.
Small Forward
E'Twaun Moore, Darius Miller, and Solomon Hill. Moore is the Pelicans 3-and-D player. He shot 42% from behind the arc last season on 3.7 attempts with 1 steal a game. That high percentage could be tough to replicate, but he's still a career 38% shooter from downtown. Played over 31 minutes a game as well, so there's value in that, especially since….broken record….plays in one of the fastest environments in the NBA. Miller is the Pelicans 3-and-D player but without the D. 41% on 4.4 attempts in 23.7 minutes last season from downtown with nothing else. Hill is the Pelicans 3-and-D but without the 3. A career 33% shooter from downtown. 0.7 steals in 23.1 minutes ain't bad though.
Power Forward
Nikola Mirotic and Julius Randle. This is such a great combo for the Pelicans and offers Alvin Gentry so much versatility. Mirotic can space the floor with his outside J (35% career from downtown), but he's also an excellent rebounder and will contribute D stats as well. Randle is the bully and provides physicality down low. He's also great in transition, though, as he can grab a rebound and go coast-to-coast. From a fantasy perspective, though, Randle is getting overdrafted this season. He doesn't shoot the threeecola and doesn't contribute in D stats.
Center
Anthony Davis, Jahlil Okafor, and Cheick Diallo. Davis is my #1 overall player. He moon walks and hammer times over the rest of the field. The only knock on him has been the injury concern, but he's started 75 games in back-to-back seasons. It does seem that he gets nicked up during games, but at least he returns now. Before, he'd be out for the rest of the game. Okafor is a talented offensive big man. His defense? This could be a nice situation for him, as the Pelicans want to score and Okafor can definitely do that. If the Pelicans need some B & B (blocks and boards), they will summon the waiter and ask for the Cheick, as in Cheick Diallo.