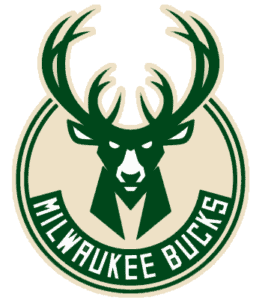 This Bucks team reminds me alot of the early Shaq/Kobe Lakers teams. Those Lakers teams won plenty of games, but could never get over the hump. Then Phil Jackson came along and….KaPow! Back-to-back-to-back-to-back-to-back-to-back-to-back. Oh, what could've been. Anyways, I'm not saying that the Bucks are going to win the title or anything, but replacing Jason Kidd with Mike Budenholzer is an obvious upgrade and could make the Bucks serious contenders in the East.
2017 record: 44-38
Key acquisitions:
Mike Budenholzer
Shabazz Muhammad
Key losses:
Outlook
Vegas has the win total at 48.5. As I mentioned in the opening, Mike Budenholzer is a really good coach, especially on the offensive end. Kidd routinely had the Bucks playing near the bottom in offensive pace, but Budenholzer had his Hawks near the top. With all the length the Bucks possess, the D should be very good. If the players can grasp the motion/triangle hybrid offense, this team can be super scary.
Point Guard
Eric Bledsoe and Matthew Dellavedova. The turnovers are a bit high for Bledsoe, but everything else is bon appetit. Over 2 steals a game is elite, but you're packaging that with decent percentages, threeecolas, 4 boards, and 5 dimes. With an increase in offensive pace and more fluidity on offense, those numbers could even tick higher. Dellavedova is simply here to give Bledsoe a rest.
Shooting Guard
Malcolm Brogdon, Donte DiVincenzo, Pat Connaughton, and Sterling Brown. Brogdon is the fantasy equivalent of the boy you want your daughter dating. Not flashy, solid across the board, and won't disappoint. There's also the low turnover thing. DiVincenzo is the hot shot rookie that will jack it up from downtown or try and flush it down. He's very athletic, but something will have had gone seriously wrong if he gets significant run. Connaughton is a guard/forward who came over from Portland. Could provide some shooting but won't get enough minutes to be fantasy relevant. Brown showed flashes when given some time last season, but is buried on the depth chart.
Small Forward
Khris Middleton and Tony Snell. Middleton has that YMCA game. Will never get old and will always be effective. He won't break ankles with his handle or explode around defenders. Instead, he will use his body to feel out weaknesses. Can shoot from both the mid-range and downtown, Middleton will also grab boards, dish out dimes, and get his 211 on. One of the more underrated players in fantasy. Snell is a very good 3-point shooter. I rostered him once in DFS and was thoroughly entertained. As in, I had fun watching him stand in one place. With the new motion offense, he could get more cardio this season. Anyways, I've written far too much about Snell. He won't contribute anything outside of threeecolas.
Power Forward
Fear the Giannis Antetokounmpo-eer.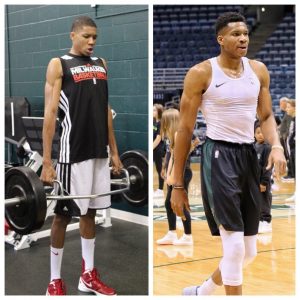 I'm scared for the well-being of the rest of the Eastern Conference. Anyways, I hope that Budenholzer implements my Olympic handball playbook. I'm telling y'all. That's the next revolution. There's not much to say about G. He's freaking amazing. 27 points, 11 rebounds, 5 assists, 1.5 steals, and 1.5 blocks. So sick. The only thing lacking are the threeecolas but that's something I anticipate happening, especially if the Olympic handball playbook is utilized. Ersan Ilyasova is coming over from Philly but he spent time with Budenholzer in Atlanta, so he should be well versed in the offense. He won't get many minutes, but he has the ability to space the floor and grab some rebounds.
Center
Brook Lopez, John Henson, Christian Wood, and Thon Maker. Lopez was a really good acquisition for this team, as he can space the floor for G. His rebounding numbers suck, but many have written that's because he boxes out his man instead of going for the rebound. The 1.2 blocks aren't great but at least he's contributing. Henson is strictly a blocks and boards guy. Wood is intriguing, as he's very athletic but can also shoot from downtown. He's played well so far in the preseason, so keep an eye on if he gets that backup center position. Maker is a perennial tease, as he's super long to be a maven on D and can shoot from downtown.