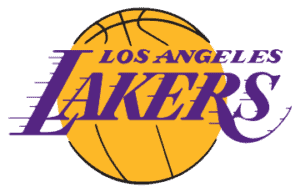 Not one. Not two. But three, as in this will be LeBron James' third and most likely final team he plays for. From a macro sense, the three questions that pervade my mind are: 1) Can LeBron join Robert Horry and John Salley as the only players in NBA history to win championships with three teams? 2) Can LeBron do enough in LA to join West, Chamberlain, Baylor, Abdul-Jabbar, Johnson, Worthy, Goodrich, Wilkes, O'Neal, and Bryant x2 on the walls of Staples Center? 3) Can LeBron and Jr. become the first father/son combo to play in the NBA at the same time? LeBron. LeBron. LeBron. Blah. Blah. Blah. This is a Lakers team preview, but you know what? Everything revolves around LeBron. Don't believe me? It's been five years since the Lakers made the playoffs. Here are the win totals during that span: 35, 26, 17, 21, and 27. With the acquisition of LeBron, the Lakers are now 10/1 to win the championship! And 6/1 to win the Western Conference! The projected season win total ranges from 48-50.5, depending on which book you look at. Welcome to LA, LeBron!
2017 record: 35-47
Key acquisitions:
Moritz Wagner via draft
Sviatoslav Mykahiliuk via draft
Isaac Bongo via draft
Lance Stephenson
Michael Beasley
Key losses:
Tyler Ennis
Isaiah Thomas
Luol Deng
Outlook:
This team is going to be good because of…..LeBron MF'ing James. Probably not championship contenders yet, but for sure a playoff team because….LeBron MF'ing James. There's a nice mix of youth and veterans. There are shooters, but plenty of playmakers that can create their own shot. In addition, there are a bunch of players that can defend multiple positions. Luke Walton should have fun tinkering with all the lineup combinations at his disposable. The Lakers were tied for second in pace last season and they should be among the league leaders once again. It will take some time for this team to come together, but once they do, watch out. Walton should deploy multiple Lineups of Death with either LeBron or Kuzma at the 5, so the emphasis on defense and getting out in transition could be heightened.
PG – Lonzo Ball and Rajon Rondo will lock down the minutes at point guard. They may not be the primary "point guards" though, as Brandon Ingram and Lebron should spend plenty of time in the facilitator role. It all comes down to health for Ball. If healthy, he should soak up the majority of minutes. From video and pictures, Ball looks much bigger from hitting the weights in the offseason. Hopefully that helps him finish at the rim, where he struggled last year. He still brings the ball across his face from left-to-right on his J, but it's not as pronounced now and the release looks a little quicker. Ball will be a nightly triple-dub threat and should rack up plenty of steals and blocks. It's all about the shooting efficiency for Ball. With LeBron, the FG% could increase. As for the free throws? Hope and pray. Rondo was brought in to be a veteran presence and assist in the development of Ball. His IQ is off the charts and his professionalism has been rubbing off on most of the young cats so far. With that said, he's not walking around with a cane, so he's more than capable of playing well if given minutes. Purely an assists play.
SG – Kentavious Caldwell-Pope should get the start because….LeBron MF'ing James. You know? Same agent and all. I kid. KCP is a good player. Good shooter from behind the arc and plays good D. I can't get too excited about him from a fantasy perspective because the Lakers are loaded at this position. Josh Hart balled out last season when given the chance and was the MVP of the Summer League. Can shoot from downtown and play really good D. He's more than a prototypical 3-and-D player, though, but I'm not sure he will be able to truly showcase himself on this squad. I have KCP and Hart both down for around 20 minutes each. Sviatoslav Mykaliuk is my boo. During the draft process, I knew he was tall and could shoot, but the main thing that kept coming up was that he had small hands. Uh, yeah. Then I watched him during the Summer League. It was love at first sight. The boy is a deadly shooter, but he does more than that. He can take it to the rack and flush it home and displayed crab-like agility on D. Outside of an injury, he won't be fantasy relevant this season because he's buried on the depth chart, but he's a definite add in dynasty leagues.
SF – Brandon Ingram and Lance Stephenson should soak up most of the minutes here, but as mentioned in the Outlook, Walton can get creative with his lineup combinations so most of the players could see time at multiple positions. Ingram is the crown jewel. He's 20 years old, 6′ 9″ tall, possesses a 7′ 3″ wingspan, can dribble, shoot, rebound, block….basically, he can do it all. He's stronger and has put on weight since his 190 pound days. While the J isn't great, he's made strides, but where he will be most deadly is working off screens and cutting to the backside when LeBron has the ball in his hands. Can't wait to see how much he's developed. From a fantasy perspective, Ingram will be a stat sheet stuffer. Stephenson is an interesting piece for this team. He's not a great outside shooter, which you'd think wouldn't be a fit with Lebron, but…he can create his own shot and defend multiple positions. So, he's probably most valuable when LeBron is on the bench and he can provide enough creativity so the offense doesn't bog down. Probably won't get enough minutes to be fantasy relevant.
PF – LeBron MF'ing James. I do think his minutes and usage tick down from last season, but he's still going to dominate the ball. With the Lakers playing at a fast pace, that should negate any decreases in minutes or usage. There's been mention of LeBron playing the 5 and posting up more. That could give a boost to his assists and efficiency. Anyways, it's LeBron MF'ing James. Next. Kyle Kuzma balled out last season and should get plenty of opportunities this season. At 6′ 9″, he's a poster child for this new NBA, as he can break down defenders with his handle, lead a fast break, and shoot very well from downtown. Walton has also been experimenting with utilizing Kuzma at the 5 in small-ball lineups. That's going to be fun to watch. Anyways, from a fantasy perspective, you're getting points, 3s, and some boards. Probably won't get many assists or D stats, but you never know. He has been watching film with Rondo on defensive technique. If he's able to contribute in that area, his value obviously sky rockets. Michael Beasley was signed to a one-year, $3.5 million contract. There is no D in Michael or in Beasley. Coincidence? Me thinks not. Beasley is here to do one thing and one thing only. Get buckets.
C – JaVale McGee, Ivica Zubac, and Moritz Wagner populate the depth chart. Unless you're in a deep league, I don't think there's fantasy relevance here. They just won't get enough minutes. I do like Wagner for dynasty leagues, as he has some dog in him and can stretch the floor, but he's hurt right now and may need some seasoning to acclimate to the NBA game. Zubac has a decent back-to-the-basket game, but he's not the most fleet of foot and gets abused on any and all switches on the perimeter. If I had to choose one, McGee would be the guy. He's athletic, can switch (even though his awareness is sub-zero), protect the rim, flush alley-oops, and get out in transition. With the sub-zero defensive awareness and proliferation of more small-ball lineups, McGee probably won't see enough minutes to be fantasy relevant.