Average doesn't really cut it in the NBA. It never really did, and it especially doesn't in today's league. But the perfectly mediocre Detroit Pistons were believers, squeaked into the playoffs with a perfectly mediocre 41-41 record, then got absolutely trounced by the Milwaukee Bucks in the opening round, which began the next phase of their… plan. Whatever that plan is. Rebuild? Tank? From the looks of it, they plan to be content with their current state of just being meh.
2018-2019 Record: 41-41
The Pistons did make some notable acquisitions in the offseason, including comeback player-of-the-year candidate Derrick Rose (why doesn't that award exist anymore?), Tony Snell, and Markieff Morris. But will this trio really help the Pistons perform any better in 2019-2010? Not according to Vegas, where their win total is 37.5. But is basketball mediocrity synonymous with fantasy blandness? Given that only Blake Griffin and Andre Drummond were in the top 100 fantasy scorers for the Pistons last year, the simple answer is yes.
Key Acquisitions:
Tony Snell

Tim Frazier

Jordan Bone
Key Departures:
José Calderón

Zaza Pachulia

Glenn Robinson
Point Guard: Reggie Jackson, Bruce Brown, Tim Frazier, Jordan Bone
Reggie Jackson is fairly limited as a point guard, dishing out a staggeringly low assist total of 4.2 per game. As a result, he was barely a top-40 guard. He's also an inefficient scorer, ranking in the bottom-20 in FG percentage among qualified guards (at least 10 attempts per game). On the bright side, he did hit a career-high 2.1 threes per game at an impressive 37% clip, is a great free-throw shooter, and doesn't turn the ball over often. Pretty much, he will give you solid shooting guard stats in a point guard mold. Bruce Brown played decent minutes (19.6 per game) but didn't convert that time into anything on the stat sheet. Tim Frazier might be a brighter backup than Brown in Detroit, given his passing skills and superior three-point ability. Jordan Bone's biggest highlight will likely be apologizing to his whole draft party because he wasn't going to be taken that night. 
Shooting Guard: Luke Kennard, Derrick Rose, Langston Galloway, Khyri Thomas
Luke Kennard approached 10 points per game last season, contributing nearly two threes per game with good efficiency. He didn't do much else, but if you need help from deep, he's usable. However, I expect Derrick Rose playing more minutes, splitting time between both guard slots, and maybe even starting at some point. Rose was as explosive as he's been last year since his MVP season (only averaged 0.4 ppg less per 36 minutes), improved upon his three-point shooting, and spread the ball well. Another season-ending injury put a damper on his performance, and as always you'll be taking a high-risk, high-reward gamble if you pick Rose. Langston Galloway can score via the deep ball, but his minutes should go down with Rose in town. Khyri Thomas is still a developing project and won't see a lot of time.
Small Forward: Tony Snell, Sekou Doumbouya, Sviatoslav Mykhaiuliuk
After starting for two years in Milwaukee, Tony Snell was reduced to a bench player. Given a starting opportunity, he's a good three-point shooter who could get you a couple threes per game but not much else. This isn't a position with much depth, but rookie Sekou Doumbouya and sophomore Svi Mykhaiuliuk will likely continue to develop their skills in limited roles throughout the season. Doumbouya could be out on the floor more often because he can fit at both forward positions.
Power Forward: Blake Griffin, Markieff Morris
I miss the days when Blake Griffin would do this every game.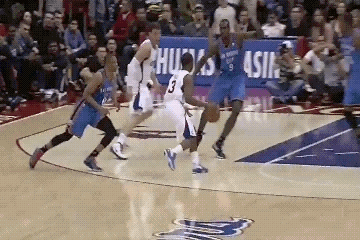 But he has evolved into so much more than that. After a pretty seamless transition into the Pistons organization, Griffin reset his career high in scoring (24.5 ppg), finished with at least 5.0 apg for the second-straight season, and attempted seven (!!) threes per game, knocking in 36.2% of them. The three-point aspect of his game makes him a multi-faceted player who should post similar numbers this season. Top-30 potential. Markieff Morris should play around 20 minutes per game, adding around 10.0 ppg with some decent rebound numbers. I like him as a late-round pick that should be consistent in his role as the first big off the bench.
Center: Andre Drummond, Thon Maker
One of the least-talked about statistics is Andre Drummond's free-throw percentage increase. Over the first five years of his career, he shot a laughable 38.1% from the line. The rest of your roster could have been comprised of all Jose Calderons and Drummond's charity-stripe shooting would still leave you reeling. The past two seasons, though, he's shooting 59.7% from the line. His 59.0% last year was serviceable enough to make him a top-25 fantasy performer. His scoring and rebounding are nearly unmatched at the center position. Thon Maker saw his minutes go from barely cracking double-digits to nearly 20 per game in Detroit, but he wasn't very productive. If you're desperate for blocks, he'll give you one per game along with low scoring and so-so rebounding.
You can reach me on Twitter @jordancohn2.