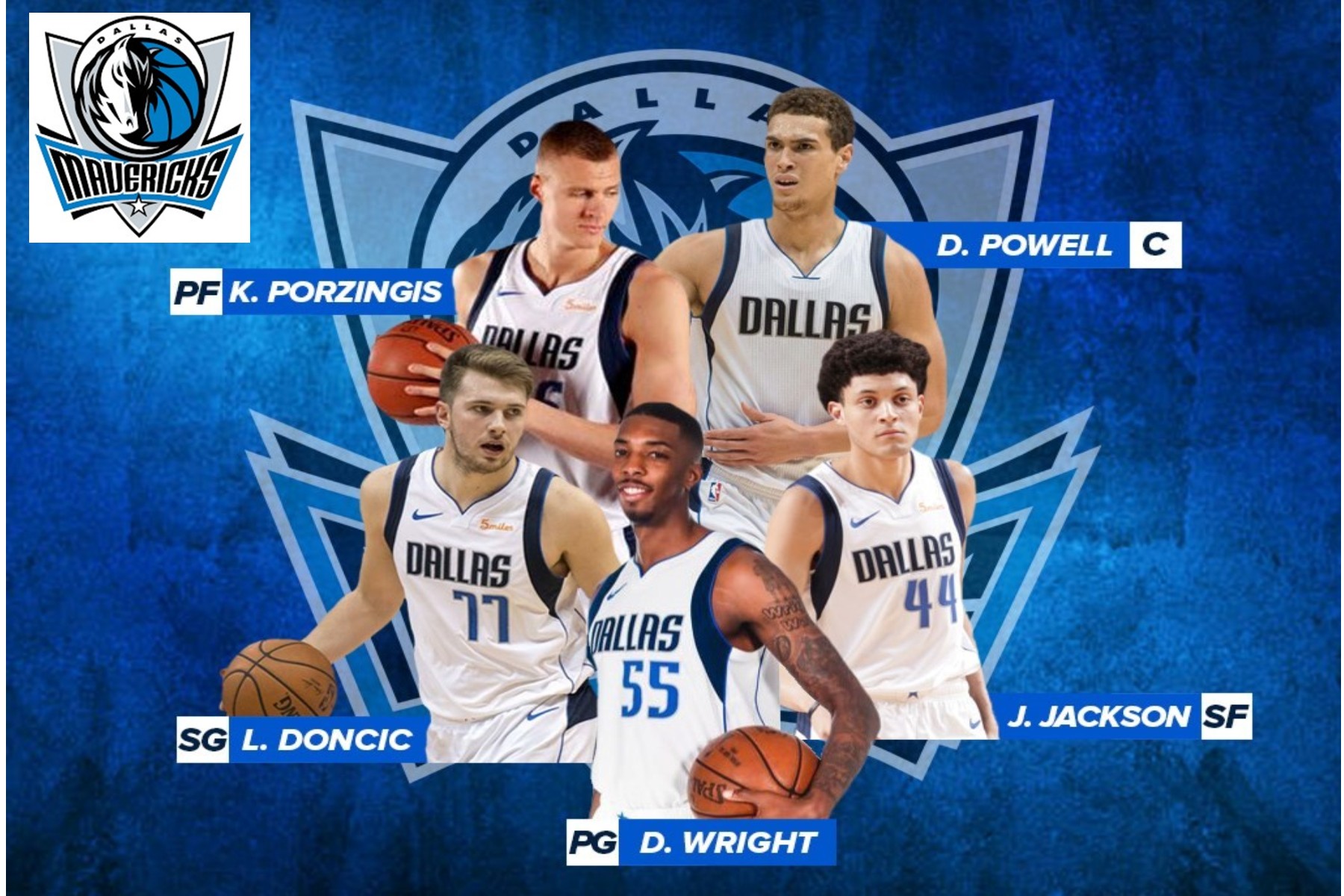 2018-19 Record 33-49
Key Acquisitions
Key Losses
Outlook
The Mavericks finished just above the Phoenix Suns in the Western Conference last season. The future, however, is so bright that they need sunshades, as the roster now boasts two of the top young stars in the Association. ESPN has Luka Doncic listed as a SF and Kristaps Porzingis as a PF, but talk to any real basketball savant and they will tell you they both defy positional description. KP is built like a telephone pole but shoots like a shooting guard, while Doncic is built like a tight end but passes like a willow the wisp PG. Mark Cuban can't wait to see how their skill sets merge on the court, and we can't either. There is not enough talent around them to make the playoffs, but their development as a duo will be must-see TV.
Having given up this year's first-rounder to move up to draft Luka, and having traded 2nd rounder Lithuanian Deividas Sirvydis to the Pistons, the Mavs have no drafted rookies in camp. But youth still abounds in developing players Justin Jackson, acquired in the Harrison Barnes trade, Delon Wright, acquired from Memphis in a sign-and-trade deal, and last year's 2nd round rookie, Jalen Brunson.
It will definitely be a wait and see season for the Mavs. Wait and see how healthy KP is. Wait and see how all the pieces mesh. Wait and see if Rick Carlisle can meld these pieces into a reasonable team.
Will the Mavs better last year's 33-49 record in a decidedly stronger Western conference? We will have to wait and see.
Point Guard
The aforementioned Delon Wright will be the starter here. At 6' 5″ with long arms, he is capable of defending both guard spots – which allows Coach Carlisle to find the best defensive assignment for Doncic on a nightly basis. Delon had difficulty getting consistent minutes in Toronto with Kyle Lowry and Fred VanVleet on the roster, but once traded to Memphis as part of the Marc Gasol deal, he showed he could score in the teens when given consistent minutes. Depending on how deep your league is, look to target Wright in the late rounds and expect 13 points, 5 rebounds, and 4 assists with 1.5 steals and a 3. Jalen Brunson is smart and savvy, and will flourish as a backup, but has neither the quicks nor the size to defend starting PG's regularly. JJ Barea, at 35 years old, keeps on ticking and producing, but coming off his latest injury, won't see enough minutes to be drafted. Devin Harris is still on the roster, but at 36 years old will be hard-pressed to take off his warmups.
Shooting Guard
Luka Doncic was the Rookie of the Year, in a season that boasted at least half a dozen notable performances, so say no more. He clearly wore down over the season, but should be better prepared both physically and mentally this time around. Even with the late swoon, look at the numbers for a player who still can't order a beer. Luka led his team in scoring, rebounds, assists, and steals at 21.2, 7.8, 6.0 and 1.1 respectively. With a year's experience, a better diet, and KP to draw away some of the attention, his shooting percentages should improve and turnovers will go down. In any fantasy format, he should be highly coveted, and in a dynasty format, literally fought over.
Seth Curry upped his free agent stock significantly with a strong playoff showing, playing especially well against his better-known sibling. He plans to resurrect his sniper-off-the-bench persona with the Mavs, but don't go too crazy. Granted, the confidence gained with playoff success will provide a boost, but last year's regular season numbers only produced 7.9 PPG, a few threes, with not much else. I suggest you let one of your cohorts buy the hype.
Tim Hardaway Jr. averaged 19 PPG with the Knicks and 15.5 in 19 games after being traded to the Mavs, but the FG% was under 40% for the year, so I would pass on him also. Ryan Broekhoff is another long-range sniper who saw minutes late last season with some success.  All these players give Coach Carlisle good mix-and-match opportunities but makes them much too risky to draft. Courtney Lee is also on the roster, see Devin Harris sentence above, but substitute 33 for 36.
Small Forward
Justin Jackson will be in the starting slot here. His numbers from last season won't wow you, but in the last 11 games as a starter, he averaged 12.7 PPG while shooting 53% and 38%. Not sure that is sustainable over a season, but JJ shoots better than Hardaway or Dorian Finney-Smith. In a deep league, he is worth a late-round flyer. Dorian Finney-Smith is a proven defensive player who received 24.5 minutes last year but may not see those same minutes. In a really deep league he can help with steals and the occasional 3, but I am talking 30-team deep.
Power Forward
Unicorn in the house! How quickly we forget that before Kristaps Porzingis got hurt he was averaging 22.7 PPG, 6.6 RPG, 2.4 BPG, and shooting 44 and 39%. He truly is a one-of-a-kind talent. Again, lest we forget – he is not yet 25 years old. He and Luka can have them printing playoff tickets in Dallas for the next 10 years. All of this excitement must be tempered with that most reviled NBA phrase – "if he is healthy." I'm sure that once he starts playing we will also see his name associated with another despicable NBA phrase, "load management." Maybe I will try that with my boss next week. "Boss, I need a load management day." So be a little cautious not to reach too early for KP – unless you own a brass set. Yahoo has his ADP at 32, while ESPN is at 144. The former seems a bit too aggressive given his injury and the latter way too late. Get him somewhere in the middle and you will be happy. In a dynasty league, where you can expect future years of Unicornish production, he becomes much more valuable.
Center
Dwight Powell always seems severely unappreciated to me, and when given more minutes after DeAndre Jordan was traded to the Knicks, he rewarded the Mavs with solid production. I don't expect the Mavs will want to subject KP to the physical beating at center too often, so Dwight has a solid pathway to 28-30 minutes. He will shoot a great percentage and rebound well. He should be a player you should target and expect 13 PPG, 59% shooting from the field, and 7-8 rebounds. If you can get that, it's great because the excellent field goal percentage helps balance the low 40's you get from your deep ball snipers.
Maxi Kleber has a slim chance to steal the position from Powell, but it will be a timeshare, with Powell getting the lion's share. Still, depending on your team makeup and need, Kleber will get you blocks (1.1 PG) and rebounds, but not the points and accuracy Powell will provide. Amazingly, the Mavericks have Salah Mejri and Boban Marjanovic on the roster, which means with KP they have almost cornered the market on 7 foot non-American players. Neither of those two will play much due to defensive shortcomings, but boy oh boy, will the practices be fun and entertaining.
As with all things with the Mavs, we just have to wait and see.