Man, both NBA games last night were atrocious…  Even if the Rockets McDonald's unis were effing awesome, love those 90s reds and yellows!
Gregg Popovich sat Manu Ginobili and Tim Duncan (on top of Marco Belinelli and Tiago Splitter injured) that's sure to get Adam Silver pitching a tent in his NBA-fines PJs.  With no Duncan or Splitter, the Spurs had to play Aron Baynes and Boris Diaw at C.  Wow.  And against an inconsistent-at-best post player in Dwight Howard!  But Dwight destroyed his "defenders" and looked like a 17 year old high school kid with college aspirations playing against middle schoolers.  Like watching Taco Fall play against other high school JV teams.  Man, Taco makes a basketball look like a grapefruit!
There's really only one explanation to last night's travesty – Pop owns Dwight on his fantasy team.  And well, let's guess Kevin McHale drafted Tim Duncan and was against Pop this week.  Pop DOES NOT like to lose in fantasy basketball.  I'd imagine when he talks to his fantasy opponents it goes something like this.  "What's more powerful than me winning every year?  Hope.  That I'd ever let anyone else win!"  Dwight for 32/16/0/1/2 shooting 12-18 from the field.  It was pretty bad out there, matchup wise.  He did his Dwight thing missing FT but ended up fine hitting 8-13.  I'm very steadfast in my anti-Dwight ways, so if you have Howard and have thought about trading, this is the game to be off of to do it.  Here's what else went down in a light slate of Thursday action:
Isaiah Canaan – Patrick Beverley was a little bit of a surprise inactive a few hours before tip, so you have to worry about PBev a little bit with that balky hammy.  Canaan got another start as the Rox mix-and-match their fill-in PG minutes, going a paltry 12/2/1/1/0 shooting 5-10.  But you like the two treys and no TO.  Houston's got Golden State on Saturday, so for a treys/steals fill-in, Canaan could be a weekend stream if PBev needs more ice on the hammy.
Trevor Ariza – The Rockets had as easy a game as you could imagine and Ariza was cold shooting 2-10.  His worst line of the year for 7/3/3/2/0 with a trey, but has 2+ steals in 5 of 6 and at least a three a game.  Loving him in that GS game too, I am hoping this opens a two-day buy low window.
Kostas Papanikolaou – 26 minutes of very borderline deep league usability again (0/4/3).  No Terrence Jones which is making me want to rename him Jamie Foxx's character from Horrible Bosses, but he should be back by Saturday night.
Cory Joseph – Aight, who had CoJo as the Spurs leading scorer tonight?!  Was slashin' n' dashin'!  Lot of layups and ended up shooting 9-11.  A little light with the counting stats though, going 18/1/0/0/0 with 3 TO.  Still, good promise to show from a player I like – might eventually start once Frenchy retires to Elba.
Tony Parker – L'Poopoo.
Kyle Anderson – Finally played!  Pop isn't easing him in Slo-Mo!  31 minutes last night for a solid 4/8/4/2/0 line, but shot only 1-8.  Gotta love the no TO!  In a few years, I could see CoJo/SG/Kawhi/Slo-Mo/C being the starting line-up.
Aron Baynes – While his attempts to guard Dwight were as futile as keeping Firefly on the air, was useful enough for fantasy going 12/12/0/1/0.  Shocker!  No blocks in Dwight who owned him.  With Tiago Splitter having a possible back issue as the root cause to his calf injuries, deeper leaguers could do worse looking for Pts/Reb/minutes than a spec add on Bane.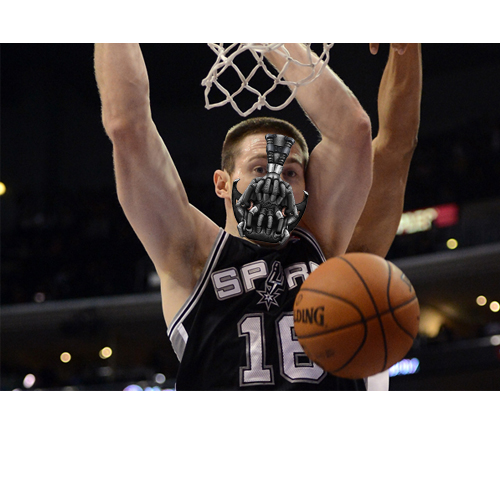 LaMarcus Aldridge – Sheesh did the Blazers coast on this one!  Two games last night, two easy wins, and L.A. for a boring 20/7/0/0/0 shooting 10-16.  Yawn.
Nicolas Batum – Didn't shoot well, but tripdub flirt!  You saucy Frenchy, you!  8/9/9/0/1 shooting only 2-8 but both makes were treys.  Since he hasn't scored in double-digits for four straight, might be worth sending the n00b in your league a l0000wball.
Robin Lopez – 8/8 with three blocks.  If I were 7 feet tall I could do that!  I think Taco is better.
Chris Kaman – He certainly Kaman his pants seeing all 6 shots fall!  He looks like a Son of Anarchy out there.  12/5/0/0/1 and a better NBA center than Lopez.
Jameer Nelson – If you haven't yet, droppable everywhere.  My B Razzball Nation!  25 minutes of Gigli, while Devin Harris was a little bit better with 27 minutes of The Wedding Planner.  Nothing you hope to ever have to see 2 hours of.
Brandan Wright – 12 minutes in a blowout.  "The Price is Wrong, bitch!"  When he came back to the bench the last time, Rick Carlisle was like, "Now you've had enough!  …bitch."  6/3/1/0/0 and this is exactly the sort of game you'd think Wright should be over 20 minutes in junk time.  What a waste after three straight multi-block outings.
Derrick Rose – SURPSISE!  Another questionable status for tonight.  Aaron Brooks would make for an interesting stream against the terrible 76ers if no Rose.  Which would make sense… Since it's the Sixers…  Why risk Rose?  I wonder if Brooks will be a DraftKings pick of mine for a special little DraftKings contest for tonight… Spoiler alert!
Joakim Noah – Also questionable, just like the eponymous movie's historical accuracy.  "Noah would never drink!"  On the fence due to "illness".  Ebola!  The trainer is like, "OK Joakim, just take 2 of every kind of medication and arc em down your throat."
Michael Carter-Williams – Practiced yesterday!  Apparently looked pretty good, and even though he'll be eased in, this is why we told everyone to stay the course and not believe ERRONEOUS! news reports.
Michael Kidd-Gilchrist – MKG beating MCW back in the race for healthiest three-named Michael.  Will play tonight after missing two with bruised ribs/chest after a hard fall.  He started hot and I think a lot of owners who grabbed him let him go back to the wire after missing two games.  I still think I'd rather MKG over KJ McD for ROS, BRO!
Have a great weekend everyone!  Be sure to ask any streaming questions below along with your other awesome comments and we'll see you back in the daily notes Monday morning!