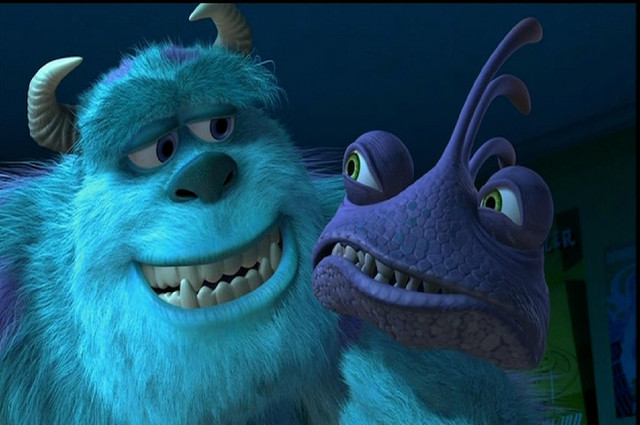 Happy weekend Razzball nation, and on the eve of the new year I thought I would bring you something a little different and closer to home for a change. So what is your New Year's resolution in fantasy? Maybe you have promised yourself to be a little more patient and not to panic by week 3; maybe you have decided not to overvalue shiny young toys; or maybe like me you have decided not to write off 30-somethings in the NBA for your fantasy team. Whatever your New Year's resolution be sure to check out all the good work from my cohorts here at Razzball nation to help guide you to the same level of success we all enjoyed in 2016.
So what of this week's article, and why do we have characters from the hit Disney movie 'Monsters Inc' as the lead image?………….Well hopefully that is a clue that you can put your oxygen tanks away as we return to the fantasy surface for just a short while, and for the last time in 2016. If your team is in need of some help, or maybe you are looking to remain dominant, then keep reading as this will hopefully allow you to move closer to an attempt to tip the scales (in a good way, and not from the Christmas booze and turkey) as I guide you through a couple of targets of mine for the second half of the NBA season:
Under Rated Fantasy Player Heading into 2017:  Julius Randle (Lakers)
Yes you read that right, an actual NBA player and not a prospect. I did tell you we would be doing things a little different this week. So why is Randle on the list?….Two words, Luke Walton. Since being drafted 7th overall out of Kentucky, Randle suffered a season ending injury, had a front row seat in the farewell Kobe parade, and endured a record breaking worst season for the Lakers under the coach everyone loved to hate, Byron Scott. So what has changed?  Well there's no Lord Byron and no Kobe Bryant, and what a difference it has made. With Luke Walton now in town, and coming from a system which encourages forwards to handle the ball and distribute (ahem Draymond Green), Randle has been given the green light to play which has not only seen a boost in scoring, but a monumental boost in assists (in which Randle has posted 5 or more in 8 of 30 games thus far). Let us also remember that the former Kentucky star was putting up 3rd round value before injury earlier too. Currently being valued by ESPN's Joe Kaiser in his updated 150 as a 7th round get, At just 22 years old, I am betting on the big man to finish the season strong and to be had at a bargain if you can buy at that value or better.
Worth the Stash: Jared Sullinger (Raptors)
See what I did there with the names?……Sully and Randle?…..Ok well I will save the chuckles to myself then, but a player I have firmly stashed away is the former Celtic big man. After putting up averages of 10.3 points, 8.3 rebounds, 2.3 assists, 0.9 steals, 0.6 blocks and 0.4 treys in 23.6 minutes per game in 2015/16, sign me up for Sully to be a huge fantasy playoff contributor come crunch time with minutes closer to 30. Likely just 3 weeks away from returning to court, it is likely to take the former Ohio State product a few to climatise, and will take time to settle back into the NBA groove and get up to full court speed under Dwayne Casey, and take away a huge chuck of Patrick Patterson's near 30 minutes per game (as well as Pascal Siakam's 18). The Raptors are desperate for some offensive help outside of Demar DeRozan and Kyle Lowry, and I  am sure as the playoffs get closer Casey will be looking to lighten the usage rate and load of his two stars. In nearly all leagues Sullinger can be had at no more cost than an IR spot, and patience is something I will be enduring to reap the rewards come fantasy playoff time at not much cost at all.
And now back to something a little familiar with a quick look back at the last 7 days around the college game:
Lottery pick hopefuls Lonzo Ball and TJ Leaf combined for over half of UCLA's points against Oregon State on Friday night in a 76-63 win. Lonzo Ball, who is seriously garnering first overall recognition, helped himself to 23 points (7-14 shooting, 4-8 downtown) along with 7 assists, 6 rebounds, 2 blocks and a steal whilst his team mate TJ contributed 21 points, 10 rebounds with 3 steals and 2 blocks. Asked about TJ Leaf in last week's post, I see future role player than star in the NBA, despite the HUGE rise in stock this season – for me I have him ranked a great deal lower for future NBA purposes. One thing is for sure though, this UCLA team has some serious talent and well worth the watch when opportunity arises. Talking Lonzo Ball, did anyone see his brother's insane halfcourt shot call and swish it? You didn't?….check this out (Post provided by good buddy and excellent scout in his own right Steve Connell) – http://www.sbnation.com/college-basketball/2016/12/27/14088934/lamelo-ball-chino-hills-high-school-halfcourt-shot-calls-it
Thursday bought us yet another Kentucky helping and of course another chance to view the best offensive back court in college basketball. Malik Monk once again did his best 'Ready For the NBA' impression with another outstanding shooting effort against Ole Miss, this time putting up 34 points on 11-16 shooting (5-7 downtown), 6 rebounds and 3 steals. The real highlight of the performance though came from a mid court crossover that resulted in a made driving layup into contact (https://www.youtube.com/watch?v=tGMHB8K2h7Q).  The impressive freshman is now averaging 50% from the field, 40% from downtown and averaging 22 points a game…….way this kid creates his own space for the shot is sooooo impressive for a college SG, and the future looks very bright for the likely lottery pick.
Wednesday saw the Indiana Hoosiers get upset by Nebraska, despite the efforts of talented Sophomore center Thomas Bryant. The first round hopeful put up 17 points, 10 rebounds, 4 assists and 4 blocks before fouling out but it wasn't enough to avoid the upset. Bryant is a player whom I like a lot, and I can see a lot of vested interest from NBA scouts with his ability to stretch the floor from the 5.
That is a rap from me for the week, as preparations in the Bozic household for New Year's Eve are now in full swing (as well as the countless kids currently staying). Be sure to head into 2017 with a bang and I will catch you next year for more Hoops talk.
You can find me on twitter @storytelling41