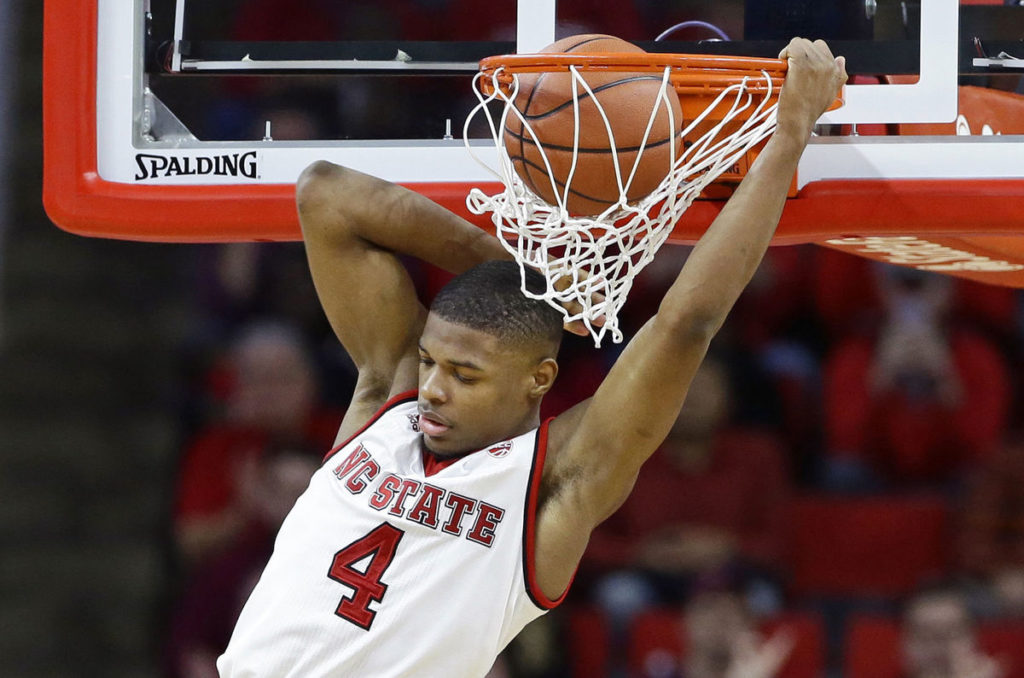 Here we are again Razzball Nation, welcoming in the New Year with with another diet of College Basketball talk with a side helping of Euro ball to help wet our appetites, whilst helping trim our waistlines after some over indulgence of guilty pleasures over the holiday period.
So what of the NBA week we have just had? well for a starter course we saw 24 year old rookie Malcolm Brogdon post his first triple double of his young professional career New Year's Eve with a line of 15 points, 12 assists and 10 rebounds on a resurgent Bucks team; for our main course we saw the first ever 50/15/15 line in NBA history when James Harden finished his 2016 with a remarkable 53 points, 17 assists and 16 rebounds; and staying on the triple double theme, for dessert a timely 2nd triple double of the season for Julius Randle on Tuesday, just days after writing about him last week (posting 19 points, 11 assists and 14 rebounds).
But these are triple doubles, What are the DD's that you speak of. Well one of the significant happenings this week outside of the NBA involved a Dynasty Deep Dive man-love in Ante Zizic; you remember him right, the guy the Celtics took in the first round in the 2016 draft. After lighting up the Adriatic league Ante Zizic agreed to a 6 month contract to sign for DD Istanbul, who not only play in Europe's top tier (Euroleague) but are also coached by David Blatt no less. So what are the reasons for this? Well Zizic's  desire to play in the NBA next season of course and prove himself against Europe's best, something of which he did admirably on Friday night in just his second Euroleague game. Playing against European power house Maccabi Tel Aviv, The Croatian big man posted a line of 14 points, 9 rebounds and a block in 24 minutes of action, and posted the second highest index rating on the team of 21. Extremely impressive for a man who just turned 20 on Wednesday, playing in only his 2nd game in the top tier. It speaks volumes about the talent Zizic possesses that he was trusted with 24 minutes of court action so soon by David Blatt, and those of you who have stashed him in Dynasty leagues should see this is a giant step towards being a part of the Boston Celtics rotation next season. Do not write of the speedy center as he continues to grow into a new system under quality coaching, and I am sure that he will be belly dancing his way in the paint to a few Euroleague DD's.
You would be hard pressed to find a better performance in College basketball last week given the strength of the opposition than Dennis Smith Jr.'s  27 points, 11 rebounds, 11 assists and 5 steals for NC State (who haven't had much to cheer about in the NBA in recent seasons outside of TJ Warren and JJ Hickson) against 21st ranked Virginia Tech. The highly touted freshman, who is expected to go high in the draft, now possesses season averages of 19.6 points, 6.5 assists, 4.1 rebounds and 2.1 steals. The big time athletic PG sat out his senior high school year with a torn ACL and is quickly demonstrating that he has not lost much of his explosiveness as a result. Although an explosive finisher who gets to the rim with ease, there is still work to be done on the shooting end as he has thus far struggled with his 3 point shot, and is not spectacular when shooting from the charity stripe for a man of his position (thus far shooting 75% from the FT line). If Smith can continue to show he is over the injuries, and improve in consistency shooting from range, then the NC State PG could prove very desirable in fantasy drafts for the 2017/18 season if he decides on the one and done route (Given the right landing spot). I am sure Dennis Smith Jr.'s game will have JB drooling come Dynasty league draft day.
Also around the NCAAM this week:
Another week and another Kentucky back court mention. In a game that turned ugly very quickly against Texas A&M, Malik Monk once again deserves yet another mention for his impressive 26 point performance on 8-11 shooting (including 5-7 from downtown). Impressed? Well you should be as he did that damage in just 24 minutes. The counting stats from a fantasy standpoint are the drawback from a fantasy perspective for 'The Monk', but given the elite level of shooting (now shooting .516% on the season, .434% from downtown and 86% at the line) and the athleticism (did we not once think Demar DeRozan was only a scoring threat), it seems I am higher on Monk than most people's rankings. The backcourt duo of Fox and Monk has been getting rave reviews, from no less than DeMarcus Cousins, who was quoted as saying 'The way they play together is like watching John and Eric, all over again," in comparisons to John Wall and Eric Bledsoe.
Another highly touted freshman, Josh Jackson, had arguably his best game of the season so far. After struggling early in the season with foul trouble, the SF is now finding his groove and on Wednesday posted 22 points, 9 rebounds, 6 assists, a block and a steal over 32 minutes against a pluck Kansas State team. JJ oozes potential, but for me at this point I am leaving him for others with the standout performances of elite level freshman around the league.
Time for some Baylor bias here, and with Villanova's loss and Baylor's win over Iowa State, it gives the Bears a shot at being ranked number 1 overall in the country (at least for a short while anyways). Baylor, who are led by 2017 first round hopeful Jonathan Motley, already possess wins over Oregon, Michigan State, Louisville and Xavier (whom were ranked at the time of game 4th,21st, 10th and 7th respectively) have a tricky encounter Tuesday against WVU, where Motley will look to build on his season averages of 16 points, 9.3 rebounds, 2.1 assists and a block on 53% shooting in his hope of joining former Baylor player Taurean Prince of being drafted in the first round.
That is a wrap from you me this week. Enjoy your week and I will catch you next week for more Dynasty Deep Dive.
You can find me on Twitter @storytelling41.