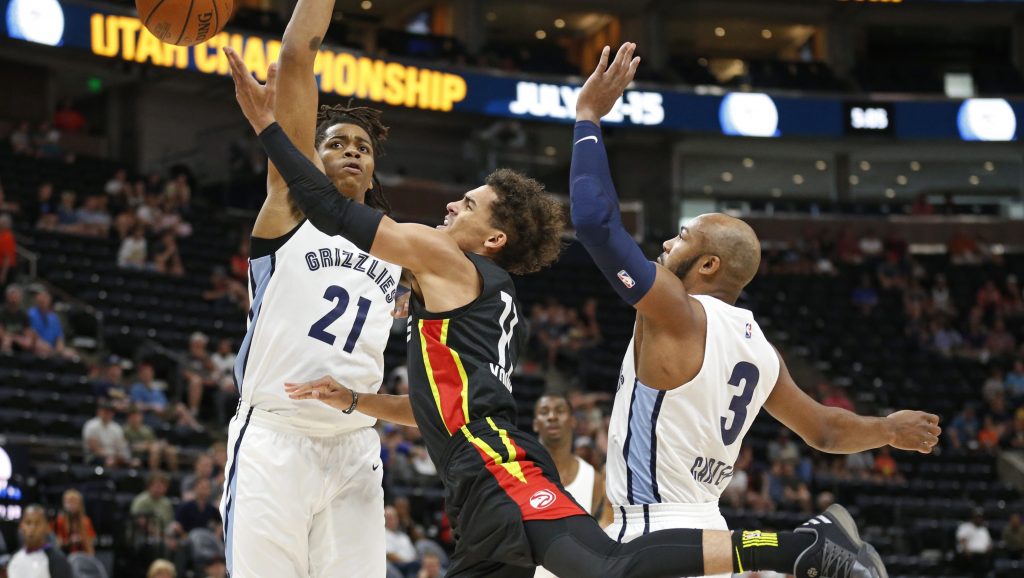 Just a day into Summer League and my Twitter has been blowing up with over-reactions. Trae Young chucked bricks, Jaren Jackson Jr scored quick, and Marvin Bagley III looked slick. But you're not here for the rhymes, so let's take a closer look at the action that went down in Utah and Sacramento last night.
Hawks 88 vs 103 Grizzlies:
Jaren Jackson Jr: 23 min, 29 pts, 3 reb, 2 blk, 60% FG (8/13 3pt)
Well, that didn't take long for the 4th overall pick to make his mark, alleviating any fears that his range wouldn't translate to the NBA 3 point line. JJJ did the exact opposite of what I expected, which was put up points in bunches from long-range sharp shooting. He was aggressive from the outset, knocking down three of his first four 3-point attempts and driving strong to the basket. The all-around game is what intrigued us, but the defense and blocking shots were what most excited us. And JJJ did not disappoint, as he notched two blocks, including one on a Young drive. The Michigan State product opened eyes and dazzled on opening night. Given that he played both the 4 and 5, there is optimism that he will be able to co-exist with Marc Gasol immediately.
Trae Young: 29 min, 16 pts, 4 reb, 3 ast, 1 stl, 20%  FG (1/11 3pt)
This was not the opening that Young expected, but he's been given the keys to the offense of a brand new team. There will be a transition period. The two air balls in the first half will be discussed and going 1/11 from downtown is very uncharacteristic from one of the best shooters in the class. Young looked nervous and out of synch, perhaps trying too hard. Once he settled down, Young began attacking and moving the ball better. He made some crafty passes to shooters out of PnR action. Do not write off the 2017 NCAA Div 1 scoring and assist leader based on his first appearance in a NBA jersey.
Others of note:
I have been aggressive in my write-ups of Omari Spellman and he certainly didn't disappoint in his Summer League debut. He demonstrated range, ability to roll into space (against two very good defensive bigs in Davis and Jackson Jr), and displayed quick hands on the perimeter. He finished with 11 points, 6 rebounds, a steal, and 2 blocks with a few hard dunks to boot in 23 minutes of play.
Jevon Carter was exactly as advertised: excellent defense, a decent spot up J, and the poise of a four year college point guard. Carter put up 10 points, 5 rebounds, 3 assists, and a steal. He doesn't have a high fantasy ceiling, but Grit and Grind Grizzlies fans will love his tenacity on defense and he has a relatively decent floor for fantasy.
Today's featured game: Golden State Warriors vs Sacramento Kings
Both the Warriors and Kings opened up Summer League action with wins last night, and will now face off in front of a packed house tonight. Here are the points of interest for the rookies:
Sacramento Kings:
JJJ was not the only high draft pick to impress last night, as Marvin Bagley III had himself a game to remember scoring 18 points with 6 rebounds and 3 blocks (50% shooting). After a somewhat sloppy start, Bagley III ramped up the energy midway through the first quarter when he managed to perform a spin move in the post on Mo Wagner, a highlight reel dunk in transition, and drain a 3-point shot, all within a few minutes of action. The 3 blocks were most impressive, though, as he displayed the outstanding athleticism and vertical leap that had scouts drooling. The footwork on defense still needs work, but it was encouraging to see the athleticism play on the defensive end. Bagley had quite the battle with Wagner, and should find an excellent test matched up against Jordan Bell tonight.
Harry Giles had been the talk of camp and he did not disappoint last night, after a sloppy start. The former high school phenom sat out last year after two serious knee injuries, one in high school and the other while at Duke. Giles and Bagley III both played the 4 & 5 and complemented each other well. Giles played with a chip on his shoulder and got it into it a few times with the Lakers. It's that kind of fight and attitude that gets me excited, as there isn't a player on the Kings roster with more to prove.
De'Aaron Fox had himself quite the game, as you expect he should, putting up 22 points, 8 rebounds, 6 assists, and 3 steals. What most impressed me was the shooting efficiency, which seemed to be a result from increased upper body strength. Fox seemed more confident taking contact and now has two bigs capable of running the floor. He also displayed an improved mid-range jump shot. I'm a fan of Fox being a solid value play for fantasy this season. So far so good.
Golden State Warriors:
It is difficult to get excited about the Golden State Warriors Summer League team, as the marquee names won't be playing, but Jordan Bell is one to keep an eye on. Although he struggled with his shot, the former Oregon product did a little of everything else in his 28 minutes: 4 points, 5 rebounds, 3 assists, and 3 steals on 25% shooting. Bell will never be the focus on offense, but is a defensive specialist who has the ability to handle and distribute the ball. Summer League will provide ample opportunity for him to showcase these talents, as he looks to build on a rookie season that showed promise.
Nuni Omot might not be a household name, but as a Baylor fan I got to see him play an effective role for my Bears, demonstrating an ability to stretch the floor (5th highest 3pt % in the Big 12). Nuni might not be the most dynamic or explosive of players, but he does a little of everything well enough to keep him in the game, and could serve as a player who could carve out a rotational role in the modern NBA (albeit unlikely as a Warrior). Omot played 22 minutes and scored 9 points, grabbed 3 rebounds, dished out 2 assists, and garnered 2 steals and a block while shooting 1-for-2 from downtown. Omot is never going to set the world on fire as a player, but his diversity and range is worth watching.
The Warriors seemed to have gotten themselves a bargain on draft day in Jacob Evans, having snapped up the defensive stalwart with the 28th pick. The bad news is that he has been ruled out for the start of Summer League play with a toe injury. If and when he does return, expect a defense-first wing that could actually have enough in the tank to make the rotation at some point in the season, given his length and defensive abilities. Good real life player. Won't be fantasy relevant.
That's a wrap, but I'll be back tomorrow with more Summer League updates and previews.  Follow me on twitter @storytellng41.