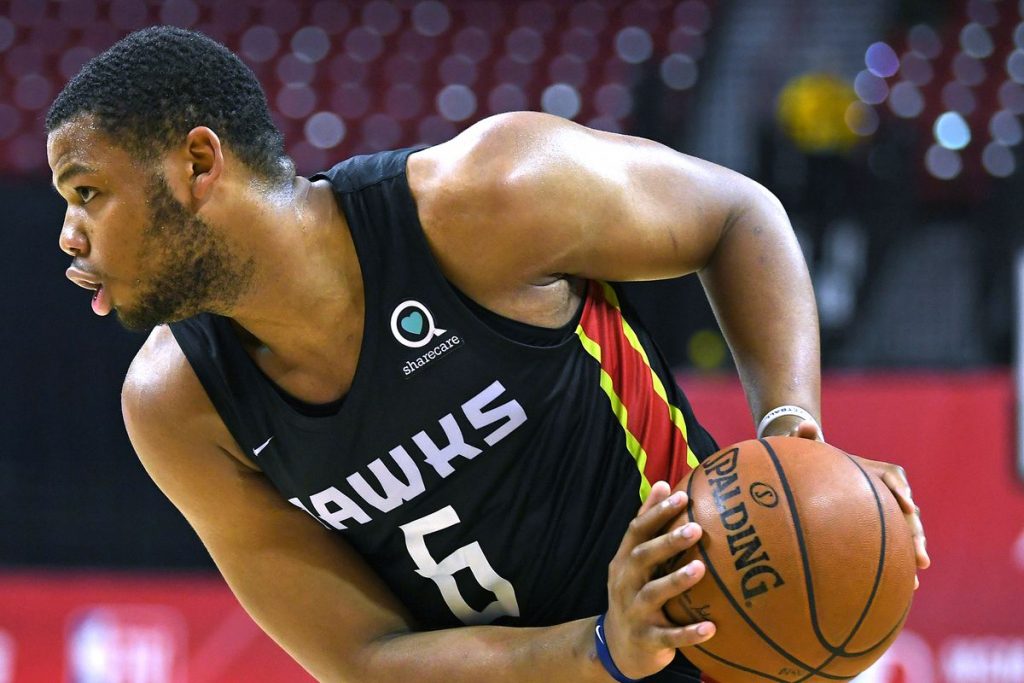 Here is the next installment of the Dynasty Deep Dive Rookie Rankings, which will cover players 16-30. If you missed Part One (1-15), do not fear, as you can find it HERE.
Now that we've gone over the potential superstars from the class, let's delve into the potential steals. If you think picks 16-30 don't/won't matter, let's rewind the calendar to last year when the Atlanta Hawks selected John Collins with the 19th overall pick, the Kings picked Harry Giles at 20, Jarrett Allen went 22nd to the Nets, OG Anunoby was scooped at 23 by the Raptors, and the Lakers cleaned up with Kyle Kuzma and Josh Hart at picks 27 and 30 respectively.
History has shown that many in this area will bust, but I'm here to help you find those potential golden nuggets.
Let's rock and roll and see who made the cut. Part Three of the rankings will be released soon, so come back and check to see who cracked the top 45.
16) Aaron Holiday – (Indiana Pacers, PG – Summer League: 30.3 MPG, 14.5 PTS, 6.8 AST, 5 REB, 2.8 STL, 34% FG%)
The heir to Lonzo Ball at UCLA last year, Aaron Holiday demonstrated that the Holiday bloodline is strong, as he performed well in Summer League. At 6′ 1″, Holiday is small for the modern day point guard, but he displayed quickness and excellent decision making and was often able to take advantage of bigger defenders. He was effective in transition and showed excellent dexterity around the rim. I was tempted to rank him higher, but his offensive decision making did become predictable at times, which made me balk. The lack of size could be an issue, but there is a path to fantasy relevance if he utilizes his quickness and continues to display the ability to score from all three levels.
17) Dzanan Musa – (Brooklyn Nets, SF/PF -Summer League : DNP)
If these rankings were for real basketball, the Moose would be much lower, but he has the offensive skill set and opportunity to become fantasy relevant. A fierce competitor, Dzana utilizes an exceptionally quick first step to make up for the lack of raw strength. He also possesses a high basketball IQ and can score from anywhere on the floor. In the modern NBA, 6′ 9″ guys who can score off the dribble are able to carve out a niche. I see plenty of playing time for the former Cedevita Zagreb player on a rebuilding Nets team.  Like Luka Doncic, Musa is not an explosive athlete, but makes up for it with excellent body control. The biggest concern I have is on the defensive end, as he will likely struggle against dynamic wings and lacks the strength to guard 4s or 5s. With that said, the Moose is an offensive spark and, given his competitiveness, will find plenty of ways to help your fantasy team over time.
18) Mikal Bridges – (Phoenix Suns, SG/SF – Summer League: 20 MPG, 6.2 PTS, 2.6 REB, 1.6 STL, 0.8 BLK, 46% FG%)
While Musa is a better fantasy than real life player, Mikal Bridges is the exact opposite, and I would rank him much higher in a real life setting. I have no doubt that Bridges will be selected higher in most drafts, but I have reservations about him posting strong fantasy numbers. While he will put up defensive stats to make him relevant, I struggle to envision a substantial offensive role for him. He can shoot the 3, though, as more than half of his shots in college came from behind the arc and he drained them at a 43% clip. The playing time should be there, but minutes do not necessarily equate to fantasy success. The upside for Bridges is Robert Covington, with the downside at Corey Brewer. Safe, but not exciting.
19) Omari Spellman – (Atlanta Hawks, PF/C – Summer League: 27.4 MPG, 10.8 PTS, 7.2 REB, 2 AST, 1.4 STL, 1.0 BLK, 37% FG%)
From my articles and appearances on the Razzball basketball podcast, you know I am a big fan of Omari Spellman. He has an unusual body type for the NBA: 6′ 9″ and 260 pounds. He is equally adept at grinding down in the paint or hanging on the perimeter to hoist up jumpers. Versatility is the name of the game for Spellman. He's an efficient shooter, has quick hands, and doesn't shy away from contact. Spellman will probably be undervalued in fantasy circles, but has the skill set to contribute, even in limited minutes.
20) Kevin Huerter – (Atlanta Hawks, SG – Summer League: DNP)
The Hawks wanted to add more firepower through the draft. Mission accomplished, as they selected Trae Young and Kevin "Ginger Ninja" Huerter. A 6′ 7″ shooting guard, Huerter thrives in space, but has the physique to shoot over smaller defenders. Unfortunately, Huerter wasn't able to participate in the Summer League due to a hand injury, as I wanted to see if the improvements he made in driving to the basket would translate. Huerter has excellent shooting range and, with the shooting and passing skills of Trae, the Hawks have constructed a Splash Brothers-lite. Huerter is not a gifted defender, nor does he pose much of a threat as a finisher at the rim, but the Hawks didn't draft him for that and will leave a lot of the defensive donkey work for their 3 & D specialists (ahem Taurean Prince). There are going be times when the Hawks look like a train-wreck on the court, given the rebuild and lack of defense, but when the offense gets hot, they are going to be fun to watch.
21) Try Brown – (Washington Wizards, PG/SG – Summer League: 30.8 MPG, 18.4 PTS, 6.8 REB, 2.o AST, 1.4 STL, 43% FG%)
Brett Nelson is high on Try Brown, and after an impressive Summer League, his evaluation may be spot on and this ranking may end up being too low. A combo guard out of Oregon, Brown possesses outstanding size at 6′ 7″ with a 7-foot wing span. He is also one of the youngest players (19 years old) from the draft, although you wouldn't have known from his Summer League performance. The Wizards are an excellent fit for him, but it may take time for Brown to blossom given the current roster makeup. The things that stood out for me were the ball handling ability and fearless aggression attacking defenders. If he can become a more efficient finisher around the rim, then Brown could become a useful fantasy player.
22) Keita Bates-Diop – Minnesota Timberwolves, SF/PF – Summer League: 33.8 MPG, 14.8 PTS, 7.4 REB, 1.2 AST, 1.6 STL, 1.2 BLK, 40% FG%)
The Timberwolves clearly had a plan on draft night: select wings that could contribute immediately, specifically on the defensive end. Enter Keita Bates-Diop and Josh Okogie, who both played well in Summer League. Keita Bates-Diop, the guy with the coolest nickname, is a 6′ 8″ combo forward who played at Ohio State. He may not have a ton of upside, but the floor is high and could end up having a long NBA career. The strength lies in his outstanding length (7′ 4″ wingspan), which allows him to be a defensive maven. The jump shot is underrated, but he needs to develop an attack-off-the-dribble game to be a consistent offensive force. Bates-Diop should provide an above-average number of blocks and steals, which could make him an excellent value, considering his draft price should be low.
23) Josh Okogie – (Minnesota Timberwolves, SG/SF – Summer League: 32.5 MPG, 11 PTS, 5.3 REB, 2.3 AST, 2.30 STL, 2.0 BLK, 30% FG%)
An uber-athletic wing, Okogie was selected by the Timberwolves to shore up their wing defense.  Okogie is 6′ 4″ but plays bigger, primarily due to his outstanding athleticism and a near 7-foot wingspan. He attacks the rim well on offense, but often lacks creativity and vision which leads to poor decision making. If the shot can improve, Okogie has the potential to be a fantasy darling given his penchant to get to the line and drop free throws at a high rate. He possesses more upside than Bates-Diop, but the floor is lower given the offensive limitations due to his size.
24) Zhaire Smith – (Philadelphia 76ers, SG – Summer League:24.7 MPG, 7.7 PTS, 2.3 RPG, 2.7 AST, 1 STL, 0.5 BLK)
Much like Josh Okogie, Zhaire Smith is a freak athlete who oozes potential on the defensive end. He had the highest vertical leap at the combine, but the rest of his game is very raw. Landing in Philadelphia wasn't ideal, which makes me lower on his fantasy prospects. The defensive prowess should provide a fantasy floor, but I have difficulty envisioning him as a reliable scoring option. Most will be higher on Smith than me, so he will likely not be on any of my rosters.
25) Anfernee Simons – (Portland Trailblazers, SG – Summer League – 20 MPG, 11 PTS, 3.2 REB, 0.5 AST, 1 STL, 43% FG%)
Anfernee Simons was the hardest player to rank, as there was little tape or information during the draft process. Summer League didn't help much. I wanted to put Gary Trent Jr above him, but used the draft equity that Portland used as a tie-breaker. Simons is a combo guard, but more of an undersized SG for me. He thrives on the perimeter and uses his quickness and ball handling to gain separation. The body is far from being NBA ready and Portland will not rush their their first round investment, but Simons could eventually develop into a solid mid-to-late round fantasy contributor once the roster turns over.
26) Gary Trent Jr – (Portland Trailblazers, SG, Summer League: 23.1 MPG, 11.4 PTS, 3.3 REB, 1.4 AST, 1.3 STL, 35% FG%)
I keep flip flopping between Anfernee Simons and Gary Trent Jr. In the lottery discussion a year ago, Trent fell in the draft (too far in my opinion) due to his inconsistencies at Duke on both sides of the ball. As a result, he was selected in the second round by the Portland Trailblazers. GTJ can score in bunches, primarily due to his excellent shooting form. Could he be a potentially cheap CJ McCollum replacement? The Blazers do have a brutal cap situation. With a strong bloodline (father Gary Trent played professional basketball), prospect pedigree, excellent shooting form, and good college coaching, only a fool would disregard GTJ based on his low draft slot.
27) Moritz Wagner – (L.A Lakers, PF/C – Summer League: 21 MPG, 10.3 PTS, 8 REB, 1 AST, 2.7 STL, 1.3 BLK, 37% FG%)
After watching Mo Wagner's impressive debut against the Kings, I questioned my inital ranking of him. He defended Harry Giles and Marvin Bagley well, demonstrated the ability to put the ball on the floor, and shot from all three levels. With Brook Lopez gone, the Lakers may be envisioning a future with Wagner at the 5. Although no single tool stands out, the former Michigan Wolverine via Germany demonstrated good skill and versatility for a man his size in Summer League. His lack of athleticism and explosion prohibits me from ranking him higher, but come draft day you could do a lot worse.
28) Grayson Allen – (Utah Jazz, SG – Summer League: 26.5 MPG, 16.5 PTS, 6.5 REB, 4.0 AST, 1.50 STL, 38% FG%)
Grayson Allen enters the NBA as a villain, given his well documented penchant for lashing out at players when things don't go his way, but don't think that fiery mentality can't help your fantasy team. I was much lower on Allen throughout the college season, but came away impressed from his play in Summer League. Utah put the ball in his hands and he delivered. He also showed the ability to mark quick guards. Allen's calling card in college was his shooting range, which should translate well in the NBA. If he can get some ball handling and creation responsibilites, that would be huge for his fantasy value. I like the fit in Utah and have a feeling teammates and coaches are going to love playing with and coaching him.
29) Isaac Bonga – (L.A Lakers, SF/PF – Summer League: 9 MPG, 2.1 PTS, 1 REB, 0.6 AST, 0.4 STL, 42% FG%)
Isaac Bonga is a very intriguing prospect who ranks in the top 30 on pure upside alone. The German forward is a long way from being NBA ready, as his frame is way too thin and he is easily manhandled by NBA players. What's intriguing is the skill level that he possesses in the 6′ 9″ frame, as he is a capable ball handler and has good court vision and athleticism. Not much of a shooter, it would be beneficial if Bongo stayed overseas for a few years to refine both his shot and body. With that said, it looks like the Lakers are going to keep him on the roster to develop him here.
30) Jevon Carter – (Memphis Grizzlies, PG – Summer League – 22.3 MPG, 11.4 PTS, 4.3 PTS, 4.6 AST, 1.1 STL, 35% FG%)
The new face of Memphis grit-and-grind, Jevon Carter is a defensive menace and four-year product of the high press WVU system in which he averaged 3 steals per game last year. Not only have we seen continued development on the defensive end, but he is now a much more reliable shooter from range, as his efficiency from behind the arc has risen in each of his college seasons. Carter is a low-ceiling, high-floor kind of player straight from the Patrick Beverley school of hard knocks. He should garner playing time right away as the back up to Mike Conley and could possibly share the backcourt in certain sets. Summer League did nothing to suppress his value, as he looked calm, cool, collected, and already looks like a NBA veteran. Carter won't carry a team to fantasy glory, but he will keep you in contention. If you like safe and steady production from a 3 & D guy with some ball handling skill, then you could do a lot worse than JC.
You can find me on Twitter @storytelling41 for basketball notes in and around the league.