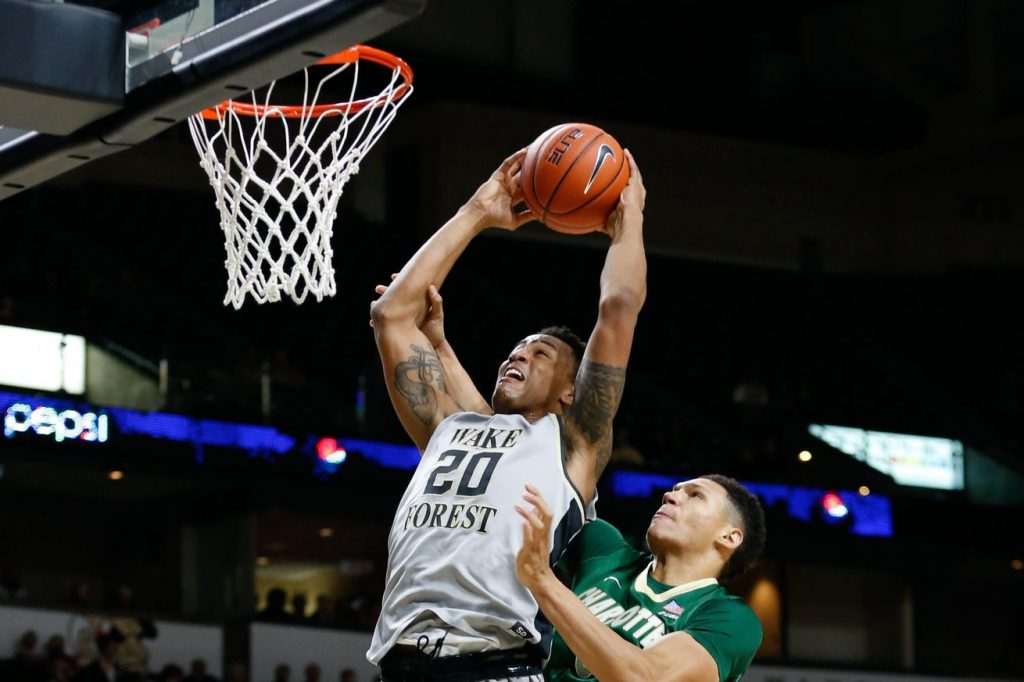 Welcome back Razzball Nation! Sit back and take a breath from the Kyrie and Melo dramas. Let's talk about some NBA rookies and the long-term outlook for a couple of potential gems.
Just about every fantasy basketball site, including us, have been drooling over the high-end guards from the most recent draft class, but what about the big men?
This week we will be comparing two of the premier frontcourt talents and breaking down where they may help (and hinder) your dynasty teams moving forward.
John Collins vs Jarrett Allen
| | | |
| --- | --- | --- |
| John Collins | Name | Jarrett Allen |
| 19y 10m | Age | 19y 3m |
| Atlanta Hawks | Team | Brooklyn Nets |
| PF | Position | PF/C |
| 6′ 10″ | Height | 6′ 11″ |
| 218 lbs | Weight | 235 lbs |
| 26.6 | MPG | 32.2 |
| 19.2 | Points | 13.4 |
| 9.8 | Rebounds | 8.5 |
| 1.6 | Blocks | 1.5 |
| 0.6 | Steals | 0.6 |
| 74.5% | FT % | 56.4% |
| 62.2% | FG% | 56.6% |
*All statistics are representative of the 2016/17 college season.
John Collins
Strengths
Good energy and is a presence in the paint
Ability to play through contact
Excellent positioning and use of body
Good footwork
Efficient shooter with the ability to score inside with ease
Runs well in transition
Very athletic
Weaknesses
Not much range to his game on the offensive end
Can play above the rim, but does not time blocks well, which results in foul trouble
Struggles to defend the pick and roll
Needs to develop awareness to play within a defensive system
Can be too loose with the ball, struggles with easy offloads
Jarrett Allen
Strengths
Elite wingspan (7′ 6")
Aggressive and fearless rebounder
Plays above the rim with ease
Strong pick and roll defender
Able to shoot mid-range jumpers
Good speed for a player his size
Strong frame, especially given his young age
Solid passer, but sometimes a little too ambitious
Weaknesses
Poor free throw shooter
Struggles to move laterally, despite his strong speed
Needs to be more dynamic in his decision-making with the ball, often becomes too predictable on offense
Can be easily outmuscled, despite his size
Careless with the ball
Comparing Allen and Collins is an intriguing excercise. Both have considerable talent and have found themselves in intriguing long-term positions with the rebuilding Hawks and Nets.
Allen oozes with potential and, with some offensive polish, can become a very high-level big man in the NBA. Due to his defensive prowess, the floor is relatively high. The drawback is that hideous free throw percentage, but given the improvements and success achieved in the mid-range game, there is hope that can be improved as well.
Collins is the more refined offensive player. As a result, he should contribute to fantasy teams quicker than Allen. Collins could be a nightly double-double threat with efficient shooting percentages once he receives the minutes.
What excites me the most about both players is their athleticism. Both have the ability to play above the rim and their development will hinge on utilizing that athleticism at both ends of the floor.
Despite the free throw woes and strong showing that Collins had during the Summer League, I have Allen over Collins by an inch. It is important to remember the extra year of experience Collins had in college. I have no doubt that Allen would have seen big strides in his offensive game with another year of experience.
The long-term outlook is bright for both players, but do you prefer a roll of the dice with Allen, or to cash in your chips early on Collins?