"Cry 'Havoc!', and let slip the dogs of war"
The NBA draft season is upon us and it's good to see you once again, metaphorically speaking, Razzballers. It's been a while.
As we all eagerly await the draft, and the Wild West front office action of the NBA that will follow, in traditional Dynasty Deep Dive fashion, I thought I would highlight some of the guys heading into the draft that I am sticking my dick on the table for (to coin a phrase from a good friend of mine). Industry consensus thinking be damned.
It's important to remember that progression isn't linear, and landing spot will be huge in the development of these unfinished products. Maybe even more so in a projected weak class such as this, but I invite you to sit back, enjoy the ride, and enjoy a typical Dynasty Deep Dive dig into what I believe are some of the undervalued rookies heading into the draft.
NFBKC IS LIVE FOR THE 2020-21 NBA SEASON
The NFBKC is now LIVE for the 2020-21 season. All contests are available on Registration with Draft Champions leagues ready to begin 30 minutes after they sell out with 2-hour and 4-hour options available. Here's a look at what we're offering hoops players this season:
Sign up and join the action TODAY.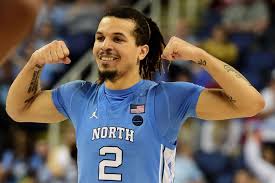 Cole Anthony, Point Guard (University Of North Carolina – Freshman)
Cole Anthony epitomizes everything I love about fantasy basketball, as the downward spiral from consensus top 3 pick to outside the lottery by many could offer a value investing opportunity. It's easy to knock the former Tar Heel due to a disappointing freshman season in which he shot 38% from the field and 35% from beyond the arc, but let's rewind the clock to March 27th in Atlanta, the day when Anthony picked up MVP honours in the McDonald's All American game against many of his fellow draft hopefuls. He had Nico Mannion and Tyrese Maxey chasing ghosts, took it strong at James Wiseman in the paint, and found a cutting Anthony Edwards multiple times on impressive no-look lobs, finishing with 14 points, 7 assists, 5 rebounds, and a block. Anthony was the best player in the game against the best this draft has to offer. It's no secret how awful the majority of the North Carolina team was last season, imitating musical statues than playing basketball, which left Anthony having to create for himself and jacking up bad shot after bad shot. In addition, he played portions of the season injured. Anthony is being drastically under looked in this underwhelming draft class.
Vernon Carey Jr, Center (Duke – Freshman)
Here are the awards that Vernon Carey Jr., a former McDonald's All American, won in 2020:
Consensus second-team All American 2020
USBWA National Freshman of the year
First Team All-ACC
ACC All-Freshman team
VCJ was regarded as the sixth-best player in the country entering the 2019 college season and was selected to play in the 2019 McDonald's All American and Jordan Brand classic games. As a freshman, he averaged 24 mpg, 17.8 points on 58% shooting, 8.8 rebounds, and 1.6 blocks per game, and knocked down the occasional 3 at a 38% clip. VCJ would have been a consensus lottery pick a decade ago, but big man value is at an all-time low. With that said, it's preposterous to see him fall into the 50s in mock drafts, especially since he already possesses an NBA body at 6′ 10″ and 260lbs,  understands his role, and possesses an elaborate finishing package around the rim. In addition, the shooting stroke isn't as bad as some have professed and he has the potential to keep defenses honest from the perimeter. Is VCJ a swing for the fences upside pick? No, but given his current projected draft range, he's a value.
Tyrell Terry, Point Guard (Stanford – Freshman)
Tyrell Terry isn't everyone's cup of tea. Fundamentally, we are looking at a kid who will require seasoning as he matures physically and develops the skill set that he possesses to give him a chance to be an NBA starter down the road. What do we get with Tyrell? High level shooting. In the Pac-12 last season, Terry was able to handle large minutes as a freshman (32.6 mpg) and averaged 14.6 points per game. More impressively, he shot 40.8% from deep and 90% from the free throw line. Terry wasn't the most efficient ball handler, with an assist-to-turnover ratio of 3.2 to 2.6, and isn't an imposing defender with his 6′ 1″, 175 lb frame, but it is difficult to envision NBA teams relying on Terry to be the primary ball handler anyways. He will likely fill a Seth Curry-esque role. Not exciting you say? Sure, but given the weak draft class and knockdown shooting, I would happily take him where he seems to be falling.
Honourable Mentions:
Zeke Nnaji – Arizona Wildcats
Paul Reed – DePaul
Devon Dotson – Kansas
You can find Craig on Twitter: @storytelling41