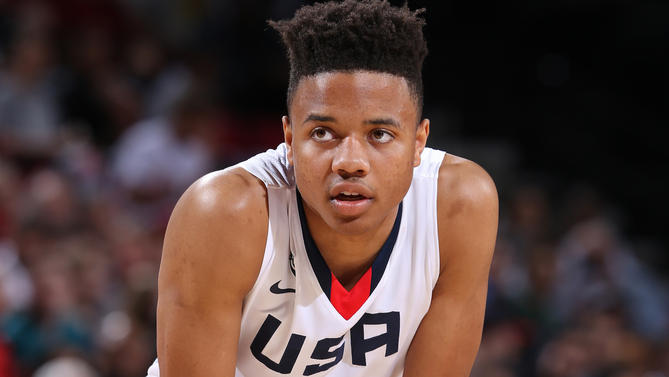 How is it going Razzball Nation! Another weekend here and yet another day for your man to guide you through some of the significant happenings around the world in regards to player development. Seems like only yesterday that the basketball season got underway, but damn, we are already fast approaching week 9 and nearing the halfway mark of the fantasy regular season. So how are your teams shaping up? Hopefully you have been paying attention to the great advice given by my esteemed colleagues here at Razzball and you're riding high and looking down on the competition; but if you're one of those owners whose team is more injury prone than the Grizzlies and in need of a shake up, then there is plenty of help here to guide you to the next step of looking forward to next season and beyond.
So why are we talking draft classes when it is only December? Well if you have been too busy constructing your ring caliber team (You to can purchase yours from my good buddy Greg at official fantasy rings.com for your leagues) you may have missed the fact that one of the most exciting NBA drafts in years is just over 6 months away, with a super loaded draft class, that is as deep as it is talented.
If you are reading this, then it is likely you are one of those owners who like to be one step ahead of the game in the Dynasty department and with so much talent both domestically and overseas draft eligible for 2017, why not take a little schooner into the next generation of potential NBA stars; after all, this is one draft class with the potential to deliver a number of those.
For those of you that have been awake, then you would have heard the names of Josh Jackson, Markelle Fultz, Lonzo Ball, Dennis Smith, Jonathan Isaac, Harry Giles and many a more in discussion as part of the uber-talented freshman class currently adorning the floor of the NCAA, for what looks like a bunch of one-and-done efforts as they move one step closer to the NBA. So let me guide you through a deeper look with my own current personal top 10 college player rankings:
The first observation you might make is the top loaded nature of point guards in my rankings, and if you include European players then you can add Frank Ntilikina, of whom I spoke about last week, to that list. Also to put into context the hype of this draft every player listed is also a freshman.
The leader in the rankings: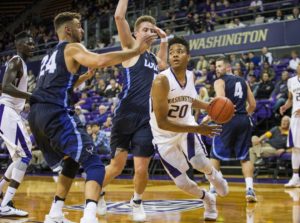 There is a justifiable case to make any of the top 3 in my list the number 1 ranked draft eligible player (more on Josh Jackson and Lonzo Ball at a later date), and in the majority of cases you would see Josh Jackson as the projected number 1 overall pick, but for me Fultz takes home this honor as of today. The Washington freshman is a rare talent that not only has great size for his position, but a great blend of huge offensive upside, quickness and defensive hustle. At 6'5 and such explosiveness at attacking the rim, Fultz is a match-up nightmare for any opponent in the college game especially given the fact that he welcomes contact from length, and has a big league jump shot already that contributes to hurting opponents in a number of ways when scoring the basketball. He is a great ball handler who has good vision and uses the extra attention he draws to bring his team mates into play. Currently averaging 22.8 points, 6.1 assists, 6.9 rebounds, 2.1 steals, 1.2 blocks and 2.1 treys per game, Fultz has quickly emerged for me as the top freshman in the country among great competition with a do it all skill set that us fantasy owners love. I have no doubt in my mind that this is a player whose name will be on everybody's lips come fantasy draft day in October next year.
Stock Rising: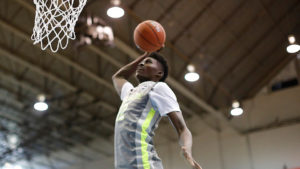 Jonathan Isaac is a guy you will find an aggressive ranking from yours truly and a lot of this has to do with the great ball handling skill and shooting ability the FSU prospect has for a man of his size (6-10 at 19 years old).  Through 8 games so far he has demonstrated his excellent shooting ability with a .569 FG% that also includes on average 3.75 treys attempted per game (being successful with 1.62 per game of those), demonstrating that offensive versatility that NBA teams currently crave in the modern day game. He also has good rebounding instincts and plays with an excellent hustle on the defensive end averaging 7.12 rebounds,  1.12 steals and a block a game. When guys approaching 7 foot are averaging a triple 1 (a block, steal and three) with good percentages then it is time for fantasy land to take notice, especially from a guy who won't hurt you at the line. The one concern at this point is the slight frame, and gaining weight and strength is going to be essential to Isaac to reach his oozing potential at the next level; but I am all in on the Florida native to keep his stock rising and assert himself as a lock for a lottery pick over the upcoming months.
The Reach: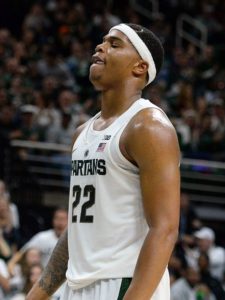 The 6'7 Michigan state forward possesses that high energy explosiveness and confidence that I love in an NBA prospect and although still has plenty of development to go, has the tools and body to make him a high impact player in the NBA. Currently playing his trade at Michigan State, the 18 year old is currently trying to carry a somewhat surprisingly disappointing team so far on his shoulders. His elite level athleticism is plain to see for all that watch him, and with a natural ability to rebound the basketball and time his blocks is a threat at both ends of the basketball court. The big question mark will be what position will the powerful forward play in the NBA. Although very powerful he is still somewhat undersized in length leading many to think he is destined to contribute at the 3 rather than at power forward, especially given his ability to drive the basketball in the lane with confidence. If Miles Bridges can continue to develop his mid range jump shot, and work on increasing his ball security in the dribble, then you have a lottery pick caliber player who could well blossom into an excellent fantasy player on both ends of the floor.
Catch you next week Razzball nation for more Dynasty Deep Dive from across the pond.
You can find me on Twitter @storytelling41