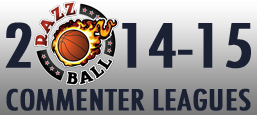 Congratulations to the juggernaut that was The Akron Lebrons!
For the second straight season, the best team in the regular season across all the RCL leagues also won their league title.  Dominance is dominance!  Is that on the 50 Shades of Grey movie poster?
As detailed when we opened the 14-15 RCLs, Akron will receive a champion jump suit and gets to choose an eating challenge for me to attempt (and hopefully conquer) in their honor.  Oh man, I didn't even finish my Mexican food entree last night!  So hit me up in the comments Akron, or e-mail me jb at razzball.com (sometimes the links screw up those pesky e-mail clients!).
And an added bonus, you will forever be enshrined on our Hall of Fame page to show to your doubters in life.  "Why are you 15 minutes late to work?!"  "Why aren't you good enough to be in the Hall of Fame, Mr. Boss!"
You can check out how your teams compared to the title-winners in the final 2014-15 RCL Master Standings table, with the league champions in bold and enlarged.  I've DEFINITELY seen that on the 50 Shades of Grey movie poster…  Here's how the finals wrapped up across our 12 RCL Leagues:
JB's Random Commenter League – What a ridiculous ending!  The Cinderella story that was Jooooooonnnnaassss tied, yes TIED Hayward Ginobili 4-4.  According to Yahoo rules, Hayward had a better H2H win % over Jonas, getting them the league title.  Nice work this year Hayward, as I'm sure Jonas will be the one losing his hair after this one!
EmasculatingHoopsLozengesRCL – Are you effing kidding me?  Two leagues, two ties in the finals!  #3 seed Cronos's Team ends up tying #4 Hibbert Forever, but Hibbert had that tiebreaker and brings home the bacon.  Nice work Hibbert, a virtual trophy for your mantle!
Slim's RCL – The 6th seed Hibbert Forever tried going back-to-back with RCL titles, but our own Slim – Razzball laid out his long dick of the law!  Slim proved his chutzpah with a 5-4 win in the finals, with really only the points cat close with Slim winning by 15 Pts.  Slim ended up as the #3 overall champ, very close to beating the whole field.  Dat some expert-ism!
Hoops fanatics only league – Medley, a strong team all season and drawing my fandom with the consistency, put up a solid 5-4 win over #4 Super Splash Bros in the finals for the Fanatics league title.  Excellent work Medley!
Razzball League Awesome – So far through 5 finals, no team has put up better than a 5-4 win, and 3rd seed dan's buzzer beaters followed suit with a 5-4 win over #5 02NBAChampsSacKings.  Tim Donaghy obviously hacked the Yahoo server!  Kudos to dan, who pulled a proverbial buzzer beater winning the title by one single steal!  One steal was the difference!
Take On The Jay(Wrong) – The RCL final of the year ended up being moot with Akron winning their league, but 1st place Pops's Team beat the #2 seed My dog Lucy 5-4, as the #2 overall seed beat the #4 overall seed.  Too many good teams coming out of the JayWrong league!  I made fun of your crusty old vets all year Pops, and don't see a lot of em on your team anymore!  Survived anyway, and came up with the #2 overall finish.  To think if you had pulled together two more wins through the season!
JB vs. Slim – In our first blowout of the championship matchups, razzball rookie trounced the 6th seed Hairbooze 7-2, winning the title over a great field including Slim…  Not me…  I wasn't great…  rookie had a stellar season as the 5th ranked champion, and next year you'll have to try and repeat without the beginner's luck!
Take on SethDaSportsMan – Avenging the loss in the EmasculatingHoopsLozenges league (at least, I'm assuming it's the same owner!), Cronos's Team beat up on the Seth league racking up the #1 seed and beating the field by 10 games in the reg. season, then defeating GottaBasketballJones 5-3 for the league title.  Utter league dominance!  Unfortunately there was too much parity in the league for an overall title, but Cronos really put on a show!
Kap vs. Razzball – Oh no, my heart will no longer go on! My Heart will Goran came just short of 5th seed Connor's Team, falling 5-4.  Excellent work, Connor's Team!  I shall never slam your team name again!  That said, you were the last place of all the RCL champions…  Which of course just means you persevered in crunch time, and I can't talk anyway, I didn't win mine!  Nice work man!
Razzball Snipers – Your 2014-15 RCL grand champion, ladies and gentleman!  The Akron Lebrons didn't even sweat it with a 7-2 win over #2 seed Prestige Worldwide to complete the best regular season and league title run.  Only a win of +3 Pts scored was a close cat, with Akron getting big performances from Chris Paul, Klay Thompson, and bootstraps' bootstraps Evan Turner to bring home the title.  Fantastic work this season, and your name will live in infamy!
Jedball – Well, I was cheering for you micoolj79's Team!  But the title went to #2 seed ReasoNoahble Doubt in a 6-3 win that was No Doubt!  Band name puns!  Whoa, neither of you guys streamed during the week?!  Were you distracted with fantasy baseball coming around?!  Hopefully there wasn't some sort of errant league setting locking you guys in!  Great work this year ReasoNoahble Doubt, and I hope you're back to go for another title next year!
Latecomers! – oops!  I love it!  Accidentally found their way into the title game as the 5 seed, then put away the #2 seed Brixton Guns 6-3.  It was so slapstick!  oops won the %s and TO by Sunday then waltzed into the promised land with an RCL league title.  I'm assuming you were Who's Wondrous Team in the regular season, since I had to put your new title-winning team name in the spreadsheet!
Thanks again for playing in 14-15 RCLs and we look forward to seeing you all back for the Razzball Commenter Leagues in 2015-16!