The drought is over, the drought is over!  Cleveland has finally won a sports championship after 50 some odd years, including the world of fiction where the Indians couldn't even win in Major League.  Remember when CLE fans were burning their LeBron jerseys?  Ah, how things have changed…  And a good excuse for me to show my graphic representation of when LeBron was re-signed and his introduction press conference!
Wow, things change in 2+ years, including my eye at graphic design!  At least I hope!  I remember that was pretty hard to put together too…
Speaking of hard to put together, the Warriors pulled a New England Patriots by having the best regular season record then choking in the final minutes.  Like a punch or kick to the groin, they saw their dream season come crashing down, and now their reg. season record will only be a footnote to the greatness that is LeBron.
With this championship, I'm ready to put LeBron on my Mount Rushmore.  Have you guys seen this silly little NBA app?  I made one before, and even though it seems like sacrilege, I changed Bill Russell to LeBron.  Man, this can start some debates!  Here's my NBA Mt. Rushmore, which I challenge you guys to make for yourselves: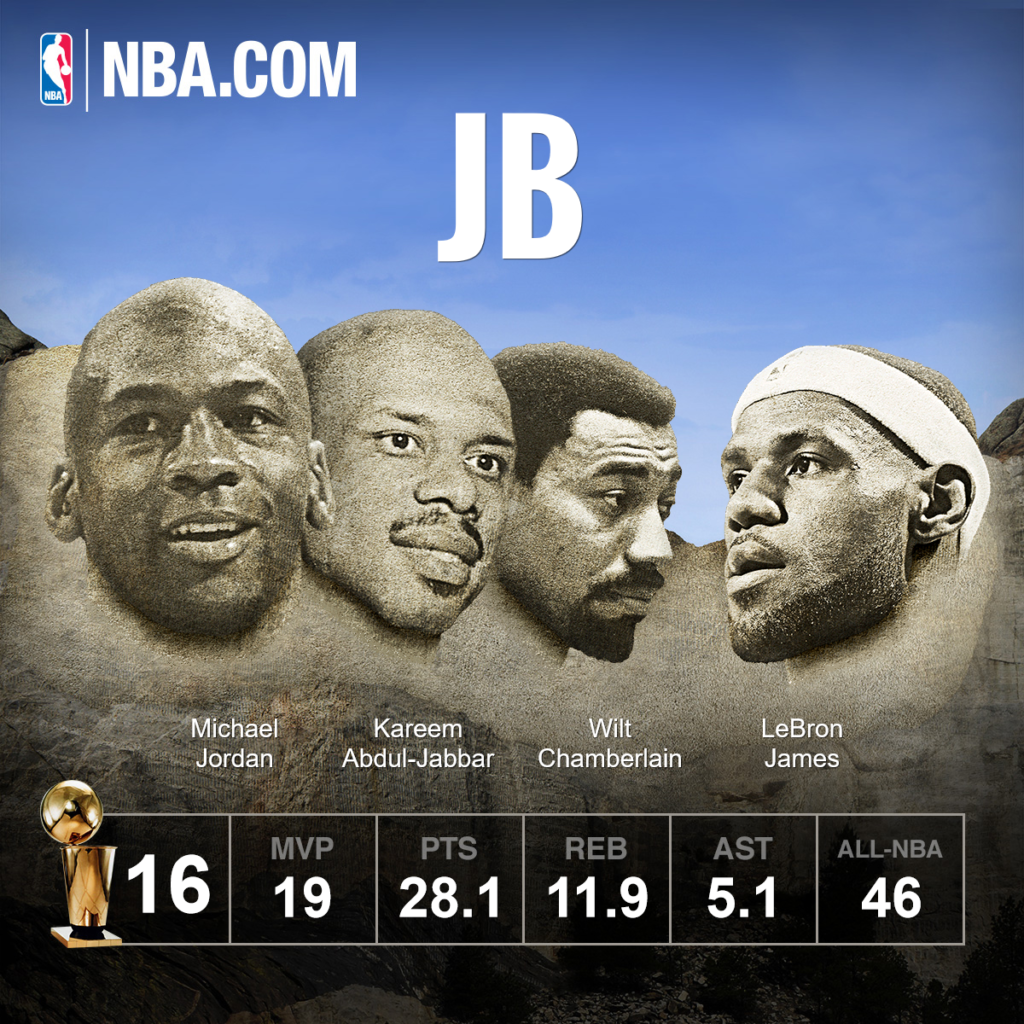 It was an incredible Game 7 after a series of blowouts, and a nearly-scripted (notice I didn't say rigged!) finale for a great NBA season.  I'll go ahead and lock in stone that the Warriors are winning the 16-17 championship.  No more Mr. Plain Shoes from Stephen Curry.
While the Finals have pressed on, there's been a few news and notes around the NBA:
Spencer Dinwiddie – Traded to the Bulls for Cameron Bairstow.  Pretty interesting get for the Bulls, who likely will peg Dinwiddie as their backup PG and has very intriguing upside as the backup to Derrick Rose.  I was going to make an injury pun, but they've all been used at this point.  This trade also makes me feel better about drafting a PG for the Pistons in our Mock Draft.
Greg Monroe – This signing never seemed to make much sense when they were sitting on John Henson.  Although if anyone sat on John Henson, it might break something.  Not much pushin' for the cushion!  Wait, I don't think I'm using that right…  Anyway, Moose is getting heavily shopped, and with the end of the lottery rife with big man upside and not-so-much on the G side, it makes sense the Bucks would move Monroe and nab a usable big in the draft.
Jahlil Okafor – The Sixers and their infinite wisdom of drafting too many big men are shopping big men, with Okafor sounding like their most movable preference.  Let's just say I'd hope their GMs don't run into Okafor at a bar after midnight down the road…
Jeff Teague – Another heavily rumored trade candidate, Teague shipped off would give Dennis Schroder EIN OPPORUNITY!  Yeah, German is hard…  I think Schroder could really thrive as a starter, and as Slim and I semi-debated in the comments, I think his TO rate stemmed from pressing as a reserve last year, and the Hawks second unit didn't really have an playmakers in 15-16.  A change of scenery could help Teague as well.
D'Angelo Russell – Being shopped for another top-5 pick by the Lakers.  I dunno, any team other than the Sixers might wanna take a long and hard look at that deal, as long as they get a good explanation about why he was a moron in the locker room last year.  Maybe take away his cell phone privileges.  "You're grounded, no cell phone, and no talking to girls!"
Darren Collison – No longer a fan.  This is getting ridiculous in sports.  Kings can't catch a friggin' break.  And with the climate changing on this, it could be a lengthy suspension to start 16-17…
Jimmy Butler – Big rumors swirling on a possible deal for Andrew Wiggins.  Would be an awesome get to pair Buckets back with Tibby, but I don't see any reason the Wolves would do that deal with Wiggins still a young pup.
Any other trade rumors got you interested as we near the NBA Draft on Thursday?  And we'll be doing a special edition Podcast during the NBA Draft Thursday night!  So look for that to come out that evening and a full write up to follow.  Happy offseason Razzball Nation, and congrats to you Cavs fans out there!