With less than a third of the season remaining the battle for a playoff spot in the West is fiercer than ever. Utah's latest winning streak has complicated matters even more and currently six teams are separated by just three wins.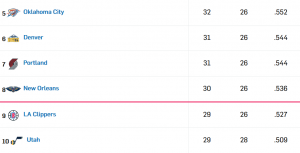 Presumably, the Pelicans are the odd man out with DeMarcus Cousins done for the year, but anything can happen in the remaining games so I wouldn't bet against any team. I'm very interested to see in the comments your own predictions about the final standings in the Western Conference. The commenter with the best prediction will win my eternal love, as it's Valentine's day today, and a Brian Scalabrine bobblehead. The last part is a lie, because if I ever get my hands on such a bobblehead I'm never giving it away….
Moving on to last week's calls, Michael Beasley unsurprisingly took a big chunk of Kristaps Porzingis' usage and during the last week averaged 19.7 points with 8.3 rebounds. Hope you were quick enough and scooped him off the waiver wire, as he can be a game changer for the fantasy playoffs. Josh Jackson also had a good scoring week and, if you can offset his bad percentages, is a great keep as the youth movement continues in Phoenix. Finally, Tyrone Wallace's minutes are on a free fall and you can safely move on if you haven't already, while Isaiah Thomas was one of the victims of Cleveland's deadline frenzy and will close the year as a Laker. I think his outlook improves with this move, as he will try and prove he deserves the max deal he craves, but is bad news for Josh Hart's ROS outlook. It will be interesting to see how Luke Walton tweaks his rotation when Lonzo Ball returns and if Thomas can embrace a sixth man role for the young Lakers.
Want the best tools and projections to help dominate your league? Check out the Stocktonator, the byproduct of Rudy and machine making love. Click HERE for a FREE 3-day trial.
Rudy has been hard at work in the lab. His latest creation? DAILY LINEUPS PAGE. So good. So smooth. So helpful. He decided to go with the Sonny Bono red tint, while I prefer the blue tint. What say you?
Buy
Dwight Powell: The Mavericks have been searching for an answer at the center position all year and it looks like they found it in Dwight Powell. He started February on fire and is averaging 16.3/0.2/8.3/2.2/0.8/0.3/1.2 on 66.7%/86.2% shooting, good for 33th on the player rater during this span. His only flaw is the lack of blocks, but big men with great rebounding numbers, combined with good free throw percentage are a rarity. With Dirk Nowitzki set for more DNP-OLD, Powell looks like a great add (37% owned at Yahoo).
Jae Crowder: Crowder looks like he will be an early winner from the players that left Cleveland, as he lands in a better fantasy situation with Utah. Granted, the sample size is small, but in the two games with the Jazz he is averaging 31 minutes with 14.5 points, 3 triples and a steal. He seems happy to playing on a team with better offensive schemes, which he mentioned in a recent interview. If he can consistently get around 30 minutes, and he should, Crowder can be a valuable 3&D wing for your fantasy teams.
Bam Adebayo: Is there a more fitting first name for an NBA player that likes to finish strong around the rim than Bam?? It's a commentator's dream, as the wordplay possibilities are infinite. It doesn't hurt that Bam is a good basketball player and has seen his minutes steadily rise at Hassan Whiteside's expense. Kelly Olynyk's injury only helps his case for more minutes going forward and is worth a long look in standard leagues (26% owned at Yahoo). And what will the commentator say when he makes a poster dunk??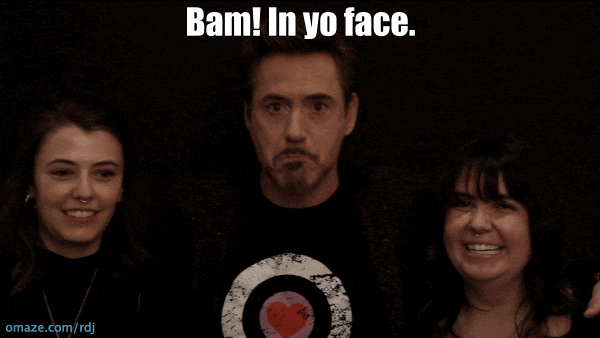 The name is just too perfect….
Sell
Wesley Matthews: With Dallas having no realistic chance of making the playoffs they have little incentive to play their veterans heavy minutes going forward. Wesley Matthews is one of those veterans and has seen his minutes steadily decline as the season has progressed. Add to the mix the occasional DNP-Rest and you have a player you want to avoid having on your team, particularly during the fantasy playoffs. He is owned in 70% of Yahoo leagues, so if he is on your teams consider trading him or flat out dropping him for a hot free agent with a better outlook during the playoffs.
As always, let me know in the comments your thoughts and your suggestions about players I have not included and of course all your fantasy related questions!