Happy New Year to all the Razzball readers out there. I hope the new year brings health, peace, and fantasy silverware from all your competitive leagues. So we are officially at 2020. It's incredible how mind-blowingly fast time passes. It seems like it was yesterday when Dirk led the Mavericks to one of the most satisfying championships of all time or since the Boston's Big 3 brought the Larry O'Brien trophy back to where it is used to be, for the 17th time. But it's been nine and 12 years respectively. Did I mention how quickly time flies? On a more optimistic note, you just have to love the symmetry of the new Year's number, which of course plays a major role in how good and productive it will turn out to be. Joking aside, I decided to take a look at the three best individual fantasy games from the start of the season so far, and all of them reminded me how NBA players can produce truly spectacular performances when they are locked in.
No 3: James Harden vs ATL 60/8/3/8/3/1/3 on 66.7%/87%
No 2: Anthony Davis vs MIN 50/0/7/6/4/1/1 on 69%/100%
No 1: James Harden vs ORL 54/10/5/7/2/3/3 ON 61.3%/100%
Where to begin and where to end…Especially the last line by Harden is dazzling. Truly magnificent performances overall and I can't wait to see them try to best them.
Buy
Gary Payton II: Son of the infamous "Glove", he seems to have inherited the excellent defensive instincts of his father. If you are younger and haven't watched Gary Payton's defense you should really check it out, especially his series during the Western Conference Finals in 1993 against Phoenix that earned him his nickname. Here's a (very) low resolution taste of it…
Basketball was almost a different sport back then! On things of more interest for fantasy purposes, Gary Payton II recently signed with the shorthanded Wizards and, in four starts, is averaging 6.3 rebounds, 3.8 assists, and 4 (!!) steals, good for 14th overall during this period. He only played 14 minutes in his last game, but with the Wizards going nowhere, he is worth a long look at least until Beal returns. (40% owned)
Delon Wright: Is it finally happening? Is it finally time for Delon Wright to justify the preseason hype and stop making me look like a fool for ranking him 71st in my projections??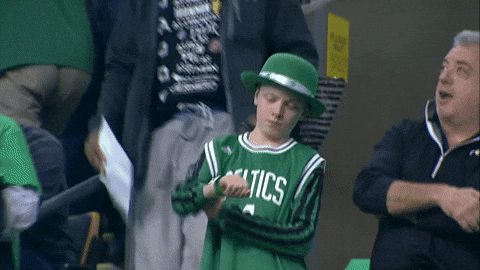 That will be my probable reaction if it is indeed that time. The signs are favorable, as Wright has been a top 55 player during the last two weeks, with increased usage and better defensive numbers. Make sure he is not floating on your waiver wire (54% owned).
De'Anthony Melton: He is more suited for deeper leagues at this point, but De'Anthony Melton has earned around 20 minutes in the Grizzles' rotation, due to his defense and efficient scoring. He is inside the top 100 for the last month and is readily available for owners in need of guard stats (7% owned).
Sell
Jaylen Brown: Jaylen Brown took a huge step forward this year and has improved his game in almost every aspect. However, the Celtics are getting back to full strength with both Marcus Smart and Gordon Hayward returning from their injuries. This means fewer touches and opportunities for Brown, who has benefited in their absence. It's a good time to try and sell him high based on his awesome last couple weeks, which saw him shoot an unsustainable 57.8 % from the field with a 26.2 usage rate.
Tristan Thompson: Cleveland is in full rebuild mode and Thompson is one of the last veterans on the squad, which makes him a prime trade candidate. He has been a borderline useful fantasy asset this year, mainly due to his rebounding, but a potential move to a contender would minimize his value. Furthermore, he is ranked 221th during the last month and is in far more fantasy rosters than he is worth (81% owned).
Tyler Herro: It's easy to root for Tyler Herro as a basketball player and it's apparent that the Miami Heat have made a great drafting decision with him. Excellent shooting, promising playmaking, and high energy motor are his main strengths, but they don't translate particularly well in fantasy. He is ranked 183rd for the season and 205th for the last month, as his lack of steals and bad fg% affect his fantasy value and with Justice Winslow closing in on a return, it's a great time to try and trade Herro in redraft leagues (61% owned)