I would like to dedicate today's intro to Joakim Noah, who announced his retirement from the game of basketball this week. Noah was a player who based his career solely on defense, but he was an imposing presence in the paint and a great defensive anchor, resulting in two All-Star appearances and a Defensive Player of the Year award. During his two best years in Chicago, he was also a solid fantasy contributor, finishing both years inside the top 20 with solid big man stats plus out-of-position assists. His unique free throw shooting style was also memorable, albeit usually for the wrong reasons.
This week is double for many leagues, counting stats up until the 14th of March, due to the All-Star break. I am really perplexed by the fact that the NBA decided to organize an All-Star game this year, amidst the Coronavirus pandemic, but it will at least be a good chance for players to get a breather and nurse some of their lingering injuries, as they get ready for the second half of the season.
Regarding last week's suggestions, Saddiq Bey and Jalen Brunson have been solid, Jae'sean Tate got fewer minutes than I thought but I still like him, and Saben Lee was underwhelming. If you are losing minutes to Dennis Smith Jr, you are in trouble. But he is a rookie, so he gets a pass. Finally, Elfrid Payton was, is, and will remain a "Sell" candidate with the season he is having in New York and is currently also injured.
Buy
Seth Curry: The incredible start Seth Curry had to the season seems like a distant memory and this is exactly what savvy managers should try and take advantage of. Since returning from his COVID-related absence, he has been in a brutal shooting slump, but you know it is only a matter of time until he gets back on track. His surname is a guaranty for that. It is the perfect time for some buy-low offers to the Curry owner in your league and don't even think about it twice if he was dropped.
Nicolas Claxton: Brooklyn has tried many different players to cover the backup center spot after the Jarrett Allen trade but with little success. That is until Nicolas Claxton returned from his injury and shown great fantasy and real-life potential. The sample size is indeed small and he is an option only for deeper leagues for now, but his rim protecting potential is apparent and he is a good roller for Harden and Irving to target. Bonus fun numbers fact: he is currently the no 1 ranked player in per-36 value (6% owned).
Ty Jerome: Diving for even deeper leagues or streaming purposes, Ty Jerome plays in two back-to-back games for a Thunder team that will not have George Hill and Hamidou Diallo available. He averaged 26 minutes on his two games back from injury and is widely available for streaming (4% owned). Theo Maledon is also an option with two games as well, but he has not shown great fantasy production outside the assists department, despite getting heavy minutes (12% owned).
Sell
Rui Hachimura: Despite earning 30 minutes per game for the Wizards, Rui Hachimura seems like the opposite of a fantasy-friendly player. Fantasy-unfriendly? Fantasy-hostile? We shall never know. Rui is currently ranked 198th in per game value and has only one positive category. That category is turnovers.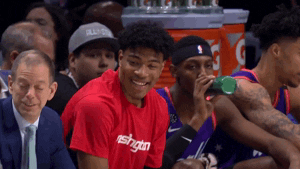 His shooting percentages and defensive numbers are not helping so it would be a wise idea to explore his trade market or outright cut him from your roster for a more valuable contributor (60% owned).
Eric Bledsoe: Another player that his name value far surpasses his fantasy value. The fit in New Orleans was questionable from the beginning but even the biggest pessimist couldn't expect Bledsoe to be ranked 19oth at the midpoint of the season. His steals and ft% are at a career low 0.8 and 64.8% respectively and, if I owned him, I would patiently wait for a string of good games to try to trade him away for anything of value. He has improved in the steals department in the last two weeks, but the above sentence still stands.