Yesterday's game between Miami and Atlanta was not supposed to be as epic as it ended up being. The 17-6 Heat were against the 6-17 Hawks and the symmetry of their records was appeasing my order-obsessed mind. After a close game, Atlanta went up by six and Trae Young declared the game was over…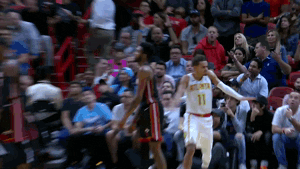 However, two triples from Jimmy Butler and Duncan Robinson forced overtime, where the Heat completed a 22-0 run to win it by 13. The most impressive stat from an already impressive boxscore was that Kendrick Nunn, Bam Adebayo, and Duncan Robinson combined for 100 (!!) points, with Adebayo and Jimmy Butler becoming the first teammates in Miami's history with triple-doubles in the same game and Robinson hitting 10 triples. Miami has steadily developed seemingly fringe players into valuable rotation pieces and this has become a huge part of their success early in the season.
Regarding last week's suggestions, Davis Bertans has been on fire and has climbed to 33rd in per-game value. Hope you got him as he will no longer be available after those performances. Tim Hardaway Jr. also performed admirably, as he poured in 29 points with nine triples in his last game, while Tyus Jones chipped in with assists and steals but is a drop now that Ja Morant is healthy.
Buy
Kevin Huerter: After a slow start to the season due to injuries, Kevin Huerter is gradually getting up to speed. In the last two games, he has 3 triples, 6.5 assists, and is getting minutes at the point, which has allowed him to dictate more of the tempo and get those juicy assists. He is worthy of an add due to his triples, low turnovers, and has a higher ceiling if he can keep those assists coming (43% owned).
Garrett Temple: Who would have thought that Kyrie Irving's absence would have benefitted Temple the most. He is ranked 71st during the last two weeks due to his increased assists (4.2), points (15.2), and triples (3.5). He is a must-start in standard leagues in my opinion, as long he is getting minutes and usage due to Brooklyn's injuries. Just don't expect him to wow you with his performances or change Earth's rotation with his skills because Earth rotates Kyrie…..because Earth is not flat Kyrie….. I'm still not over these comments….(21% owned).
Ish Smith: He doesn't have the most fantasy-friendly game in the league, but what Smith does have is ample opportunity for minutes and usage in Washington. Isaiah Thomas is expected to miss at least the next week, so Smith makes sense as a streamer for assists and triples. More specifically, in his last four starts he is averaging 15.3/1.8/2/6.3/0.3/0.3/1.8, while shooting 50% from the field (27% owned).
Monte Morris: His value is entirely dependent on the availability of Jamal Murray, who left Monday's game due to a trunk contusion and didn't return. In his absence, Morris played 31 minutes and already proved last year that he can fill in admirably when given the chance. He is worth a speculative add in deeper leagues with the Nuggets playing three more games this week and is a must-start if Murray indeed misses any of those games (6% owned).
Sell
Russell Westbrook: Everyone enjoyed Russell Westbrook's last two games, where he has shot 23/35 from the field with 9.5 assists and 29 points. Also, all his fantasy owners have not enjoyed his fantasy season so far, where he is ranked 71st in per-game value, with all his counting stats being down from the year before. These two games have provided a great opportunity to trade him for a better fantasy player or to an owner who values his real-life production more than his fantasy one.
Evan Fournier: The Frenchman is one of the hottest players in the NBA right now, scoring 25.3 points per game during the last two weeks, on 50.4% shooting with 2.7 triples. Both the scoring and percentages are unsustainable for a career 44.8% shooter, who has never averaged more than 18 points for a season. Now is the perfect sell high opportunity to capitalize on Fournier's form.
Derrick White: The last month has not been very kind to White. Despite having the starting job for the Spurs, he is connecting on 41.7% of his shots and his counting stats have also regressed. Dejounte Murray will have his minutes' cap lifted sooner rather than later, so White is a major drop candidate in my book (40% owned).