Although kinda late due to the fact it's a Wednesday column, I wish to all you Razzball readers a Happy New Year! May all your wishes come true and your fantasy teams win it all this year. Except if you play in one of the leagues I also play…. If you do, I wish a happy Second Place and a great drafting position for next year's draft.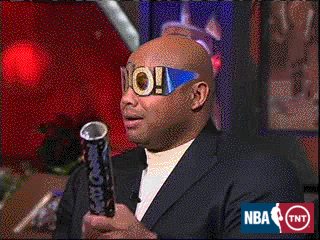 Imagine an extra circle above the last zero in Chuck's glasses because I lack the Photoshop skills to put it there myself and let's review last week's calls. Both Ish Smith and Bismack Biyombo have been on fire since getting the starting job, with Biyombo especially returning top 25 value during these games making me very happy for the calls. They were in fact so much on fire as Vangelis Ioannou, a Greek sportcaster, suggests in the video.
Jaycee Carroll's face says it all…I admit we Greeks are not world-renowned for our English pronunciation skills. Moving on, Jordan Bell and Willie Cauley-Stein were also productive and look to maintain their value going forward. Finally on the sell front, Jonathon Simmons has seen his usage decline and has taken a backseat to Aaron Gordon and Evan Fournier, while Dirk Nowitzki was solid but I still stand by my advice to sell. Let's take a look at this week's candidates now…
Want the best tools and projections to help dominate your league? Check out the Stocktonator, the byproduct of Rudy and machine making love. Click HERE for a FREE 3-day trial.
Buy
Tyus Jones: The news about Jeff Teague's injury broke mere hours after I uploaded the previous article so I couldn't include Tyus Jones but he is still available in a surprising amount of Yahoo leagues (only 27% owned). While his stats during his recent three starts don't jump out of the page (except for his otherworldly 3.3 steals) he can be a valuable contributor with his assists and elite steals. Don't forget that earlier in the year, with Teague again sidelined, Tyus averaged 11.3/1.8/4.5/6.5/4.0/0.5/1.0 on 53.3%/60% shooting, good for number 13 on the player rater during that span. To conclude, go get him from your wire and start him for the next 2-4 weeks until Teague returns to full speed.
Trey Lyles: I was skeptical at first with Trey Lyles as I connected the increase to his production with the recent injury to Nikola Jokic. Nevertheless, he proved that he grew as a player and has solidified a sixth man role with the Nuggets playing around 31 minutes per game. During this month, he is the 68th ranked player in per game value with averages of 14.5/2.1/6.8/1.4/0.6/0.4/1.0 on 53.2%/67.6% shooting. Great out of position triples and steals and minimal turnovers make him a valuable add especially in roto and is still available in 60% of Yahoo leagues. I think he has a good chance to keep his production at those last month levels at least until Paul Millsap returns after the All-Star break, so give him a look if you need the stats he provides.
Marquese Chriss: If you consider yourself a patient owner this is your chance to test your limits. Marquess Chriss is as inconsistent as they come and that is the reason he was dropped in half of Yahoo Leagues. His potential however is undeniable and he showed flashes of it during the past week with three good games. If he can avoid foul trouble and if he can keep his head in the game he can be a great fantasy weapon for the fantasy playoffs. Although those are two big "If"s, I think he is worth the risk and the occasional headache of the off game.
Nicolas Batum: After returning from his injury Nicolas Batum was more than rusty with his shot, even admitting at some point that his elbow is still not 100% and is bothering him. This is the perfect buy-low opportunity as time is on his side and will only play better from now on as he gets his body up to speed. Plus I can't imagine him finishing the year averaging just 10.7 points, 1.2 triples and 4.2 rebounds, all close to career lows. You can do worse than check if his owner is growing impatient with him and get him now on a discount.
Sell
Caris LeVert: Spencer Dinwiddie is not the only player that capitalized on the opportunities created from D'Angelo Russell's injury. Caris LeVert saw his minutes rise as well and he has responded with some great games during this month but D'Angelo is expected back this week or the next. That spells trouble for LeVert's usage and proactive owners may want to explore his trade value as this seems a good time to trade him for a steadier top 100 player moving forward. I was tempted to include Dinwiddie in the sell column as well but per Coach Atkinson there is a chance he starts alongside Russell so a wait-and-see approach seems better in his case.
As always let me know in the comments your thoughts and your suggestions about players I have not included and of course all your fantasy related questions!