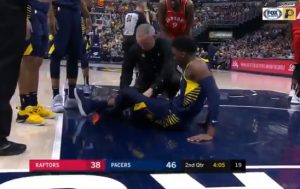 Victor Oladipo missed 11 games due to a right knee injury two months ago. Since returning from that injury, he's been a top 65 player (19 games), averaging 17.3 points, 1.9 threeecolas, 4.9 boards, 5.8 dimes, 1.8 steals, and 0.2 blocks. The shooting efficiency was a putrid 40%. A far cry from the 47% efficiency and top 10 production from last season. His owners were not happy. Our very own "I Just Wanna Kawhi" couldn't take it anymore and shipped him away last week. I need to hit him up for the upcoming Powerball numbers because his owners will no longer have to worry due to the injury Oladipo suffered yesterday. Defending a full court pass, Oladipo jumped and his knee gave out, the same knee that caused him to miss those 11 games. The trainers draped a towel over his leg and he was taken to the locker room via stretcher. Prayers up for Oladipo and his family. Since this is a fantasy website, we need to discuss who replaces him and how it affects the Pacers rotations. The most obvious replacement is Tyreke Evans, who was scooped right away in a few of the RCLs I'm in. Y'all are too sharp and fast on the draw. In 715 minutes without Oladipo on the floor, Evans has a 29.3% usage rate and produces 1.05 fantasy points per minute. The player that saw the biggest increase in usage with Oladipo off the floor, though, was Bojan Bogdanovic, with an increase of 2.1% to a 23.2% usage rate. Domantas Sabonis is the Pacer that scores the most fantasy points per minute at 1.39 with Oladipo off the floor. If you want to do a little speculating, Aaron Holiday could be a nice pickup. He's played 275 minutes without Oladipo on the court and has garnered a 24.1% usage rate and scored 1.06 fantasy points per minute. Granted, most of that run came earlier in the year, as he hasn't received 10 minutes of run in any game this month, but someone to keep an eye on. Anyways, hate to see injuries and let's all send good vibes towards the Oladipo family. Oladipo Ho! Oladipo Ho! Oladipo Ho! 
Here's what else I saw last night:
Please, blog, may I have some more?