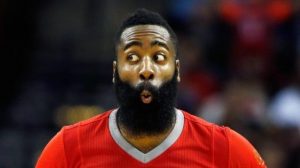 I was a sucker for all the James Bond movies growing up. There was always action, women, lots of cool toys, and more action. What most confused me early on, but later fascinated me, was the overtness of the Bond character. At his core, he was a spy after all, and a spy is defined as "a person who secretly…" I don't need to continue the definition. Could a ninja ever be famous? Wouldn't that go against the fundamental premise of being a ninja? With all that said, Bond took the spy game to the next level. Everyone knew he was a spy, and he knew that everyone knew, yet he did his spy thing while everyone else played along. Translation: Bond was a freaking boss. Which is exactly what Harden, James Harden is.
| | | | | | | | | |
| --- | --- | --- | --- | --- | --- | --- | --- | --- |
| PTS | REB | AST | STL | BLK | TOV | 3PT | FG | FT |
| 41 | 6 | 7 | 2 | 1 | 6 | 5/16 | 15/35 | 6/7 |
That's seven straight games scoring 30+ points, with two games over 40 and one 50-burger in there. The overtness that Harden exhibits is just as bold as Bond. Defenders know his moves, yet still get played. Now, with Chris Paul out for an extended period of time, the usage rate spikes to the mid-40s. The comparable analogy would be Bond walking into a casino with both hands flashing the bird, acquiring the information that he came for, and of course bringing the D for the girl.
Here's what else I saw last night:
Please, blog, may I have some more?