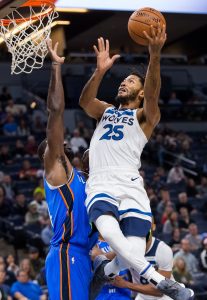 Derrick Rose early on Wednesday morning in a jovial mood. How could he not? It was Halloween, a day to have fun, dress up, scare little kids, and eat lots and lots of candy. But as he drove up to the practice lot of the Timberwolves practice facility a little after lunch, things just didn't feel right. The cloud that's been hovering over the building for the last month or so looked a little darker. When he stepped out of the car, the wind was brisk and sent shivers throughout his whole body. As he approached Coach Thibodeau's office, there was an eery light emanating from the crack between the bottom of the door and floor. Then a BAM! And a BOOM! KA BOOOOOOOOOOOOYACKA SHAKALA! WTF??!! Lying on the floor, Derrick Rose and entered Coach Thib's office. "What's wrong coach?" Coach Thibs responded with, "We are 3-4. 25th in defensive rating! Andrew Wiggins has four years and $147 million left on his contract! Jeff Teague can't play tonight and Jimmy Butler is playing hard ball and won't play until we trade him!!!…..And your hair looks f**king ridiculous!!!!" Derrick was not fazed. "Coach, I got this."
| | | | | | | | | |
| --- | --- | --- | --- | --- | --- | --- | --- | --- |
| PTS | REB | AST | STL | BLK | TOV | 3PT | FG | FT |
| 50 | 4 | 6 | 2 | 1 | 6 | 4/7 | 19/31 | 8/11 |
I'd say he did. Derrick Rose to the occasion with Jimmy Butler, Jeff Teague, and Tyus Jones all not playing by logging 41 minutes and bringing the Five-Oh. The fifty-burger was a career-high, which bested his prior mark of 42 points back in 2010. Now, Derrick is 30 years old and we all know about the injury history. He hasn't played more than 66 games in a season since….2010. He's obviously not going to bring the cops every night or shoot 31 times, but prior to last night, Derrick was a viable fantasy asset: 14.3 points, 4 rebounds, 4.9 assists, and 0.7 steals. No threeecolas and the field goal percentage was/is/won't be pretty, but he was providing some decent counting stats. More importantly, he was getting over 28 minutes of run a game with the upside of moving into the starting lineup and getting more when someone sat. Scoop him up if he's still available. If you own him, no one is going to buy high, so just let it ride. Happy Halloween!
Here's what else I saw last night:
Please, blog, may I have some more?