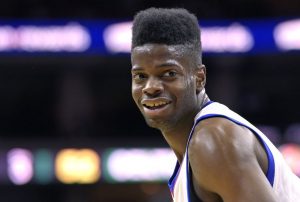 The end of October is upon us, which means that Thanksgiving is right around the corner and preparations are already being made for Christmas. It's crazy I tell ya! So, it's only appropriate that I present a little jingle for you:
Noel, Noel. Noel, Noel. The First Noel, the degens did say. Was to certain poor managers on teams where he lay. In leagues that weren't too deep. Causing many a restless night's sleep. Noel, Noel. Noel, Noel. Born was the King of saying farewell….
….to a four-year, $70 million offer in 2017. Doh. The pursuit of self interest is good, but greed? Not always the case. By turning down that $70 million to shoot for a max contract, Noel is now making $1.9 million and is an unrestricted free agent after this season. For all you kids out there: greed is not always good, especially when the career averages are 9.2 points, 7.2 rebounds, 1.4 assists, 1.5 steals, and 1.4 blocks. As a result, the fantasy world said goodbye to the King of saying farewell, but like Jason on Halloween, he's baaaaaack.
| | | | | | | | | |
| --- | --- | --- | --- | --- | --- | --- | --- | --- |
| PTS | REB | AST | STL | BLK | TOV | 3PT | FG | FT |
| 20 | 15 | 2 | 4 | 1 | 1 | 0 | 9/14 | 2/3 |
With Steven Adams sitting due to injury, Noel got the start and played 26 minutes. He's still only 24 years old and possesses crazy athleticism. In an uptempo environment with Russell Westbrook leading the action, it's a prime spot for Noel to succeed. With that said, he was averaging only 14 minutes per game when Adams was healthy, so it'd be tough to rely on him outside of the deepest leagues, but he was a boards and blocks contributer during his limited action. When Adams sits, you know what to do. Cue up the Noel, Noel, Noel, Noel.
Here's what else I saw yesterday:
Please, blog, may I have some more?