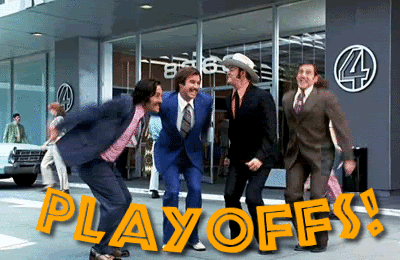 Why yes, Jim Mora. Playoffs. That's all we're talking about.
(Hangs head in shame for using the Jim Mora reference)
Alright, let's breathe new life into this whole post-season conversation. It's The 7 Ahead, dern it! Can't you hear my enthusiasm? Haha. We've just managed our way through 21 weeks of the basketball grind to reach this pinnacle. Or at least the foot of the mountain that we believe will provide a pinnacle. Chances are that if you're still reading this you're still in the mix for some fantasy basketball hardware, since this is, after all, Razzball, and it's the middle of March. In other words…no one's reading the basketball side of things during the site's heaviest month of the year: baseball draft season. Let those sabermetric nerds worry about preseason…let's focus on what they hope to get to.
PLAYOFFS!
Ok, it's still not Jim Mora, but just about everything is better. Oh, and yes…I'm one of those sabermetric nerds, too. Make sure to play some fantasy baseball this year, join an RCL, and watch me and JB be the Top 100 banner carriers for Hitters and Pitchers. But before that it's time for a Playoff Edition of…
Please, blog, may I have some more?