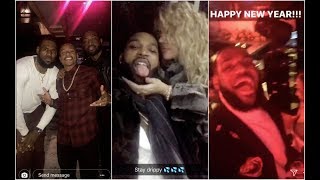 If Isaiah Thomas' New Year's resolution was to be awesome at basketball, then he may be the one in a million of us that actually follows through with it for the whole year.
Thomas returned from a seven-month absence with a hip injury suffered in last year's playoffs to make his debut in a Cavalier's uniform and preceded to ruin another point guard's return to action. Thomas scored 17 points in just 18 minutes and he teamed up with Dwayne Wade to provide a crucial spark off the bench in the fourth quarter that put the Cavs ahead for good over the Blazers.
I know game recaps put fantasy owners to sleep, so let me get to the juicy slash: 3/17/0/3/0/0.
And here is what else I saw last night:
Want the best tools and projections to help dominate your league? Check out the Stocktonator, the byproduct of Rudy and machine making love. Click HERE for a FREE 3-day trial.
Lebron James killed his owners tonight by going 0-for-2 from deep, so they will just have to live with 0/24/6/8/4/1. I would consider dropping him for a hot free agent if this keeps up.
Kevin Love could end up losing some touches with Thomas back on the court, so if you are doing well in threes and rebounds you could consider selling high. I do however have some Craigslist horror stories that may convince you that selling while high is a terrible idea. 4/19/7/0/1/1.
Dwayne Wade and Jae Crowder may be the biggest beneficiaries from the return of Thomas since his offensive potential will draw defenders out of the way for Wade and Crowder slashes to the rim. I am not saying to run right out and grab Crowder if he is on your waiver wire (he should be), but what I am saying is that you should definitely change your team name from New England Clam Crowder to the Cleveland Crowderliers. Wade: 0/15/8/3/0/0  Crowder: 4/17/2/3/2/1.
Damian Lillard is the other point guard whose return was spoiled by Isaiah Thomas. Although true fantasy owners could care less about that narrative and just want me to get right to the slash: 6/25/0/6/1/0. There, you happy you sickos?
I am starting to hear rumblings that maybe the Blazers would be better off trading C.J. McCollum. I am also starting to hear rumblings that C.J. McCollum is actually Steve Urkell after he went through that machine that made him cool and he changed his name to Stefan Ur-Kell. Anyway, here's the slash: 3/19/5/4/0/0.
Jusuf Nurkic and Evan Turner both had great games for the Blazers, in the same game, and they still lost, and I stepped on a Lego and banged my knee into the coffee table and this definitely cannot all be a coincidence. Nurkic: 0/23/7/4/2/0. Turner: 1/15/8/3/0/1.
Kawhi Leonard is back and the Spurs just keep winning and a bunch of other crappy teams keep getting the headlines. Greg Popovich became the fifth winningest coach of all time and Manu Ginobilli's pass that accidentally went in the hoop was the talk of the game. The Spurs and Popovich belong together. They never get the respect and attention they deserve, but they both seem to really like it that way, Yes, I know the Spurs are not a person, they are a team, but I write fantasy basketball articles, so obviously I am not all there. Oh yeah, Leonard's sweet slash: 3/25/8/4/4/0 in 30 minutes.
LaMarcus Aldridge just keeps rolling along and it definitely does not seem like Leonard's return is going to slow him down. 1/29/6/2/1/1.
Michael Beasley was once again the leading scorer for the Knicks even with Porzingis back on the floor, oh, and they lost, shocker. 1/18/9/2/0/1.
Kristaps Porzingis just did not have it tonight and I am afraid that teams with good coaches are starting to figure out that making the other Knicks beat them is the way to go. This will be the stretch of games where we see if Porzingis is really the unicorn or if he is just a horse with broom handle stuck in his forehead. 0/13/9/1/0/2.
Ersan Ilyasova and the Hawks were the lucky team who got to the play the Suns tonight. The Hawks suck though, so they lost, but fantasy owners could care less and Ersan was ballin' out. 3/21/9/0/1/0.
Kent Bazemore could not miss, literally. Well, he missed one shot and the Hawks lost by one point, so it was definitely Bazemore's fault. 4/20/3/4/4/0
Dennis Schroder is in the running for best draft day value. 1/20/2/5/1/0.
Devin Booker hit 14 out of 15 free throws, including 3 in a row with 12 seconds left to give the Suns the lead for good. The only blemish on Booker's night was the 8 turnovers, but that is still better than the blemish on Schroder's head. Seriously, what is up with that? 2/34/5/7/3/0.
T.J. Warren is a frustrating fantasy player to own. He is capable of scoring 50, but he is also capable of scoring that much without a single 3-pointer or getting any other stats other than points. Last night, however, Warren did his best to fill up the box score. 1/31/5/2/0/1.
Speaking of frustrating fantasy players, Marquese Chriss has the physical tools to be a fantasy monster, but like most fantasy monsters he does not exist in the real world. But something about playing the Hawks brings monsters to life. 3/17/11/3/0/2.
Kemba Walker and the Charlotte Hornets wish they could play the Kings every single night. Walker did not quite have it last night, but he still managed to put up decent fantasy stats. 1/12/4/10/2/0.
Dwight Howard continues to put up points and boards and then drop his pants and blast a dookie all over your FT%. 0/20/8/0/1/1.
Nicolas Batum has rewarded patient fantasy owners and is probably on quite a few teams who are quietly climbing the standings. 3/21/4/4/0/0.
Zach Randolph is definitely making a case to be traded to a contender by the trade deadline. Unfortunately, for fantasy purposes, double-doubles and nothing else are not quite as easy to deal. 0/24/10/0/0/0.
Skal Labissiere not only look likes my five-year-old trying to spell Zach Randolph, but his stats are exactly like Zach Randolph's. 0/17/15/0/0/0.
De'Aaron Fox is back in action and back to killing George Hill's fantasy value (although Hill has been doing a pretty good job of doing that himself). 1/17/3/4/1/0.
Blake Griffin has returned and the Clippers have actually won a few games. Unfortunately for L.A. fans however, Griffin has had more Kia's stolen out of the player's parking lot than the Clippers have wins. 1/21/6/8/0/0.
C.J. Williams is starting for the injured Austin Rivers and had an attention grabbing 3/18/2/0/2/0 in 29 minutes. Doc Rivers has already filed the adoption paperwork.
Lou Williams was scorching last night and is sick of hearing all of these other names in the Sixth Man Award conversation. 2/33/2/6/0/0.
Milos Teodosic is really pulling a scary single-white-female routine with Ricky Rubio. 3/12/5/6/0/1 on 4-of-11 shooting.
Tyreke Evans tops my list of Waiver Wire MVPs. I don't care what anyone says. 1/18/5/6/3/0.
Marc Gasol is the best disappointing fantasy player this year and he needs Michael Conley back almost as much as the Grizzlies do. 0/11/5/5/1/0.