Despite the two nationally telecast Opening Night games (with the Heat/Bulls starting at 8:00 PM EST), the season really started at 7:00 with the Magic against the Pacers.  Non-fantasy players probably didn't know this game ever happened.  All the sudden in the second quarter, Andrew Nicholson just went off, going 8-9 in the first half with 18 points.  Next thing you know, ESPN Fantasy Basketball is down.  Why RCL is on Yahoo!  But despite the Magic losing the lead and the offense going stagnant early in the third, Nicholson only played another few minutes in the second half and got stuck at 18 points in 19 minutes, only taking one additional shot and going 8-10 on the night.  Womp womp.  I never thought too much of Nicholson and don't think he's a guy to go rush to the wire for (unlike ESPN fantasy players!), and don't forget Tobias Harris sat out with the ailing ankle.  19 minutes sounds about right for Nicholson, and he's obviously not going to be a 48 PPG scorer per 48.  But I hope the kid enjoyed the moment in the sun during that first half shooting spree.  You temporarily broke Fantasy!  He was like the Fantasy Basketball Kevin Ogletree.  Here's what else went down last night in the NBA:
Xavier Henry – The other big performance from an off-the-radar guy last night came from Henry, who in 27 minutes off the bench went 8-13 for 22 Pts 6 Rebs 2 Asts and a Stl.  It is worth noting he was a disappointing 3-8 from the stripe and has never shot better than 63.5% from the FT line in any season.  He had a big start to his preseason as some obscure writer noted here, and with this big regular season debut, looks primed for 20+ minutes off the bench for a little while.  Also, the Lakers played only their bench players in the 4th quarter in their surprise win over the Clippers.  As GOB posited – "me fast, want slow"!  D'Antoni realized he wanted his old vets out of there and went the other way with "we slow, want fast!"  What better way to stay fast than with Professor X.  "What do they call you, wheels?"  New nickname!  Henry is now "Wheels".  Wheels will be useful in deep leagues, but not a guy I'm cutting my last drafted player for in 10 or 12 team leagues right now.
Jodie Meeks – Another big part of D'Antoni's 4th quarter "we slow, want fast" coaching decision, Meeks got 26 minutes with a 13/3/2/1 line with three 3s.  Nothing huge, but I wanted to note since Meeks had some great ThrAGNOF stream games last year and actually had 1.6 a game in 2012-13.  Players in daily move leagues should keep him flagged for some 3-boost, aka 3/5 of a 5-hour energy.
Jordan Farmar – 6-10 for a 16/6 game in this theme of Lakers bench guys getting mentions.  Since Steve Nash A) got benched in the whole 4th quarter and B) won't play in all back-to-backs, Farmar and Steve Blake need to be owned in deeper leagues (both already owned in the REL League… Debbie Downer!).
Jordan Hill – The star from Superbad went 6-8 for a 12/8/2/1/1 line.  7 of those boards were offensive!  If you're in a deep OReb league (that's like, 4 people), it was a huge game!  My buddy Kap's Team in the REL will sure take this game!
Chris Kaman – Surprised he didn't start, but still went 10/8 with two blocks.  Ugly, bald, yet big man worthy.  Think he plays more minutes as well when the Lakers play the slow vets more typically.
J.J. Redick – Started out gangbusters in his Clips debut with a double-digit first quarter, then morphed from Duke Redick to Bucks Redick.  I love calling him by his numerous faces.  I think 13/2/3 lines with 2 3s is the typical line to except.  However, his biggest impact is how well he spaces the floor for Chris Paul.  Last year the Clippers played like 5 year olds all huddled under the rim with Paul running around, now Reddick opens the floor for them.  Paul could average a bajillion assists this year.  Had 11 last night and I think you'll see double-digits almost every game.
DeAndre Jordan – Looked flippin' awesome.  I put the over/under on his blocks last night at 3 and man, would I be a good odds maker!  17/11 with the 3 blocks and 3 steals as well.  "Shot" 8-10. Most were dunks.  Love watching this guy.
Jimmy Butler – Power of the JB!  I had Butler ranked really high and it was a great debut, with a 20/3/3/5/1 slash.  Three of those steals were clear pick 6s.  The Heat all the sudden playing like the Texans!  Butler just stomps all over teams.  So what if he looks like Godzilla?  Another new nickname!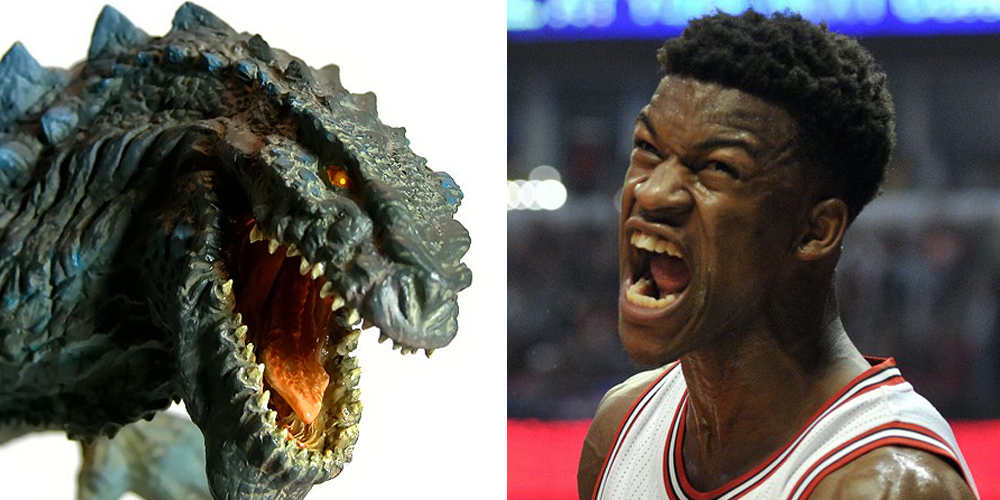 Derrick Rose – You know, the stat line doesn't look good, but I thought he looked great.  The 1-7 from deep is a little odd, but it's good to see he's willing to take deep shots and I think gets it together.  If you play with Panicky Patricks, Rose would be a guy to try and trade for early if anyone is really trying to trade already.
Luol Deng – Literally don't remember him playing.  2-8 in 30 minutes for 4 points.  Hopefully he's healthy and this is not spinal tap.
Carlos Boozer –  13-18 (5-5 FT) for an outrageous 31 point debut.  As I said in my rankings, I hate him as a real-life player but thought he was a little underrated in the fantasy conversation.  Obviously this won't be a mainstay, but Boozer also had 7 Rebs 2 Asts 1 Stl and 1 Blk.  Think where you drafted him, he'll be valuable.
Joakim Noah – As promised, I watched his groin all game and thought he actually looked fine.  The fantasy line was atrocious from a scoring perspective, but he looked decent with 11 boards in his 20 minutes.  Actually, he was only 1 of 2 guys to get a Rainbow Line on opening night!  And barely cracked it too with 2 Pts 2 Asts 2 Stls and 2 Blks with the 11 Rebs.  Hey, you'll take it.
LeBron James – Played all king-y.  17/6/8.  Not huge, but racking up the main triple-dub lines.
Shane Battier – 4-4 from deep for 14 points.  More proof you can ThrAGNOF!
David West – The other Rainbow Line-r last night.  13/5/3/2/5 but also stuffed the stat sheet with 5 TOs.  This was the only game I didn't watch last night so I don't know if they were flukey, but West is usually at 2 a game.  He be sloppy!  The Pacers racked up an absurd 18 blocks against the inept Magic.  It was like the Magic were playing against a team in Slamball.
Roy Hibbert – Accounted for 7 of those blocks for a fantastic 8/16/0/1/7 line.  No, I don't want you to stand there just handing people shrimp!  Take me there!
George Hill – A starting point guard played over 29 minutes… on a winning team… and didn't log a single assist.  A brutal 2-8 7/2/0/0/0 line.  I heard Travis Best called and asked the Pacers to bring him back like it's 1999.
Victor Oladipo – As predicted, he struggled a tad in his debut.  4-11 for 12 points and not much of anything else.  Times will get better.
Arron Afflalo – Proved to everyone why he should start over Oladipo.  Went 3-14 in 33 minutes.  The Magic strategy for Afflalo is "Shop til you Drop".  Except big minutes to inflate his stats so they can move him.
Next Games: I've got the Pacers @ Pelicans (ugh) then Thunder @ Jazz (awesome!) for highlights tonight.  Will be in-depth with how Anthony Davis looks and detailing how Jrue Holiday managed another 9 TOs in the first game, then so much to watch for in the second!  Reggie Jackson as the starting PG and how the Thunder use Jeremy Lamb, then how Alec Burks fits the Jazz, and Derrick Favors and Enes Kanter as first-time starters.  That game will be exciting, even if it is a blowout.  Shoot your comments below and looking forward to a huge slate of games tomorrow!