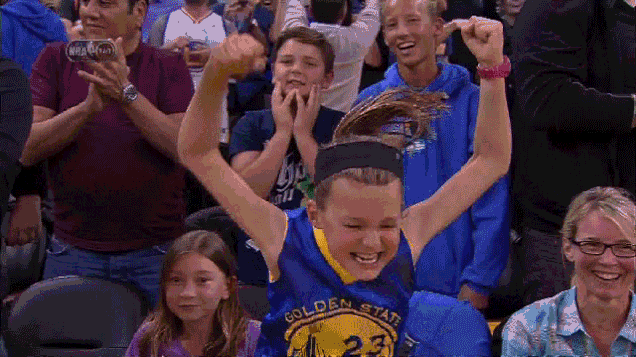 I know, girl. Me, too. Me, too.
Of all the teams to end up with 5 games this week, it's the Warriors. A quintuplet of games lead the way for Golden State and their quartet of fantasy stars. If you own Stephen Curry, Kevin Durant, Klay Thompson, or Draymond Green you're loving life next week. If you're going up against one or two of them…haha! Good luck! There should be plenty of enjoyable viewing experiences through the next seven days, but none more often than the Warriors.
Sweet mercy, it's gonna be fun. And it's not just them…23 teams have 4 games this week, by far the most of the season. Games galore! And here are the 7 Ahead for Week 7!
The 7 Ahead
5-game week: GSW

4-game weeks: BOS, CHA, CHI, CLE, DAL, DEN, DET, HOU, IND, LAL, MEM, MIA, MIL, NO, NYK, ORL, PHI, PHO, POR, SAS, UTA, WAS




2-game week: LAC



Weekly League Streamers (by Y! ownership percent on Sat/games this week): Andre Iguodala (24%/5), Frank Kaminsky (31%/4), Jameer Nelson (15%/4), Sam Dekker (5%/4), Larry Nance Jr. (30%/4), JaMychal Green (33%/4), Andrew Harrison (36%/4), James Johnson (25%/4), John Henson (35%/4), Sergio Rodriguez (28%/4), P.J. Tucker (11%/4),
Stream Days: Sunday
Overall Thoughts: The Warriors win the week, but it may be difficult for them to win in the middle of it. After starting off with a game at home on Monday, Golden State has two back-to-backs come Wed/Thurs and Sat/Sun, starting with trips to LA and Utah. Oh, and we're not talking the Lakers for another drubbing. No, the Western Conference Finals preview may be keeping everyone up late Wednesday night as the Dubs visit the Clippers. Sure, the Clips have struggled as of late, but tell me they won't be up in the clouds for this tilt. The one highlights the week. Obviously. But don't think that's all there is this week. With so many teams having four game weeks there will be ample opportunities to find fantasy scoring. Expect the highest scores of the year in weekly leagues. Unless you're a Russell Westbrook owner. With only three outings he draws the short straw this week (not counting the two game Clippers…even more reason to watch as they'll be rested). All I want for Christmas is a 5-game week for the Thunder as a Russy owner in a money league. Can you imagine? (Keep imagining…it doesn't happen all season.)
As for the streaming options, you shouldn't pick any of them up to simply stream. Look at your squad, and if you have a gap on your roster then plan to pick up one of the guys emboldened above. Why? Because with so many four game slates, there won't be many opportunities to slide the lesser-owned option in. So, rather than highlighting each of them through the games, just do your best to snag one of them on your off days. And if you're in need of a SF, take a flier on Iguodala. His numbers are down from what he once was, but with five games in seven days there's a strong chance his minutes are up a little, and the counting stats continue to mount on good percentages.
Monday: A heavy day of 11 games start the week, highlighted by Boston taking a trip to Houston. Say all you want about the Cavs and Raptors Eastern Conference Finals rematch, but if the Cavs play at 100% it won't be close. Sorry, North. Stay true. You know, second best in the East. Meanwhile, the Celts and Rockets will aim to hoist 60+ 3FG in one game. In ONE GAME! But watch, it could happen. Plenty of scoring should headline the matchup, including a gauge on just how pist (yep, that spelling's correct) Marcus Smart can make James Harden. 

Tuesday: Only six games on the docket Tuesday, and none of them really draw much excitement. The second game of a back-to-back should mean Joel Embiid sits out vs. the Grizzlies, meanwhile the Bulls back-to-back hopefully doesn't mean Dwyane Wade sits vs. the Pistons. Wade's played incredibly well lately, but I'm even more amped to watch Kentavious Caldwell-Pope attempt to guard the tandem of Wade and Jimmy Butler as much as possible. He's an upstart player as a young veteran now, and his offense is rounding into form well enough to make him a viable regular starter for your SG slot. Don't sleep in the Pistons in the East; SVG is doing an incredible job with this young squad, all without star PG Reggie Jackson (he's back today).

Wednesday: Again, the best game is the nightcap (GSW @ LAC), but watching Dwight Howard vs. Hassan Whiteside should be fun to watch. If Paul Millsap is back for this game, the Hawks could right their ship and get back on their winning ways, but as Zach Lowe tweeted earlier this weekend, their problems exist far beyond just missing Millsap. Scoring should come in droves as the Blazers travel to the Bucks (hello, Giannis Antetokounmpo owners!), and look for LeBron James to show out in Madison Square Garden vs. the Knicks. Ooooor…watch Kristaps Porzingis continue his ascension to the international throne.
Thursday: Back to six games for Thursday, including the Warriors back-to-back at Utah, which I'm heavily intrigued in watching, but the Joel Embiid vs. Anthony Davis contest could easily compete with that game for the most intriguing matchup of the night. Everyone talks about Dais or Karl-Anthony Towns as your cornerstone for an NBA franchise, but Embiid's doing everything he can to convince everyone that 'The Process' is the best course of action for building a team. Mmm…makes me giddy.
Friday: An off night for the Dubs means an on night for 18 Friday night teams. Two games catch my eye the most: Oklahoma City vs. Houston and the Lakers vs. the Suns. You know why for the Thunder/Rockets game, but that Lakers/Suns matchup features some of the best young players in the league. Give it three years, and a little coaching, progression and development, and these two teams could start creeping their way into the conversation as best of the West. Yep, I'm that high on the talent (and assets) for both squads. 10:30pm ET ESPN. Tune in.
Saturday: Miami visits Chicago as Dwyane Wade gets to face his old franchise again, the Clippers (in only their second game of the week) get the Anthony Davis assignment to end the night, and Golden State gears up for their fourth game, this one against the depleted Grizzlies. Look for every home team to hold serve outside of the Warriors trip.
Sunday: And to cap off the week, our only streamable day with five games on the tilt. It's a fitting close to a week so full of basketball. Call it a rest before the next wave of weekly matchups. The Thunder/Celtics tipoff has a lot of potential to impress, but the Warriors/Timberwolves is aimed to disappoint. I don't know what the Wolves should do, but this current roster isn't the answer. Trade Ricky Rubio? Trade LaVine? Something's gotta shift to get their primary playmakers the ball, rather than Zach LaVine throwing up 15+ shots per game. Love it for fantasy, not for real life. Hey, Atlanta…make a phone call!
Now, DROP THOSE COMMENTS! And don't be afraid to send along any questions on trades, pickups or life! Good luck in Week 7!